Project Arts Centre Open Day 2022
On August 27th we threw open our doors and welcomed over 750 people into the building for our first annual Open Day, a free day-long event for artists, audiences and communities to get a real taste of what we do at Project!
With an exciting line-up of live performances, delicious bites, dance, DJs, spoken word, workshops, films, talks, tours and more, we'd like to thank everyone who came along and made it such a fantastic day!
About our Annual Open Day
We have made a commitment to 'hospitality' as a philosophical starting point for the changes we want to make at Project. We want to make sure that the big blue building continues to grow as an important space for engaging new audiences and public curiosity.
In line with our recently launched policy, 'Towards Equality, Diversity & Inclusion,' we want to build relationships with a greater diversity of people from right across Dublin City. Our Annual Open Day is a free event for local artists, audiences and communities to engage with a wide programme of current contemporary work, as well as gain access to the inner workings of our building and staff.
Artists Included : Veronica Dyas, Tobi Omoteso, Philip Connaughton, Monjola, Aby Coulibaly, Adam Mohamed, Róisín Power Hackett, Tobi Balogun, Simone O'Toole, Emilie Conway, Alex Vostokova, Louis Haugh, Catherine Joyce, Michael Collins, Mary Kervick and more!
Hospitality | Luncheonette
Luncheonette is a long-term art project centred around hospitality and food, started by Jennie Moran in 2013. It is a prolonged exploration into the complex alchemy of placemaking, centred around the provision of shared experiences using nourishment, shelter, comfort, warmth, light, and tone to treat places, so that they feel easier for people to be in and more poetic.
For the Open Day, Luncheonette treated us to a selection of delicious bites, inspired by our Open Day artists!
DJ | Queen Beatz
Queen Beatz provided a fun selection of classic and current upbeat tunes!!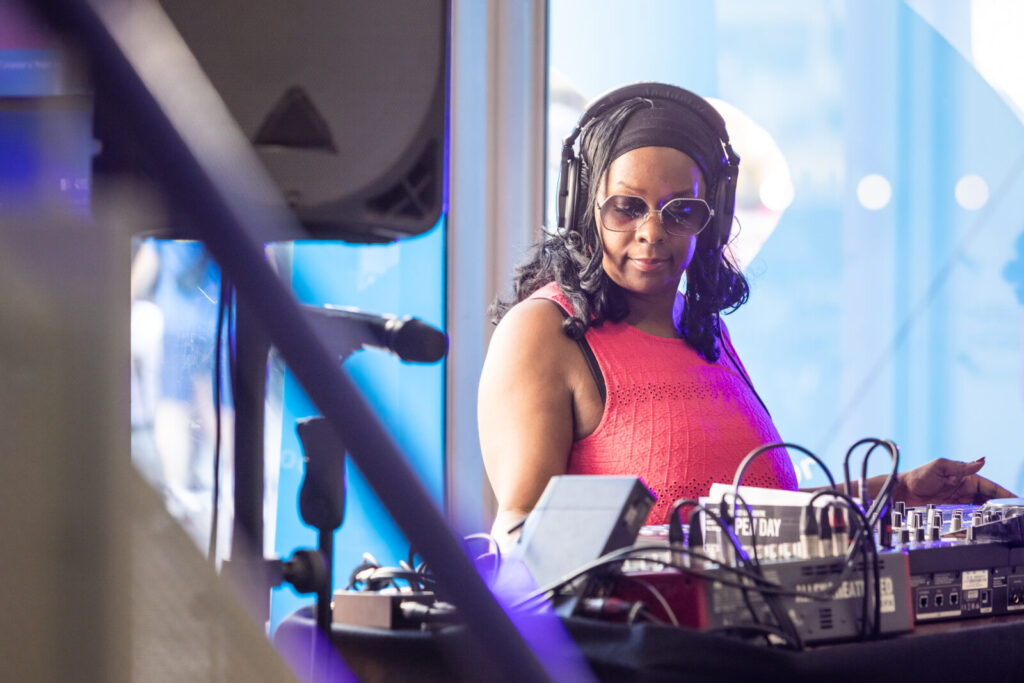 Opening the Day
Tobi Balogun kicked off the day with a performance of Juxta outside the Big Blue Building.
JUXTA by Choreographer Tobi Balogun is a high-energy dance-theatre performance rooted in hip-hop culture and set to the soundtrack of Kendrick Lamar. The work responds to broader socio-political concepts, exploring the similarities and differences between communities, as well as the personal conflict experienced through intersectional identity.
Pictured Dancers left to right: Adam O'Reilly, Mia Burke, Tobi Balogun, Sly Sode
Special Guests
We were delighted to have special guest Deputy Lord Mayor Darcy Lonergan open the day!
Veronica Dyas
Veronica Dyas performed her work 'We will Examine', commissioned alongside our TEDI policy. See full work here.
Project have invited a number of artists and social activists, with a lived experience of intersectional discrimination and disadvantage, to produce a series of ambitious and provocative new works, encouraging crucial dialogue around the impact of social and economic inequality.
Workshops
Workshops were delivered by artists Veronica Dyas (Theatre) and Tobi Omoteso (Dance).
Veronica Dyas's workshop focused on the themes and motifs within her essay to create an introductory workshop into theatre making, looking at how the personal is political, and how our individual life experiences resonate with what's happening in our society today.
Tobi Omoteso facilitated an open-level workshop focussed on a fun, vibrant and engaging fusion of Street Dance Styles such as Breaking & Hip-Hop Freestyle, Floor Work, and Calisthenics. The workshop was attended by people ranging in age from 13 – 65.
Films & Talks
The Cube hosted a number of films and talks throughout the day. Two of our TEDI Commissioned works were presented including US by Catherine Joyce and Tobi Omoteso, as well as Negotiate by Róisín Power Hackett, Emilie Conway and Sighile Hennessy, alongside artists who have created work in collaboration with Fatima Groups United, such as Anima Fatima by Philip Connaughton and Luca Truffarelli and Future Food by Louis Haugh, as part of the Rhizome Project.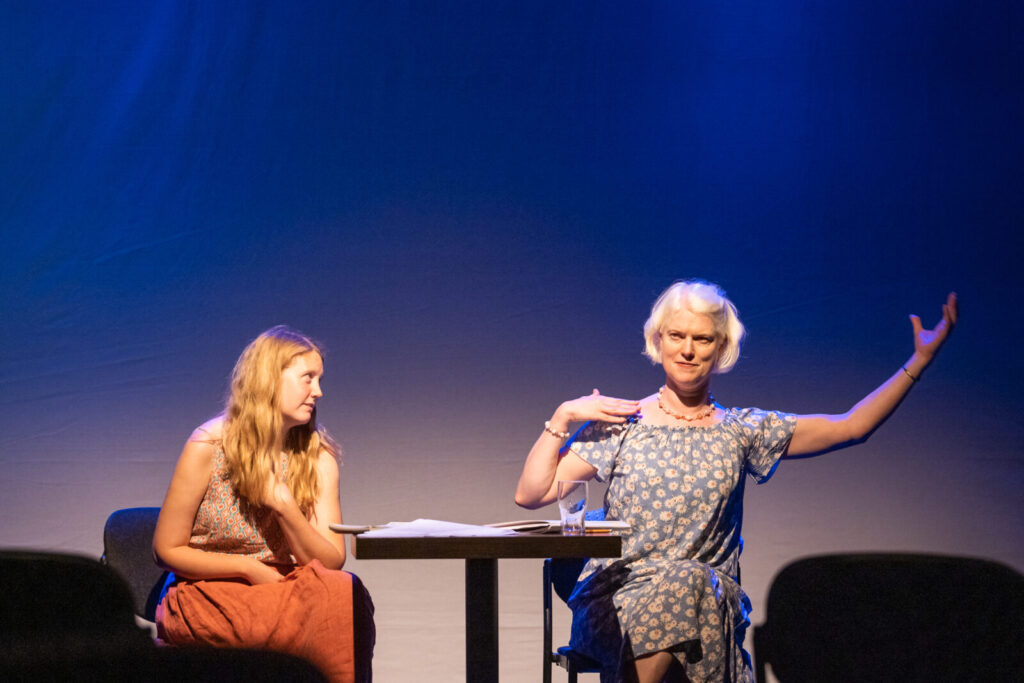 Visual Arts
Visual Arts Curator Sara Greavu welcomed people into the gallery for talks and discussions with artist Mary Kervick, who demonstrated the technical aspects of Batik, as part of the current exhibition Soon (In 45 Years' Time) / Gan Mhoill (I gCionn 45 Bliain).
Live Performances
The Space Upstairs hosted an afternoon of live performance, including an Experimental Dance Battle, hosted by Tobi Omoteso, with dancers Simone O'Toole, Alexandra Vostokova, Dylan Chapman and Jack Flemming, as well as incredible musical performances from Adam Mohamed, Monjola and Aby Coulibaly!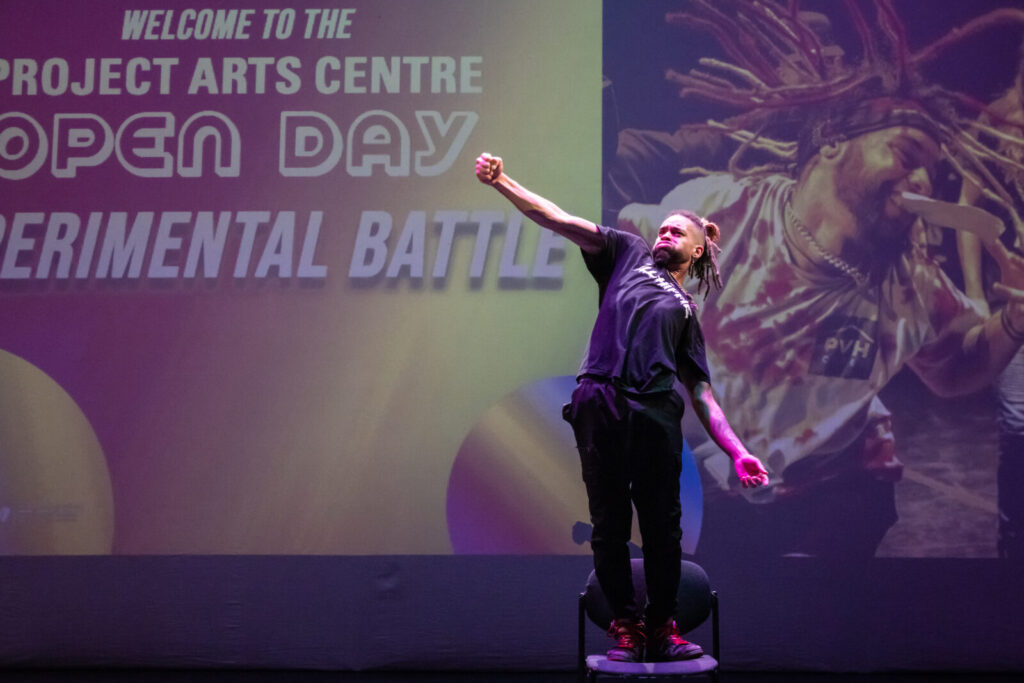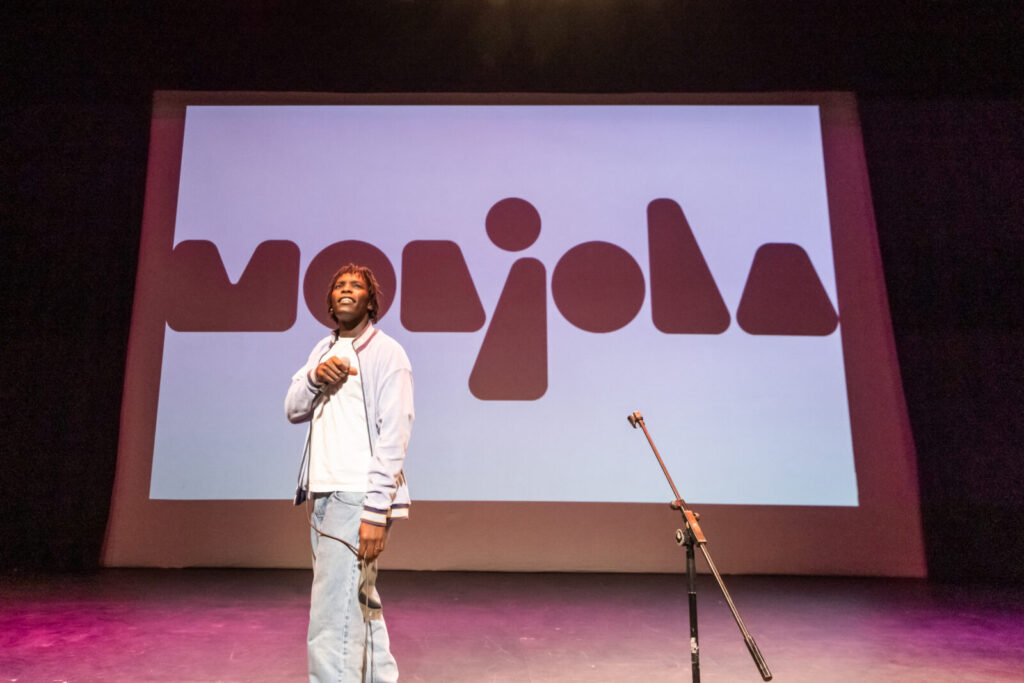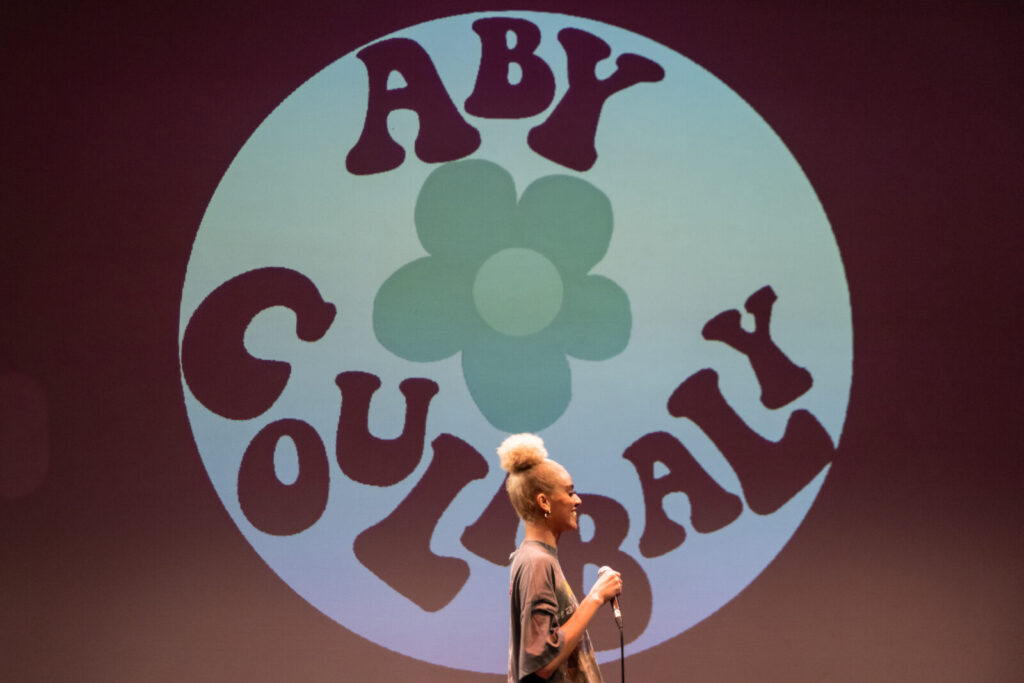 Artists
Project Arts Centre Open Day 2022 was kindly supported by the Department of Tourism, Culture, Arts, Gaeltacht, Sport and Media, Dublin City Council and Dublin City Arts Office
Project Arts Centre is proudly supported by The Arts Council and Dublin City Council.