About Us
Project Arts Centre is Ireland's leading centre for the presentation and development of contemporary art, dedicated to protecting the independent sector and nurturing the next generation of Irish artists across all forms of the performing and visual arts.
"…the value is great and the crowd are cool It's always a good way to spend a night"
jo_linehan,Tripadvisor
A home for contemporary arts, a producing house, a resource for artists and a critical hub, Project works with artists across all art forms to make and present extraordinary works that inspire and provoke.
Located in the heart of Dublin City, Project is home to two performance spaces (the Cube – capacity of 73-82 and the Space Upstairs, capacity of 180 – 220) and a gallery. The country's busiest arts centre, Project hosts more than 600 events annually, as well as co-producing and touring productions as part of our Project Artist initiative.
For over five decades Project Arts Centre has been at the forefront of contemporary artistic practice in Dublin. Generations of artists and audiences have taken part in its programmes and the careers of Liam Neeson, Gabriel Byrne, U2 and internationally renowned artists like James Coleman and Gerard Byrne were launched within these walls. Today we continue to focus on developing the artists and audiences of the future, helping to sustain Ireland's cultural legacy.
When Project was founded in 1966 as Project 67, the founders came together with the philosophy that a creative person is capable of managing their own affairs. Project was an organisation set up, managed and governed by artists. At a time when art was largely created in established institutions Project focused on the artist, providing a place for independence, and space for artists whose work challenged the status quo.
Established during a time of great change in our country and across the world, looking to the future is embedded in our DNA. Over the years Project has always reflected these values, whether embracing the punk movement, presenting edgy contemporary performance or confounding audiences' ideas of what constitutes an exhibition. We are proud of this legacy but it is not a history that lies heavy on our shoulders; it is a history of reinvention, of evolution, of looking to the future and of change – and that is what we will continue to do.
History
Project Arts Centre began life as a three-week festival at the Gate Theatre in November 1966. Although the initial impetus was to produce a single play this soon evolved into a season of experimental music, visual arts, seminars, children's theatre and a hot debate on censorship with special guest, Edna O'Brien. Project's first exhibition showed the work of four artists John Behan, Charlie Cullen, Michael Kane and John Kelly.
Such was the energy of this season that the founders co-operated to establish a permanent alternative centre for the performing and visual arts. In 1967 Project Gallery opened in Lower Abbey Street with an exhibition of graphic works by John Behan.
In 1969 Project was forced to move to a basement in the YMCA further down Lower Abbey Street. At this stage, film screenings and plays were introduced to the programme and the Project Gallery became the Project Arts Centre. Paintings that were on show during the day came off the walls at night when the space was taken over for performance. Project was now providing a venue for the work of writers and directors like Jim and Peter Sheridan, Vinnie McCabe and Neil Jordan.
In 1972 Project was on the move again to a disused factory in South King Street where Robert Ballagh showed his response to Bloody Sunday with chalk outlines of 13 bodies and chicken blood. In the theatre space directors Alan Stanford and Chris O'Neill filled every slot and playwright Tom Murphy's first work On The Outside was premiered.
Finally, in 1974, Project settled in the former Dollard Printing Works at East Essex Street.
Three years later, with the financial assistance of An Chomhairle Ealaíon/The Arts Council, Project purchased the site and remained there until 1998. The venue at East Essex Street consisted of a theatre/performance space, gallery and cinema. Here actors such as Gabriel Byrne and Liam Neeson developed their acting skills. Music came to the fore with the 24 hour Dark Space Festival and U2, The Virgin Prunes and The Boomtown Rats all played on stage at Project. Nigel Rolfe's performances, Gay Sweatshop and Councillor Ned Brennan's outrage about 'funny bunnies' all form important parts of Project's past.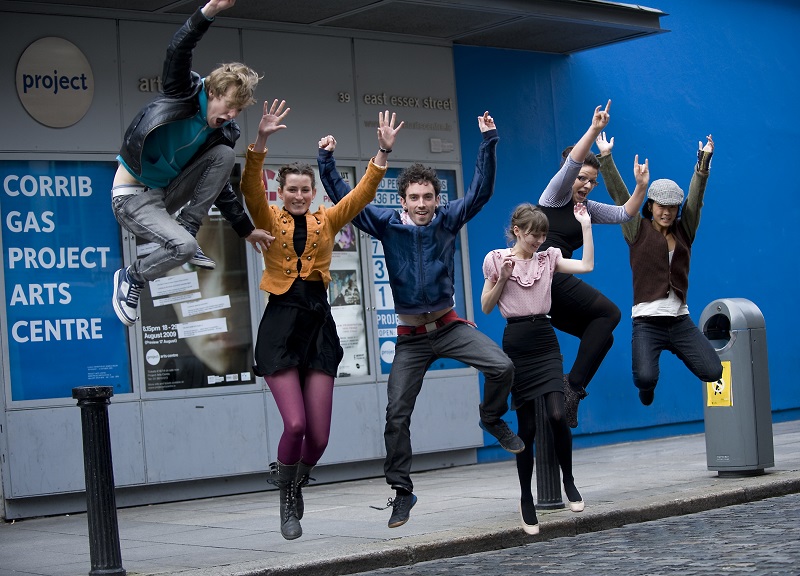 Watch the video
Project Arts Centre to Open in New Venue 1975
From the Archives of RTÉ
In 1982 fire destroyed part of the premises, forcing the closure of the cinema and the loss of the foyer and of ce accommodation. The 80s also saw Rough Magic become Project's flagship theatre company. Olwen Fouéré and Roger Doyle formed Operating Theatre during this time, and pushed the boundaries of performance work in Ireland.
In 1991 the Board of Project instigated a programme of redevelopment to improve the venue and facilities. This culminated in the temporary closure of Project's long-term base at East Essex Street in 1998. Artist-in-residence Maurice O'Connell's Demolishing Project marked this event in February 1998, by inviting people to literally mark Project with a message or thought on the notion of Project and the old building.
In 1997, Project had relocated its performance space to project @ the mint. This temporary venue was located above a snooker club and fortune-teller in Henry Place, Dublin 1. The first show in Project @ The Mint was Hit and Run by CoisCéim Dance Theatre in January 1997. New companies like Bedrock and Loose Canon developed their craft and established their audience base. Dance, in particular, found a new home and work by Daghdha Dance and Paul Johnson of Mandance was showcased in this space. The visual arts programme at Project continued offsite at various locations and across different media.
Just as the mint was opened with a dance show, so it was closed in August 1999 with Without Hope or Fear – Work-in-Progress by Paul Johnson.
The new Project building was developed by Temple Bar Properties Ltd. and funded under the Operational Programme for Local Urban and Rural Development of the EU, and by the Department of the Environment, Local Government and Dublin Corporation. It was designed by Shay Cleary Architects and was opened by An Taosieach Mr. Bertie Ahern T.D. on Monday 12th June 2000. The building was introduced to the public with the inaugural exhibition Somewhere Near Vada, curated by artist Jaki Irvine, who was commissioned to select artists' works using the moving image.
Project has had an eventful history and evolution, one which has mirrored the political and cultural trends of its time. It has developed from a voluntary, artist-led co-operative to the current structure of a full-time artist-driven company.
In 2017 we unrolled an ambitious new strategy for the development of Project Arts Centre. Project 2020 builds on a vibrant 50-year legacy in order to re-imagine our future. Find out more about Project 2020 here.
Governance & Fundraising Compliance
Project Arts Centre is a Company Limited by Guarantee, governed by a Board of Directors. For a full list of all Directors, click here. To find out more about Project Arts Centre's Governance & Fundraising Compliance, click here.
Date Night
Make a date with Project, simply select a day & see what tickles your fancy...
Latest From the Newsroom
Open Call - Future Forecast: HAVEN
July 14 2020, at 05:12pm
Project Arts Centre is pleased to announce an open call for a series of 3 artist commissions. Future Forecast is a series of events and artistic interventions forming part of a speculative voyage towards the future. Future Forecast is a multiway transmission with 2020+ vision. For the Arts sector, the last few months have been a time of crisis, but also a time of reflection. The building is a luxury and we miss it. We miss artists making their work in our spaces and audiences making a journey through the building to see that work and we miss being together…
Read More
Celebrating 20 Years in the Big Blue Building
June 12 2020, at 10:55am
Exactly 20 years ago the new purpose-built premises of Project Arts Centre reopened amidst huge expectations and speculations on its capacities to live up to its artist-led ethos and continue its creative path dedicated to experimentation and radical practices. There were sceptics and critical voices addressing both the context of the development of the Temple Bar Cultural Quarter and spectacle-oriented, consumer-driven cultural production which some feared Project's subversive spirit might fall prey to after its refurbishment. An anniversary at most times is an important opportunity to reflect, especially during such transformative moments as those we are living through right now.…
Read More
Visit the Newsroom