Latest News
Whip it Up! – Billboard Commissions Announced
We're delighted to announce the recipients of the Whip it Up! billboard commission, Áine O'Hara and Fortune Lago. Taking over the Project billboard over the course of summer 2021, they'll be transforming the Big Blue Building into a site of dialogue and provocation. Stay tuned for daring work inspired by our Whip it Up! open call.
Áine O'Hara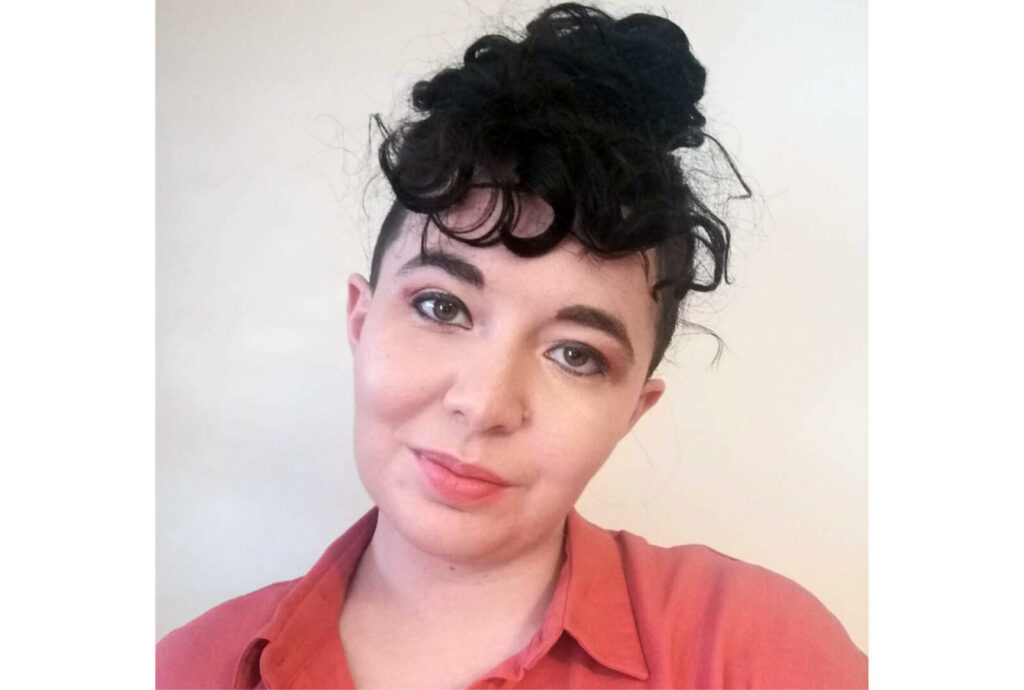 Áine O'Hara is a multidisciplinary artist, theatre maker and designer. Áine's work experiments with form, and focuses on connection and care. Áine's long-term ambitions include demanding adequate access to theatre and the arts for disabled and chronically ill communities through the creation of large scale, ambitious work.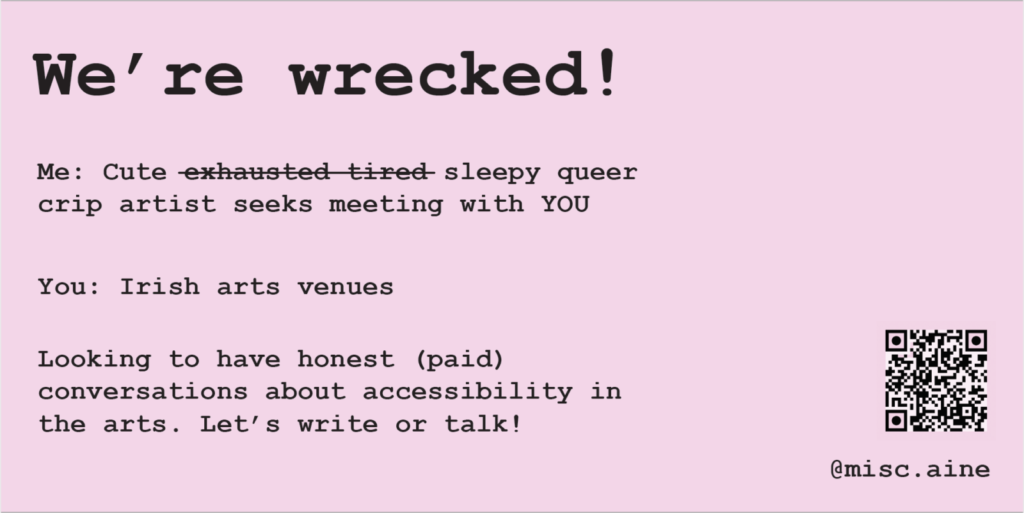 Light pink background with bold text. Header: We're wrecked! Subtitle: 'Me: Cute exhausted, tired, (with a line through each exhausted and tired) sleepy, queer, crip artist seeks meeting with YOU. You: Irish arts venues. Looking to have honest (paid) conversations about accessibility in the arts. Let's write or talk!' On the right of the image is a QR code which leads to this form: https://aineohara.com/crip-it-up/ and my instagram handle which is @misc.aine
Personal ads to the art world by Áine O'Hara
I want disabled artists to be able to focus on creation without constantly having to use their energy focusing on their access needs. I am inviting those in positions of power in the arts world to meet with me for an access audit, a paid conversation on what they are doing (or not) to support disabled and chronically ill artists in Ireland. 

To use the QR code using a smartphone: open your camera or a QR code app and Hold your device over a QR Code so that it's clearly visible within your smartphone's screen. Two things can happen when you correctly hold your smartphone over a QR Code: The phone automatically scans the code or on some readers, you have to press a button to snap a picture, not unlike the button on your smartphone camera.

You will then be brought to a form on my website. Alternatively you can fill in the form at https://aineohara.com/crip-it-up/

I am a disabled and chronically ill artist, designer, and theatre maker based in Mayo and Dublin. If you want to see more about me and my work go to my website aineohara.com 
Fortune Lago
The people call me Lago, Fortune Lago. I'm an Expressionist Artist – Photographer & Poet who uses Emotive Language & Perspective as the main tools to evoke some form of emotion in the observer or space.
BLUESCALE by Fortune Lago
People love to say they don't see in color, those same people also fail to mention that it's much easier to differentiate "color" in Black & White. 
In doing so they also fail to ever understand the full spectrum of such a problem.
Even if it's right in front of them, staring them back in the face. 
Titled BLUESCALE, in reference to how the skin of those of African descent shimmers during a moonlit night.
Conceptualised, Photographed, Collaged & Written by Fortune Lago