Latest News
THE RED FLAGS – A Climate Change Project by Fergal McCarthy
Commissioned by Project Arts Centre, Fergal McCarthy's site-specific installation THE RED FLAGS draws attention to Ireland's climate change hotspots. Each day, it seems we pass another climate change milestone, and yet another red flag is raised for the world. June 2023 saw the warmest temperatures ever recorded in Ireland. Monday, 3 July 2023, was the hottest day ever recorded globally.
As a visual artist, the environment and the natural world have long fascinated McCarthy as a canvas for creating art. A body of work around water and landscape includes installations on Dublin's Liffey River (Liffeytown and No Man's Land, Dublin Fringe), the Irish Sea (Northbank Lighthouse and The Swimmer, Science Gallery) and canals (Take Me To The River, VISUAL Carlow).
During the 2020 lockdown, Project Arts Centre commissioned McCarthy to create a climate change project. He did a two-year exploratory deep dive, finding great hope in actions happening all over Ireland. He was inspired by the visionaries rewilding their land throughout the country, tree-planting community initiatives, a revolutionary electric bus service in Athlone and a local Cabra collective working together to create a low-carbon environment.
Travelling through Turkey years before, he had been struck by their national red flag on top of hills and mountains, rooftops and city skylines, like a beautiful art installation spread across the country.
Deep in his climate change research, these environmental red flags brought to mind those flags dotting the Turkish landscape and an idea began to form.
Gathering fallen branches for use as poles, with the help of friends he sewed dozens of red flags from organic cotton. In early 2023 pop-up red flag installations began to appear briefly at beaches across Dublin that could be off the map by 2050 due to rising sea levels. The Red Flags travelled to treeless hillsides in Connemara regarded as man-made deserts by ecologists. The flags fluttered in front of ESB gas-fired power plants in Ringsend and North Wall (natural gas creates roughly 22% of global emissions).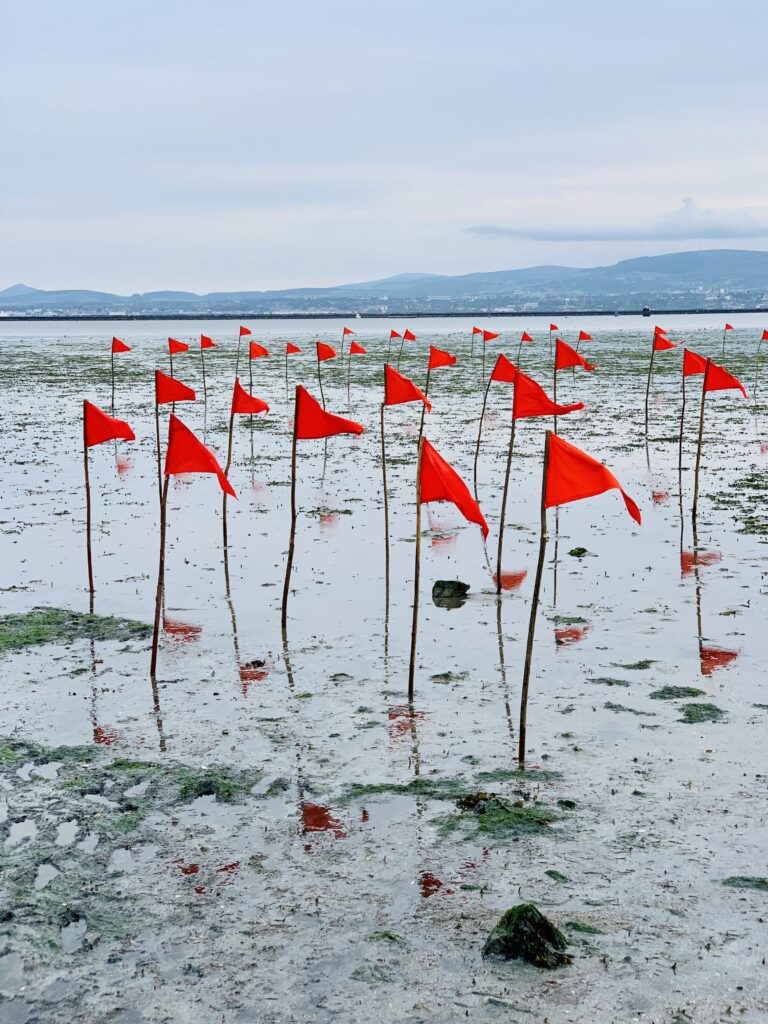 The Red Flags are activated by the wind, a weather feature affected by climate change and one that increasingly has a pivotal role in divesting the world from fossil fuels.
The Red Flags will continue to travel across the country in 2023 to multiple locations at the coalface of this crisis, including data centres, power stations and dairy farms, drawing attention to the causes and effects of climate change.
We can all feel powerless in the face of this overwhelming crisis facing our planet. These red flags won't fix the problem, and no single action can. But by focusing on places around Ireland where we need to pay careful attention, this project hopes to shape some of the conversations we need to have, in order to find a better way to live.
You can follow the project on Instagram @fergalmccarthy , where videos and images of the flags are regularly shared.
Fergal McCarthy is a Dublin-based visual artist. His work encompasses outdoor installations, film, socially engaged practice and drawing.