Join us this January for First Fortnight 2023 for a special programme of events in the Cube. Explore the programme below and find an event for you.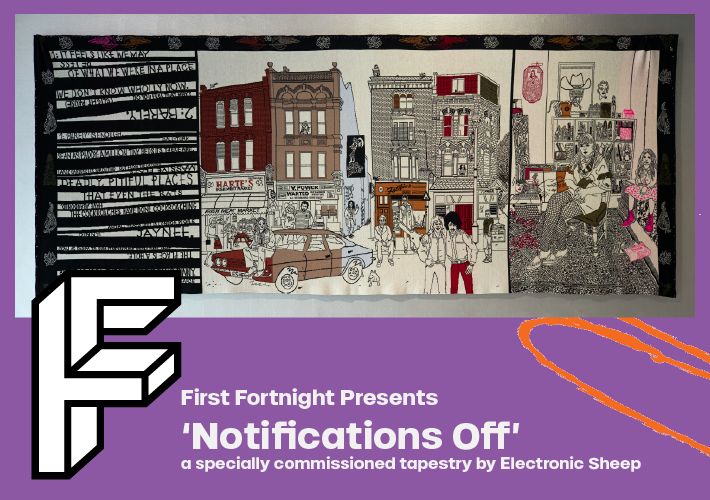 Notifications Off: An Electronic Sheep Tapestry, commissioned by First Fortnight
6-14 Jan | 10am – 6pm daily excluding Sunday | Free
Visual artists Helen Delany and Brenda Aherne (AKA Electronic Sheep) have created a new artwork Notifications Off which aims to open up a conversation around mental health awareness. On display in the Cube.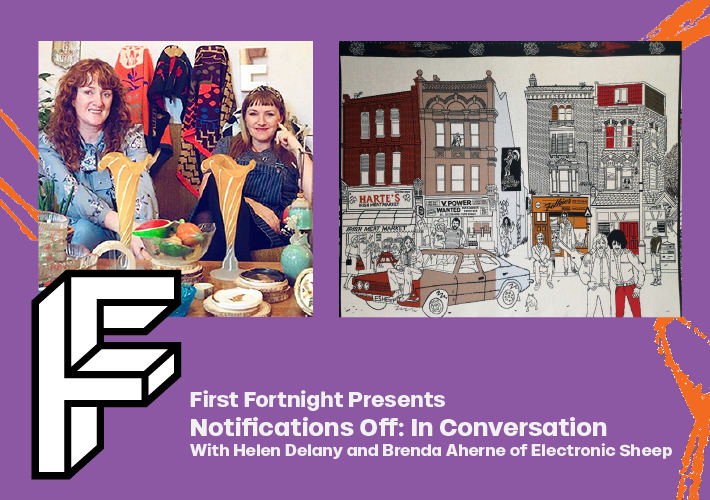 Notifications Off: In Conversation with Helen Delany and Brenda Aherne of Electronic Sheep
7 Jan | 14:00 | 60mins | Free, Ticketed
Join Helen Delany and Brenda Aherne of Electronic Sheep in The Cube at the Project Arts Centre as they discuss their creative process, being artists in Ireland, and exploring this newly commissioned tapestry with First Fortnight. Further guest speakers to be announced.
Notifications Off: Workshop with Duffy Mooney Sheppard
14 Jan | 11.30am | 45mins | €5
Do you own an object that brings you happiness? Something you could not live without? Perhaps you have a few, or had one long ago, now lost; A scarf, a mug, a photograph…. Inspired by Electronic Sheeps commissioned tapestry on exhibition at Project Arts Centre, we will play short games to explore words and drawings about these objects. Using these experiments on paper you will create a unique paper weaving. An homage to this special thing in your life.
All ages welcome, children must be accompanied by an adult.
Accessibility
If you require assistance for your visit, please do not hesitate to contact us at access@projectartscentre.ie or call 01 8819 613 . You can find the latest information about Project's accessibility here.
Funding
Commissioned by First Fortnight with support from the Arts Council of Ireland
Project Arts Centre is proudly supported by The Arts Council and Dublin City Council.