RTE Radio 1 and Sideline Productions present
It's back! Now in its third year, RTE Radio 1's Comedy Showhouse is a festival of Irish comedy featuring the best writers, performers and acts live one stage in Project Arts Centre. Join us in the Space Upstairs for 6 days packed full of live comedy which will be broadcast on RTÉ Radio 1 across 2018.
Comedy Showhouse is 'revolutionising Irish broadcast comedy' Irish Times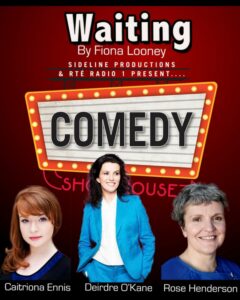 WAITING by Fiona Looney
An all-female comedy about waiting! Last year WAITING proved such a success that it is now being supersized as a 6-part series recorded over 3 nights starring award-winning actresses Deirdre O'Kane, Caitriona Ennis & Rose Henderson.
See a new show every night with all shows recorded for future broadcast on RTE Radio 1.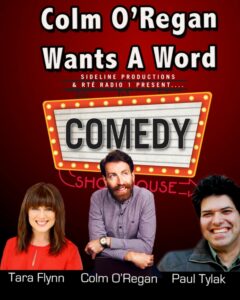 COLM O'REGAN WANTS A WORD
Starring the Cork-born author of the successful Irish Mammy books, best seller of Bolloxology and a regular performer on stage, radio and TV.
This show features two of Ireland's best comedy actors; Tara Flynn and Paul Tylak, plus special guests, and has already won Best Irish Radio Comedy 2016 and 2017 plus the Celtic Media Award 2017 for Best Radio Comedy Programme.











THE RADIO SITCOM TRIALS
A live performance of the winning radio sitcoms chosen as part of a brand new initiative designed by Sideline Productions and grintage.com to promote new Irish comedy writing for radio, supported by RTE Radio 1 with The Broadcast Authority of Ireland.