Latest News
Don't miss The Falling Song on Tour this April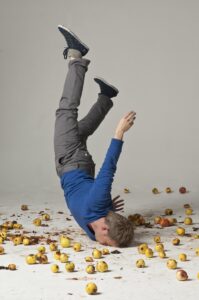 Project Catalysts junk ensemble are currently touring The Falling Song in the UK, before bringing it to four Irish venues this April.
Performed by an international all-male cast and a local children's choir and featuring a set of towering ladders, ropes and hundreds of apples, this critically acclaimed production looks at the nature of flying and falling and the dangerous relationship between the two.
'An elegant simplicity permeates their work… excellent cast of four male dancers' The Irish Times
'Perfectly executed… adrenalin pumping and unsettling… marvelous' Irish Theatre Magazine
Upcoming Irish Tour Dates:
7 April 8pm
Town Hall Theatre, Galway
091 569777 tht.ie
10 April 8pm
Pavilion Theatre, Dun Laoghaire, Co. Dublin
01 231 2929 paviliontheatre.ie
12 April 8pm
Garter Lane Arts Centre, Waterford
051 855038 garterlane.ie
16 April 8pm
Lime Tree Theatre, Limerick
061 774774 limetreetheatre.ie
junk ensemble are part of Project Catalyst, an initiative of Project Arts Centre.
Follow the tour on Facebook