ARTIST BIOGRAPHY
Louise is an award winning theatre-maker who has presented innovative audience experiences since 2009. She makes work for theatres and offsite venues: these have included black boxes, abandoned commercial units, psychiatric institutions and a decrepit Georgian mansion.
She has developed projects with dancers, culinary artists, composers, visual artists, opera singers, and children. She aims to cultivate original collective experiences that leave the audience with difficult questions about accountability and the fragility of the human condition.
Visit Louise White's website @ www.louisewhiteperformance.com
Previous works have been highly successful:
This is the Funeral of Your Life 2017: A play about death through the challenges of living.
Mother You 2015: Ambitious large scale performance for a disused commercial building.
Way Back Home 2013 : WINNER Spirit of the Fringe Award.
From the Heart 2010: NOMINATED Spirit of the Fringe, Best Off-Site Production & Best Design.
---
News
Louise is developing a new work entitled 'Privilege, The Musical!'. This is a searing and compassionate analysis of Ireland through story and song; a raucous exposition of the tensions that arise when telling the story of modern day Ireland.
She is researching and developing in 2018 and the work will premiere in late 2019.
www.louisewhiteperformance.com
---
PRODUCTIONS
This Is The Funeral of Your Life
Mother You
Way Back Home
All Things Considered It's a Nice Place to Start
From the Heart
Nurse Me
---
This is the Funeral of Your Life
Project Arts Centre, 2017
'An unexpectedly funny and uplifting play about your own death. This is elegant, dignified, skillfully put together by White and producer Joanna Crawley, and unexpectedly humorous.'
★★★★
Deirdre Falvey, The Irish Times, November 2017
​
'Louise White's eclectic exploration of mortality is ebullient and profound…White's charming production – woven from personal grief – explores ideas of mortality.'
Chris McCormack, Exeunt Magazine, November 2017
​
'This is a clever, funny show which engages the audience from the opening moments…Comical, moving and genuinely thought-provoking, This is the Funeral of Your Life captures the absurdity, devastation and humility of Final Farewell.'
Niall McArdle, 2paragraphs.com November 2017
---
​Mother You
Block B, Smithfield – Dublin Fringe Festival 2015
'The scale of this event is one of the most fascinating things about it, and Louise White has moved on from her last Fringe event. It is a story that deals with community and realising what is important and worth fighting for…It is events like this that make the Fringe special. The vision, scope and creativity on display make it a charming event.'
Nomoreworkhorse.com, September 2015
'White isn't afraid to show hierarchies in groups and the sly dismissal of certain members.'
Chris McCormack, Broadwayworld.com, September 2015
'The performance of Mother You has as much depth and as many layers as the bog in Abbeyleix… The understated yet beautifully authentic presentation by the cast of Mother You gently encourages us to remember our feelings from our first day at school, at college, at our workplace or at any of the thousands of community events hosted the length and breadth of Ireland.
Cringe and fold up inside as the dynamics unfurl in the magical space, knowing full well that you are that person, you have asked that question and you have felt that feeling.'
David Staunton, Walkinniu.ie, September 2015
---
Way Back Home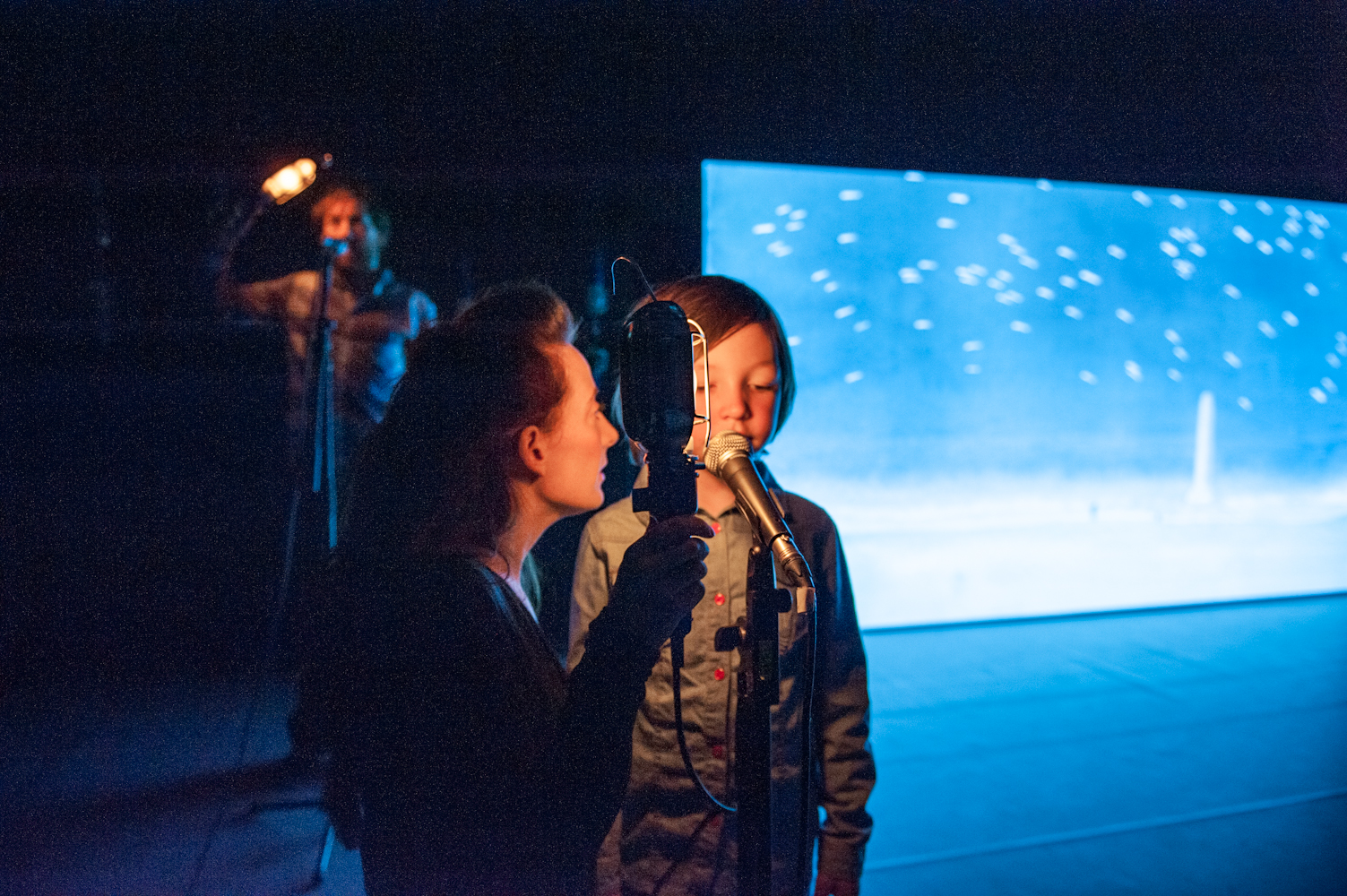 Project Arts Centre – Dublin Fringe Festival 2013
Winner of Dublin Fringe Festival's Spirit of the Fringe Award 2013
★★★★
'The form of her absorbing show follows its material, guided by a heartfelt sense of empathy for a direction-less society in search of new structures … White's interest is something warmer: the hope and resilience necessary to find our way again.'
Peter Crawley, The Irish Times
★★★★
'This mystifying piece merges visual and sound art, music, dance and theatre in a splendidly seamless fashion … When you put the pieces together, the bigger picture emerges. This is a play about, for one, the urge to fix things.'
Jennifer Lee, Irish Theatre Magazine
'It captures the wildness and free-wheeling nature of a child's view of the world and is playful and joyous. … This is a warm and feel good piece; that will leave you with a smile on your face when you leave the theatre.'
No More Workhorse
---
All Things Considered It's a Nice Place to Start
Project Arts Centre – Dublin Fringe Festival 2011
Town Hall Theatre – Galway Theatre Festival 2011
'With dance, mime, punning, ingenious use of washing lines and even a bit of a bounce on some mini-trampolines, the work is marked by appositely directed theatrical devices. It's well-judged, tongue-in-cheek joviality that bigs-up the Irish everyman and it is delivered slickly by very experienced performers … All Things Considered… is warm, optimistic and spits (politely) in the face of doom and gloom.'
Matthew Harrison, Irish Theatre Magazine October 2011
'A thoroughly heart-wrenching and spirit-lifting show … this production attempts to address the great dearth of goodwill and kindness that exists, at least publicly, in the current whirlpool of doom and gloom. The great catharsis of telling stories meets the impossibility of the selfless act, there was laughter and there were almost unexplainable tears too.'
Jeanette Farrell, Le Cool Dublin September 2011
'It's a neat and generous idea . . . intriguing and heart-warming, and sends an audience back out on to rainy lunchtime streets with smiles all round – mission accomplished..'
Laurence Mackin, The Irish Times September 2011
---
From the Heart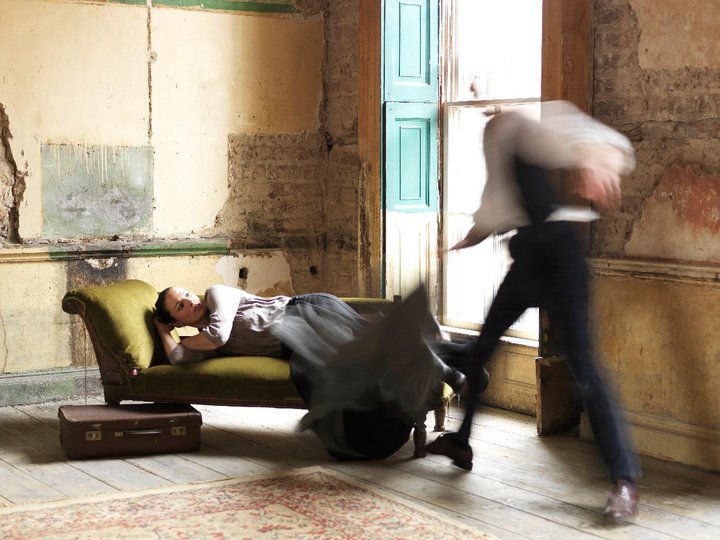 No. 13 North Great George's Street – Dublin Fringe Festival 2010
Nominated for Best Off-Site Production, Best Design and the Spirit of The Fringe awards at Dublin Fringe Festival, 2010
'In affecting visual images … the uncanny atmosphere achieves a concrete, sensate effect, while the lavender scent of a young gentleman's touch and the sweet sticky taste of blackberry jam lingers long after the short performance piece ends.'
Sara Keating, The Irish Times September 2010
Louise White and Kate Nic Chonaonaigh don't shy away from confronting major themes in this intriguing and complex production … The stellar five-person cast make this a memorable experience'
Brian Kean, Le Cool Dublin September 2010
'Louise White and Kate Nic Chonaonaigh bring a sense of honest frailty to characters, willing us to see reality in fiction, lulling us to a state of intense discomfort.'
Kathy Clarke, Irish Theatre Magazine 2010
---
Nurse Me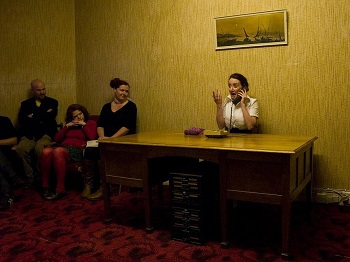 St. Brendan's Psychiatric Hospital, Grangegorman – Dublin Fringe Festival 2009
'In this engrossing piece of theatre, White and Nic Chonaonaigh give beautiful performances, sometimes fierce and other times fragile. White and Nic Chonaonaigh are playing with some really fascinating concepts in a highly evocative context. The material is original, intriguing and important.'
Fintan Walsh, Irish Theatre Magazine
'A combination of immersive experiences (lavender incense and candle-filled rooms) and dense literary monologues … the vignettes of past case-histories eventually provides the viewer with a visceral narrative focus … performers Kate Nic Chonaonaigh and Louise White seem to be evoking a time long past … An intriguing piece.'
Sara Keating, The Irish Times
---