ARTIST BIOGRAPHY
Louise White is a theatre and performance maker originally from County Laois. Her practice is largely based in Dublin. She is committed to developing collaborative, interdisciplinary performance. Her work presents innovative audience experiences in theatres and offsite venues.
Since 2009, her work has concentrated on social engagement with a particular interest in the empty buildings across the nation. Concepts of the public, community and socio-cultural environments are at the heart of her work.
Louise trained at Trinity College Dublin and the Oxford School of Drama. She is currently completing an MA in Socially Engaged Art at the National College of Art and Design. She was based in London from 2006 to 2009, where she worked as an actress.
On her return to Ireland, she began making her own performances. Louise has presented several new works as part of the Dublin Fringe Festival. She has also collaborated extensively with actress Kate Nic Chonaonaigh.
In 2012, Louise directed Through This Dark, a first-year one-act for Dublin Youth Theatre and she loved every minute of it. She is committed to working with children and young people and has undertaken numerous workshops in national schools. She has used material generated with the school children in her performances. She is interested in reflecting the integrity, outlook and experiences of children and situating them in an adult framework.
Louise took part in the Pan Pan International Mentorship Bursary Programme in 2013 as part of her initial development phase of new work Mother You. She was also a participant in the MAKE Artist Residency in both 2013 and 2011, and Dublin Theatre Festival's The Next Stage programme in 2011.
Louise has attended workshops with Andy Smith, Nic Green, Forced Entertainment, Fabulous Beast Dance Theatre Company, The Corn Exchange, Deborah Hay, Ant Hampton and Barabbas Theatre Company.
---
PRODUCTIONS
Mother You
Way Back Home
All Things Considered It's a Nice Place to Start
From the Heart
Nurse Me
---
Mother You
Mother You is an ambitious large scale performance for a disused commercial building which fuses performance, installation and video art to create a tender theatrical moment of activism and communion. 
This work was developed with The Abbeyleix Bog Project, a small community in Laois who reclaimed a vast area of bogland from a semi-state body for their own recreational use. 
Mother You premiered in Block B, a large commercial site in Smithfield, Dublin, as part of Dublin Fringe Festival, Sept 2015
Set in a disused warehouse and fusing live performance, installation, video art and ritual, the audience are invited to be guests of this strained community; to collectively witness action and to piece together fragments as the work unfolds.
Spirit of the Fringe Winner 2013 (Way Back Home) returns with this epic, immersive adventure. 
Mother You was a commission from Project Arts Centre and Tiger Dublin Fringe. It will fuse performance, installation, video art, role play games, ritual and ceremony in order to create an epic theatrical moment of fantasy, activism and communion.
---
Way Back Home
Dublin Fringe Festival at Project Arts Centre, 2013
Winner of Dublin Fringe Festival's Spirit of the Fringe Award 2013
★★★★
'The form of her absorbing show follows its material, guided by a heartfelt sense of empathy for a direction-less society in search of new structures … White's interest is something warmer: the hope and resilience necessary to find our way again.'
Peter Crawley, The Irish Times
★★★★
'This mystifying piece merges visual and sound art, music, dance and theatre in a splendidly seamless fashion … When you put the pieces together, the bigger picture emerges. This is a play about, for one, the urge to fix things.'
Jennifer Lee, Irish Theatre Magazine
'It captures the wildness and free-wheeling nature of a child's view of the world and is playful and joyous. … This is a warm and feel good piece; that will leave you with a smile on your face when you leave the theatre.'
No More Workhorse
---
All Things Considered It's a Nice Place to Start
Dublin Fringe Festival at Project Arts Centre, 2011
Galway Theatre Festival at Town Hall Theatre, Galway, 2011
'With dance, mime, punning, ingenious use of washing lines and even a bit of a bounce on some mini-trampolines, the work is marked by appositely directed theatrical devices. It's well-judged, tongue-in-cheek joviality that bigs-up the Irish everyman and it is delivered slickly by very experienced performers … All Things Considered… is warm, optimistic and spits (politely) in the face of doom and gloom.'
Matthew Harrison, Irish Theatre Magazine
'A thoroughly heart-wrenching and spirit-lifting show … this production attempts to address the great dearth of goodwill and kindness that exists, at least publicly, in the current whirlpool of doom and gloom. The great catharsis of telling stories meets the impossibility of the selfless act, there was laughter and there were almost unexplainable tears too.'
Jeanette Farrell, Le Cool Dublin
'From the get-go, there is no fourth wall between audience and performers; much like the original idea, this is meant to be a more inclusive approach to theatre. It's a neat and generous idea … intriguing and heart-warming, and sends an audience back out on to rainy lunchtime streets with smiles all round – mission accomplished.'
Laurence Mackin, The Irish Times
---
From the Heart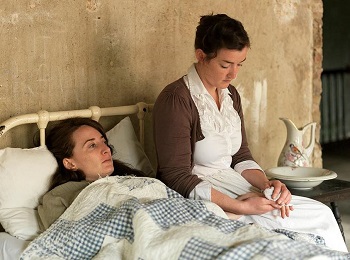 Dublin Fringe Festival at No. 13 North Great George's Street, 2010
Nominated for Best Off-Site Production, Best Design and the Spirit of The Fringe awards at Dublin Fringe Festival, 2010
'In affecting visual images … the uncanny atmosphere achieves a concrete, sensate effect, while the lavender scent of a young gentleman's touch and the sweet sticky taste of blackberry jam lingers long after the short performance piece ends.'
Sara Keating, The Irish Times
'Loss, love, pain, fear, death … Louise White and Kate Nic Chonaonaigh don't shy away from confronting major themes in this intriguing and complex production … The stellar five-person cast make this a memorable experience'
Brian Kean, Le Cool Dublin
'Louise White and Kate Nic Chonaonaigh bring a sense of honest frailty to characters, willing us to see reality in fiction, lulling us to a state of intense discomfort.'
Kathy Clarke, Irish Theatre Magazine
---
Nurse Me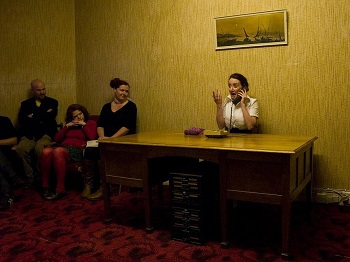 Dublin Fringe Festival at St. Brendan's Psychiatric Hospital, Grangegorman, 2009
'In this engrossing piece of theatre, White and Nic Chonaonaigh give beautiful performances, sometimes fierce and other times fragile. White and Nic Chonaonaigh are playing with some really fascinating concepts in a highly evocative context. The material is original, intriguing and important.'
Fintan Walsh, Irish Theatre Magazine
'A combination of immersive experiences (lavender incense and candle-filled rooms) and dense literary monologues … the vignettes of past case-histories eventually provides the viewer with a visceral narrative focus … performers Kate Nic Chonaonaigh and Louise White seem to be evoking a time long past … An intriguing piece.'
Sara Keating, The Irish Times
---