Brokentalkers
Brokentalkers are a multi-award winning Dublin based theatre company, founded in 2001 by Feidlim Cannon and Gary Keegan after graduating from De Montfort University in Leicester. Brokentalkers have built a reputation as one of Ireland's most innovative and original theatre companies making formally ambitious work that defies categorization. 
Their working method is founded on a collaborative process that draws on the skills and experiences of a large and diverse group of contributors from different disciplines and backgrounds. Some are professional artists, performers, designers and writers and others are people who do not usually work in the theatre but who bring an authenticity to the work that is compelling. 
Brokentalkers make work that responds to the contemporary world, using elements such as original writing, dance, classic texts, film, interviews, found materials and music to represent that world in performance. 
Recent work includes The Examination (Irish Time Theatre Awards 2020 Best Production & Best Soundscape, Winner of Best Production and Best Performer, Dublin Fringe Festival 2019), Woman Undone, The Circus Animals' Desertion, This Beach, Have I No Mouth (Winner of Total Theatre Award, Edinburgh 2013) and The Blue Boy (Grand Prix winner, Kontakt Festival, Torun, Poland, 2014). To date Brokentalkers have presented their work in Belgium, Finland, France, Germany, Iceland, Italy, Netherlands, Poland, Portugal, Romania, Russia, Spain, Sweden, UK, Australia, New Zealand, Canada, and the USA.

Website: www.brokentalkers.ie
Facebook: www.facebook.com/brokentalkers
Twitter: @brokentalkers
Instagram: @brokentalkers_dublin
---
PRODUCTIONS
The Examination
A documentary performance work exploring mental health and human rights in the prison system in the UK and Ireland. Based on historical research and interviews with current life-sentence serving prisoners and performed by stand-up comedian and former prisoner Willie White.
With their distinctive blend of biography, socio-political discourse and breathtaking theatricality, this new show from leading contemporary theatremakers Brokentalkers gives voice to a section of society often ignored.
The Examination is a collaboration with Professor Catherine Cox, as part of the Wellcome Trust Award for Prisoners, Medical Care and Entitlement to Health in England and Ireland, 1850-2000 and is supported by UCD Research. Originally commissioned by UCD School of History.
---
Uprooted
A theatre performance devised with and performed by residents of Globe House direct provision centre in Sligo. Performed as part of Cairde Sligo Arts Festival, in collaboration with Hawk's Well Theatre.
Based on the cast's personal experiences, Uprooted explores the experiences of new communities. The piece explores in a darkly comic way the notion of acceptability and how newcomers to land can experience varying degrees of acceptance depending on where they have come from and how they assimilate to a new culture by abandoning their own. Taking the form of a competition to decide who is acceptable, Uprooted explores prejudices and asks what we are afraid of.
---
Working alongside Ballyfermot based drama group Basement Productions, Brokentalkers have devised a piece that travels to peoples' homes. A play in your living room. Or your kitchen. We will perform to an audience of two or twenty depending on the space available.
The Home Project is a timely look at the idea of social housing in a dystopian future, where families are not given the choice of where they live. Where housing comes at a high cost to individual freedom and with strings attached.
The Home Project is the story of a family who has been forced to leave their home and relocate to a new area.
This year Ballyfermot is marking its 70th birthday. The first social housing was built in the area in 1948.
There are 104 roads/streets across Ballyfermot/Cherry Orchard and this ambitious project aims to have a performance in a house on each road over the next few years.
The Home Project is funded by The Arts Council and Dublin City Council
---
Woman Undone is a re-imagining of the extraordinary early life of one of Ireland's best loved singers Mary Coughlan,
A profoundly moving, brave and beautiful fusion of theatre, music and dance, Woman Undone explores the shocking story of a young girl who endured physical and sexual abuse, addiction and mental illness, whose discovery of art and music was instrumental in helping her to overcome trauma. The production boasts an all-female cast including Mary Coughlan.
Woman Undone, is an original and bold, music and theatre performance created in collaboration with Mary Coughlan and renowned Icelandic composer and music producer Valgeir Sigurdsson, Sigurdsson, fuses electronic music with live instrumentation and a haunting vocal score written for female voices. Movement director Eddie Kaye, creates a devastating movement score showing the effect of abuse and trauma on the body.
Woman Undone was created with funding from Arts Council Ireland and is a Co-Production between Brokentalkers, Project Arts Centre (Dublin), Mermaid Arts Centre (Bray) and Lókal Performing Arts (Reykjavík).
---
The Circle Animals' Desertion
A major new dance theatre performance The Circus Animals' Desertion is a poetic response to the imagining of nations, inspired by the Automatic Script experiments of Georgie and William Butler Yeats  in which they called upon the spirit world to assist with their creativity
It juxtaposes the romantic notions of  nationhood put forth by Yeats and other early 20th  Century poets and revolutionaries with brutal realities  of extreme nationalism in the light of the radicalisation, xenophobia and oppression engulfing the world today.
Sampling texts and imagery from Yeats' plays and poetry as well as archive recordings and interviews, the piece is performed by an international cast of dancers  and musicians.
Brokentalkers debut The Circus Animals' Desertion at Dublin Theatre Festival 2016.
---
In this production Brokentalkers respond to the current refugee crisis gripping Europe and the notion of sovereignty of one people over a piece of land; and the lengths people will go to bar entry to their dominion.
A private beach inhabited by a family; a European family. They are the owners of the beach. The beach has been 'in their family' for generations.The family celebrate a wedding, a union between two sides; each of whom can offer something to the other. Security, prosperity, progeny. During the wedding celebration a stranger arrives on the shore of their beach. The family must decide how to deal with this stranger..
---
In collaboration with Junk Ensemble, It Folds is a reverie. A dream-like story of death, grief, beauty and humanity. It's a poignant and humorous portrait of the tragicomic events that shape our everyday lives.
Fusing the distinctive choreography of Junk Ensemble with the innovative theatricality of Brokentalkers, It Folds features a large cast of Irish and local Bristol performers brought together to present an assortment of characters who attempt to find connection through their shared humanity.
Winner of the Best Performer at Tiger Dublin Fringe Festival 2015.
---
In this bold production, Brokentalkers examine perspectives on health, ageing and the future from the point of view of two different generations. Featuring an original soundtrack by Sean Millar and choreography by Jessica Kennedy (Junk Ensemble), Frequency 783 explores the hopes and fears of two people who dream of a future that they may never have a chance to realize.
A co-production with Noorderzon Performing Arts Festival Groningen
---
Have I No Mouth is a powerful piece exploring the changing nature of the relationship between a real-life mother and son in the aftermath of a family tragedy. Written and performed by Brokentalkers' Co-Artistic Director Feidlim Cannon and his mother Ann, the production takes a brave, unflinching look at their past and attempts to piece together the truth, whilst exploring different ways we heal ourselves after the unthinkable happens. Ann and Feidlim are joined on stage by professional psychotherapist Erich Keller.
Total Theatre Award winner 2013 at Edinburgh Fringe for Innovation, Experimentation and Playing with Form
---
The Blue Boy deals with the experiences of men and women who were incarcerated as children in Catholic residential care institutions in Ireland.
Combining a highly physical live performance with recorded testimony from former residents of institutions, The Blue Boy gives a fresh theatrical voice to recently revealed stories of child abuse in Ireland.
Grand Prix winner 2014 at Kontact Festival Poland
A co-production with Dublin Theatre Festival, LÓKAL Theatre Festival Reykjavík, Noorderzon Performing Arts Festival Groningen, Korjaamo Theatre/Stage Festival Helsinki and the Cork Midsummer Festival, with generous support from the Norfolk and Norwich Festival and Dublin Dance Festival
---
Silver Stars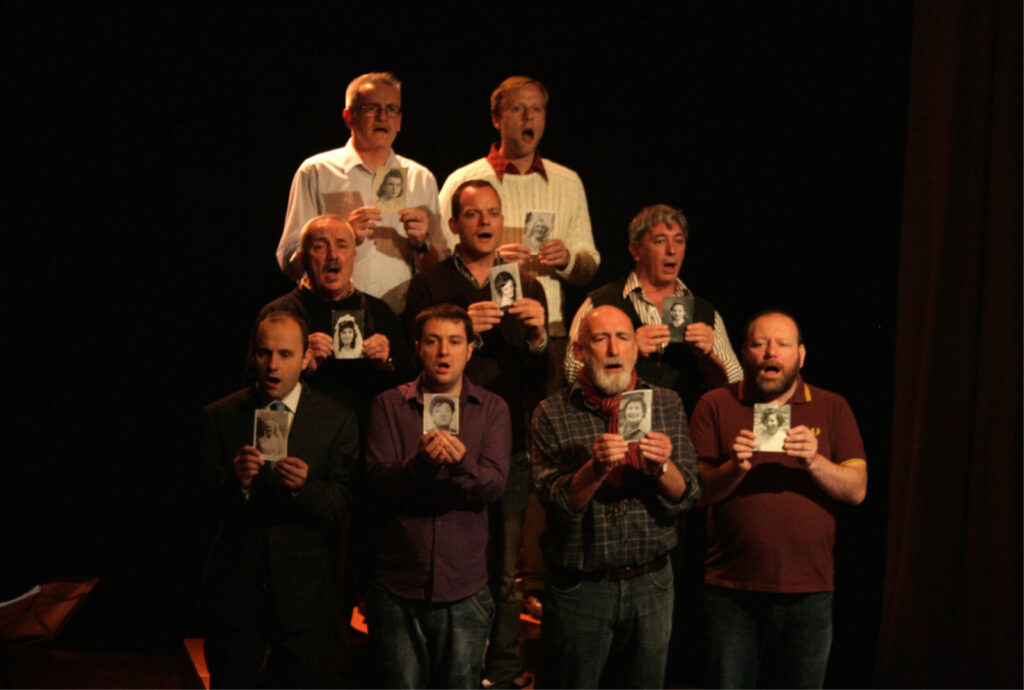 Silver Stars is a moving and eloquent song-cycle, which tells the truly extraordinary real-life stories of older gay Irishmen, men in search of happiness and fulfilment, in a country that was challenged by their very existence.
---
Production Listing
The Examination
Project Arts Centre, The Axis Ballymun, Edinburgh Fringe Festival, Dublin Fringe Festival

Woman Undone 
The Everyman Theatre Cork, Pavilion Theatre Dun Laoghaire, Black Box Galway
The Circle Animal's Desertion
World Premiere, Dublin Theatre Festival
This Beach 
A co-production with the Munich Kammerspiele, the Goethe-Institut Irland and developed at FRINGE LAB. This Beach debuts at Tiger Dublin Fringe 2016
It Folds 
Tiger Dublin Fringe Festival 2015, Mayfest 2015, Bristol, Edinburgh Fringe Festival 2016
Frequency 783 
Dublin Theatre Festival at Project Arts Centre, 2014
Have I No Mouth 
North American tour, Spring 2014, European tour, Summer 2013, Dublin Theatre Festival at Project Arts Centre, 2012
The Blue Boy 
2013: Belgium, Germany, Russia, Australia, 2012: Germany, Iceland, Finland, Romania
Silver Stars
Auckland Arts Festival 2011, Under The Radar Festival 2010, Dublin Theatre Festival 2009, Bealtaine Festival, 2008

Awards
The Examination
Winner: Best Production & Best Soundscape (Denis Clohessy)- The Irish Times Theatre Awards 2020
Winner: Best Production & Best Performer Willie White) – Dublin Fringe Festival 2019
Woman Undone
Nominated: Best Sound (Mary Coughlan, Mongoose and Valgeir Sigurdsson), Best Movement Direction (Eddie Kay) & Audience Choice Award – The Irish Times Theatre Awards 2019
The Blue Boy
Winner- Grand Prix, Kontakt Festival, Torun, Poland, 2014
Have I No Mouth
Winner: Total Theatre Award, Edinburgh Fringe Festival 2013
Press Quotes
"Brokentalkers, one of the country's most fearless and path breaking theatre companies"
The Irish Times
"Brokentalkers, the emergent wunderkind of Irish Theatre"
The Irish Independent
The Examination 
★★★★
"No easy escapes…. an absorbing production" The Irish Times
"A company that routinely breaks new ground" Fest-mag.com
The Circus Animals Desertion
★★★★
"Stirring, Arresting Darkly Comic Phantasmagoria" The Irish Times

★★★★
"exquisite, and really has to be seen to be appreciated." The Review Hub

★★★★
"a surreal portrait of radicalization sent as if from on high" The Stage
It Folds
★★★★
'Perturbingly powerful , this beguiling production is stirringly beautiful'
Broadway World
★★★★
'A captivating exploration of humanity and character through a surreal and stylised lens which gets under your skin, permeates your brain and touches your heart.' 
Reviews Hub 
'Rich theatrical pickings'
The Irish Times
'Extraordinarily unique fusion of eccentric theatricality and distinctive dance style'
Le Cool Dublin
Frequency 783 
"focused and intense, a cumulatively powerful piece"The Guardian
"bracing sequences … One song, Michael, is both a floating hymn to a supportive robot and a sad rebuke to an absent husband"The Irish Times
Have I No Mouth 
"One of the bravest shows I've ever seen … you should definitely go and see Have I No Mouth"
The Huffington Post
★★★★★
"A unique insight into the eccentricities of a normal family that makes for compulsive viewing"
Three Weeks Edinburgh
★★★★
"Startlingly original … refreshingly honest" The Times UK
The Blue Boy 
"A raw and subtle performance with striking choreography and music, a hard swipe at the abuses of the Catholic institution" Dagblad Noorderzon, Netherlands
"Almost unbearable to watch … devastating theatre" Lyn Gardner, The Guardian
Silver Stars
"Extraordinary … its effect is simply devastating" The Irish Times

★★★★★
"An effortlessly engaging and unified show … a disarmingly natural, startling piece of theatre … spine-tingling" Metro
"Radiates dignity and perfectly conveys the depth, humor, and emotion of the stories making up this intriguing production" The New York Theatre Review
Latest News
The Examination
Brokentalkers are delighted to have recently been awarded Best Production & Best Soundscape (Denis Clohessy) at the Irish Times Theatre Award 2020. 
The production has also been awarded Best Production & Best Performer (Willie White) at Dublin Fringe Festival 2019. 
Congratulations to our fantastic team and special thanks Catherine Cox, Sinead McCann, all at PACE, Ann Costello and staff at Mountjoy Prison, The Wellcome Trust, Dublin Fringe Festival, Project Arts Centre and to all who shared their stories. 
Brokentalkers are thrilled to welcome Creative Producer Rachel Bergin to the company. 
The company is currently developing a new production with acclaimed New York artist Adrienne Truscott to be presented in 2021. 
Can imagining the future be a collaborative act?
What happens when we can't agree on what to do next?⁠
Watch MELTDOWN now.
Format: Video with captions.
Commissioned by Project Arts Centre as part of Future Forecast.