ARTIST BIOGRAPHY
Fearghus Ó Conchúir is a choreographer and dance artist whose physically dynamic and emotionally charged film and live performances create space for audiences and artists to build communities together.  He gathers perspectives gleaned from personal and collective experiences, frequently collaborating with artists from other disciplines. Expressed in movement, these encounters with our sense of  place, identity and history create layers of meaning that are affecting, thought-provoking and deeply resonant with audiences.
In 2014, his innovative solo Cure toured internationally and he also collaborated with visual artist Sarah Browne on two films.  In 2015, he created The Rhythm of Fierce for Croí Glan Integrated Dance Co. and is working on The Casement Project, a new work about nationalism and the body for 2016.
'Calmly conceived and intellectually robust, [his artistic] strategy doesn't just produce eloquent movement, it creates powerful art.'
The Irish Times
Brought up in the Ring Gaeltacht in Co. Waterford, Fearghus completed degrees in English and European Literature at Magdalen College Oxford, before training at London Contemporary Dance School.
A major creative preoccupation of Fearghus' has been the relationship between bodies and buildings in the context of urban regeneration, a preoccupation that has manifested itself in film and in live performance in Europe, the US and China.
In 2011, addressing the impact of Catholicism on the body, he premiered Tabernacle at the Dublin Dance Festival and toured the work across Europe. In the same year, he collaborated with photographer Dan Dubowitz to make a film-based installation in response to the Martello Towers of England's East Coast.
In 2012, he premiered Starlight, a site-specific promenade performance about charisma and in 2013, he premiered and continues to tour Cure, a piece about what it takes to recover.
In 2014, he worked with visual artist Sarah Browne on two films and, in 2015, he created The Rhythm of Fierce for Croí Glan Integrated Dance Company.
Since 2013, he has been Curator of the Artistic Programme at Firkin Crane, Cork and is currently Trustee of the BBC Performing Arts Fund and of Dance Digital. He is a former board member of Create, Dance Ireland, and Project Arts Centre.Fearghus was the first Ireland Fellow on the Clore Leadership Programme and continues to contribute to the programme as a facilitator, coach and speaker.  He is a PhD student at NUIM with the support of an IRC Employment-based Scholarship.
Visit Fearghus' website @ www.fearghus.net/
---
PRESS QUOTES
The Rhythm of Fierce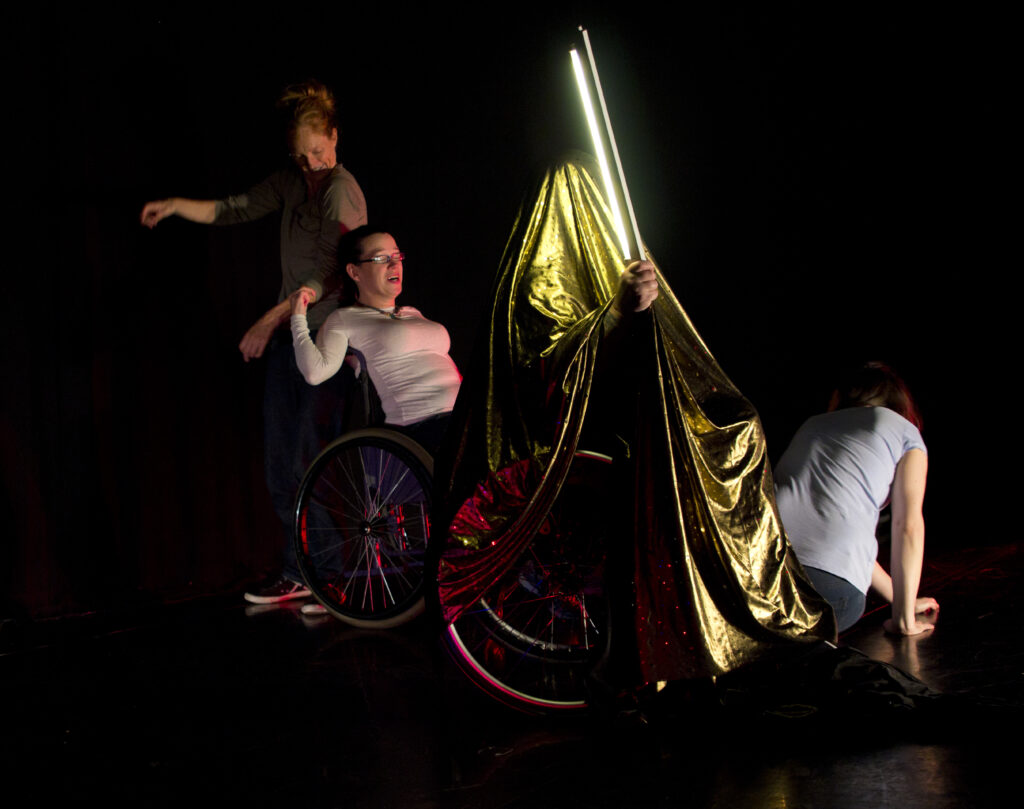 'I experienced what I think we all look for in movement: a series of internal emotions that lead us to shift our bodies and our mental images: when all lines of the stage converge on the fingers of a dancer following the beat of the music;  when a dancer on the ground lip-synchs perfectly to 'Love is a battlefield'; when bodies, covered in a long fabric of gold lamé seem to say: 'Look at me'; when the performers' pleasure in dancing becomes the audience's desire to dance; when the performers invite us to move into a space that is now shared, to a joyful rhythm of participation, of emotion and of dance.'
Estelle Dumortier, Dance Voices
Cure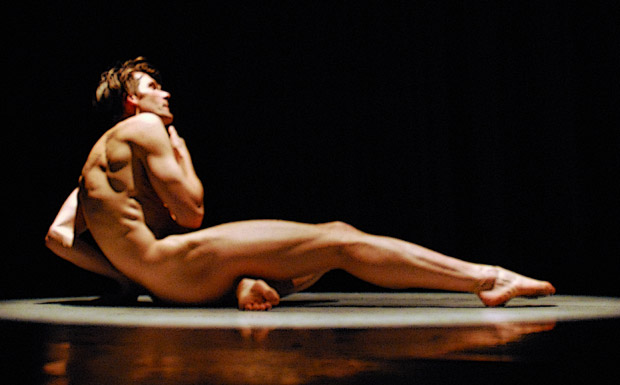 'Fearghus Ó Conchúir puts his own eloquent body firmly on the line in this exposing, sometimes moving journey from fall to recovery. We are absorbed by his hugely focused presence and arresting movement, each small gesture carefully controlled, each flexing muscle intimating a small step forwards or even sideways on the road to healing.'
The Irish Times
'The lighting design is subtle and effective, and the soundtrack, which is occasionally unsettling, provides the perfect accompaniment to this performance. Fearghus Ó Conchúir is exceptional, a very talented performer … the piece was choreographed by a team of six, and there is a sense of the collaborative effort here. It is profoundly emotional, hopeful and thought-provoking, and is highly recommended.'
Una McMahon, entertainment.ie
'A sequence of abstract meditations on the theme of recovery, bound together through the still centre that is Ó Conchúir's presence on stage, Cure is not about the sum of its parts; rather, it's about bringing attention to how necessary each of those individual, underlying parts are in the construction of a whole.'
Rachel Donnelly, DDF Blog
'Visually and emotionally impacting work…raw, bewildering, edifying and shocking in turn. Ó Conchúir beguiles with an imaginatively crafted tale that is part nightmare, part fable'
CultureNorthernIreland.org
Starlight
'It's a mesmerising, joyous work'
Caomhan Keane, entertainment.ie
'Starlight is a provocative, beguiling work whose power resides in the performers' proximity to their audience. They're so in-your-face that you can smell their sweat. In another discipline, that might be too close for comfort: In dance, it seems just right.'
Marc O'Sullivan, The Irish Examiner
Tattered Outlaws of History

'On the derelict rooftops Ó Conchúir, dancer Bernadette Iglich and children Eva and Zach Dubowitz provide the physical presence, humanising the weed-strewn and graffitied floor and walls. It's a strategy at the core of Ó Conchúir's social choreography: placing (and mostly replacing) the human body in the build environment in order to re-articulate the building's relationship with society outside its walls.'
The Irish Times
Tabernacle

'But, towering over all for intensity was Tabernacle , the final show of the festival in which choreographer Fearghus Ó Conchúir bravely steps into the minefield of the Irish body and its bruising and confusing encounters with the power of Catholic Church….this work will surely merit a wider audience.'
The Irish Times
'Tabernacle is a striking artistic and symbolic response to a difficult contemporary issue, and delivered a strong emotional impact.'
Seona Mac Réamoinn, Irish Theatre Magazine
'Tabernacle doesn't extol or confront an audience with definitive concepts on the Catholic Church, but it refuses to shy away from it either. It's a intricate balancing act that O'Conchúir has executed superbly, and more to the point, in a subtle and probing manner. This performance captures the process of how religion as a wider thematic structure provides a basis for the composition of ideals; how the individual learns, explores, manipulates or takes solace within this structure and how this layering of social and personal memory is reflected in the body.'
Eims O'Reilly, My Project blog
Niche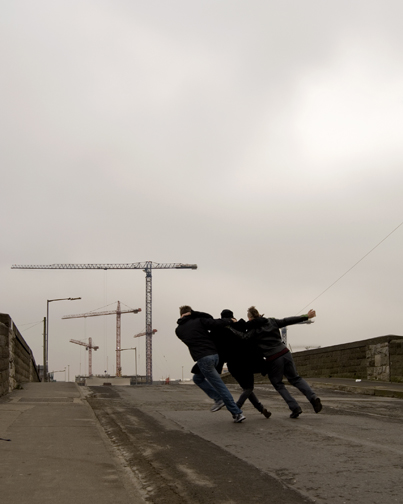 'The resonance with today's uncertain financial times isn't just through the despondent street-life surroundings, but rather through a deeper sense that social moorings have disappeared and the moral framework that binds people must be recreated. Leaving behind the selfish exuberance of the Celtic Tiger for more stringent realities, the relationship between individual goals and the means to achieve them has become disjointed. Similarly, in Niche , the dancers are drawn out from the relative comfort of their heaps of possessions to rediscover the informal rules that bind them, and finish up by creating a slow trio that shows a reassuring co-dependency. But Ó Conchúir's theme is universal and his thoughtful choreography is robust enough to take any number of readings, whatever the context.'
The Irish Times
Dialogue
'You won't be blown away by virtuoso tricks but you will be struck by the intelligent, experimental nature of the piece – this is essential viewing for those who like their dance thoughtful, quirky and intimate.'
Rebecca King, The Skinny
'This gentle piece is a sweet conversation between friends, punctuated with reflection and strong emotion . it would be interesting, like friendship, to see how it develops over time.'
Susannah Radford, Fringe Guru
---
ON TOUR
Cure
Cure is about the process of getting over challenges, about what's needed to survive and about the journey in hope as much the arrival. It's a work that emerges from the experience of collapse – personal, political, moral, economic – and, wondering what's next, invites many different perspectives to look for the way ahead.
The project is unique in its continuation and transformation of the successful partnership between Fearghus and the exceptional creative team involved in his major work from 2011, Tabernacle. Fearghus commissioned each of the five Tabernacle performers as well as the artist Sarah Browne to make a short new choreography for him. With the artists, Fearghus has assembled the six pieces into this evening-length work, Cure.
Duration: 65 min
Read more about Cure on Fearghus' website.
Niche
Niche is a dance about finding your place.  Its cast, like Dubliners new and old, adapt to changed circumstances in a choreography that is as tough, quirky and unexpectedly beautiful as the city itself. Made in Dublin's docklands in the last days of a boom that transformed the urban landscape and changed the lives of people who had to find their way in it, it embodies the resourcefulness of everyone facing rapid urban change.
Available for site-specific and stage presentation
Duration: 55 min
Read more about Niche on Fearghus' website.
Match
Match is a duet for two men created originally for a dance film set against the backdrop of Croke Park, Ireland's iconic stadium of traditional Gaelic games. The story of the dance is one of contest, where, as in relationships, sport and battle, one emerges stronger and survives longer than the other.
Available for site-specific and stage presentation
Duration: 12 min
Read more about Match on Fearghus' website.