Latest News
THE THEATRE MACHINE is back!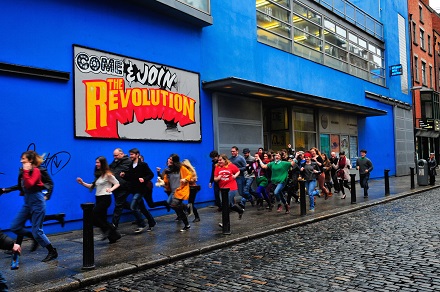 Project Artists, THEATREclub are back with the fourth volume of THE THEATRE MACHINE TURNS YOU ON and they're looking for new work!
We're going to hand over to the THEATREclubbers to tell you more…
From the people who brought you THE THEATRE MACHINE TURNS YOU ON, THE THEATRE MACHINE TURNS YOU ON: Vol II and THE THEATRE MACHINE TURNS YOU ON: Vol 3, comes THE THEATRE MACHINE TURNS YOU ON VOL 4  – THE JAM SESSIONS.
The Machine is back in gear. We've been doing a bit of tinkering with the mechanics. It's different. But when we rev it up it's gonna roar like a hog and purr like a kitten. So listen close.
In 1968, a gang of rockstars worked together to release a compilation album called The Rock Machine Turns You On, a sampling of the best talent of the time.  They knew they were stronger if they worked together.
In January 2015, THEATREclub are bringing together theatre and performance makers from Ireland for three nights in Project Arts Centre. You could be one of these artists.
It's up to you to BRING THE ART.
In THEATRE MACHINES gone-by, we have presented 56 shows, installations, speaking events, interactive games and a load of other bits in between.
This year, we're only looking for works-in-progress. We want embryonic. This year it's about the very start. We all know you have an idea sitting in the back of your head or the back pocket of your jeans. So do it! We want the seeds you've been meaning to plant for ages as well as the ones that are brand new. No time like the present. You can do it and we will help you. Our job is to remove all the barriers that normally get in the way of making art. That's what we're offering.
Here's what you need to know. This is the suss.
We're looking for new work. Not adaptations (but feel free to pitch if you have a great idea)
We're looking for pieces that are IN DEVELOPMENT. SCRATCH. WORK IN PROGRESS.
Each selected show will have one slot of maximum 30 minutes.
We are not looking for whole shows that are crammed into 30 minutes. It's about getting an idea off the ground. It's about trying something.
We like ideas that are ambitious (in for a penny…)
The work should be a contemporary sensibility.
Here is what you're going to be part of. This is what you get
THEATRE MACHINE is not just about being in festival. It's about sharing resources. It's about meeting new artists and opening up the possibility of later collaboration.
As part of THEATRE MACHINE, you don't just make a show. You become part of a mini community working together, side by side.
We try our best to find mentors who are usually very established practitioners and we make sure we match people up with the right mentor.
There is also an opportunity to give your whole career a kick up the arse with our series of COP ON workshops which were a big hit last year looking at areas like how to do your tax, how to diversify your income streams and how not to burn out completely from doing all of this by yourself!
The Dates and Deadlines
Applications are open now and will close on Friday 14 November at 6.15pm please.
The dates of the event are 22nd – 24 January 2015.