Latest News
Louise White – Call Out for Over 55s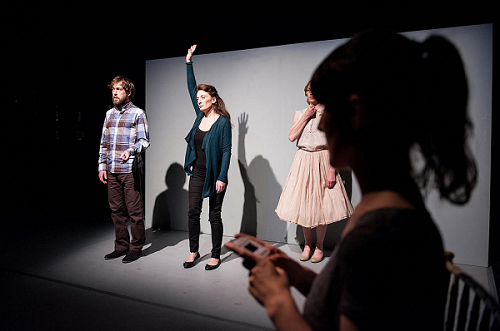 Project Artist Louise White is looking to work with people over the age of 55 as part of the development process of her new work Mother You, a theatre performance about community and society.
Louise would like to explore these ideas with eight participants – no previous performance experience required, just life experience.
The workshops will take place the week beginning 6 July, each day from 9.00am to 12.00pm in a city-centre location.
Email Louise to register your interest or to find out more about the project.
Here's some more detail about Mother You from Louise herself:
I'm working on a theatre performance called Mother You, it will take place in the Fringe festival in September 2015. The project is working with themes of community and people coming together and will take place in a vacant NAMA controlled warehouse; the idea is to put a positive experience in an abandoned place.
At the moment, I am doing some research and exploration into the ideas behind the performance, and this is where I need you. As part of the theatre work that I do, I use real stories and personal accounts to develop the content of the performance. I'd like your help to articulate older peoples' attitudes and perspectives in relation to contemporary Irish society in this performance.
We'll share ideas and talk about what you imagine for the future and what being part of a community, and of a nation, is. As well as lots of talking, we'll play some drama games and develop and write some new songs of our own with Composer Alma Kelliher. But don't worry – I don't expect you to have any previous performing experience, you just have to be interested in the topic and a bit of singing. Everybody is welcome, and I won't ever make you do something you don't want to! I want this to be a positive and fun experience for everyone involved.
Some of this research work might end up in the final performance in September, but we won't know until we do it. It's a bit of a leap into the unknown for both you and me – I don't know what will come out of these research sessions, but at the very least we'll all get to know some new people, have great chats and hopefully laugh a lot.
I'll be providing refreshments and, as a small thank you for your time, I'll be able to give each participant a €20 fee to cover expenses for each session you attend. With your permission, I'll be documenting these sessions by recording some audio so I can keep track of what we did.