Latest News
Project Arts Centre – supporting the presentation of Jesse Jones at the 57th Venice Biennale
Pavilion of Ireland at the 57th International Art Exhibition – La Biennale di Venezia
Jesse Jones, Tremble Tremble, 2017, production image
Ireland at Venice, will present Jesse Jones in 2017. Jesse Jones will consider the national pavilion as the site of an alternative Law. With a practice that is grounded in film and performance, Jones will create an artwork she describes as a 'bewitching' of the judicial system.
Tremble Tremble will be presented in the Arsenale of La Biennale di Venezia from May – November 2017, with Commissioner and Curator, Tessa Giblin. Its title is inspired by the 1970s Italian wages for housework movement, during which women chanted "Tremate, tremate, le streghe sono tornate! (Tremble, tremble, the witches have returned!)". Jones' new work emerges from a rising social movement in Ireland which calls for a transformation of the historic relationship between the church and the state. In this time of change, Jones proposes the return of the witch as a feminist archetype and disrupter who has the potential to transform reality. Tremble Tremble imagines a different legal order, one in which the multitude are bought together in a symbolic, gigantic body, to proclaim a new law, that of In Utera Gigantae.
Based in Dublin, Jones has been researching the ways in which the law transmits memory between generations and over time. Her research weaves between an archeological dig of a 3.5 million year old female specimen, to the suppressed voices of the witch trials of the 16th century Europe, the symphysiotomy trials, and abortion legislation in Ireland today. The new world order to be found in Tremble Tremble churns testimony, published statements and new lyrics into a towering bodily incantation. Jones is collaborating with theatre artist Olwen Fouéré, and sound artist Susan Stenger, who are together creating an artwork that extends across the pavilion as an expanded form of cinema.
A book will be published in English and Italian, featuring writing by Silvia Federici, Tina Kinsella, Lisa Godson, and Tessa Giblin. Designed by Åbäke, with photography by Ros Kavanagh, Tremble Tremble / Tremate Tremate is co-published by Mousse Publishing and Project Arts Centre.
Ireland at Venice is an initiative of Culture Ireland in partnership with the Arts Council. It is produced and supported by Project Arts Centre, Dublin. Proudly Sponsored by Dublin Port Company; International Partner, LASALLE College of the Arts, Singapore; Production Partner, Institute of Art, Design and Technology, Dún Laoghaire; and further supported by CIT Crawford College of Art & Design; Talbot Rice Gallery, Edinburgh College of Art and University of Edinburgh; The Ireland Funds, Singapore; South Dublin County Council & Rua Red; Dublin City Council; Dublin City Gallery The Hugh Lane; the Irish Museum of Modern Art; and the patrons of Ireland at Venice 2017 and Project Arts Centre's Visual Arts.
Join in the conversation with #irelandatvenice
Find out more about the project at irelandatvenice2017.ie
LISTINGS INFORMATION:
Exhibition: Jesse Jones: Tremble Tremble, Ireland at Venice
Venue: Arsenale of La Biennale di Venezia, Venice, Italy
Dates: May – Nov 2017 (press and professional preview 10, 11, 12 May)
Opening hours: Sunday, Tuesday, Wednesday, Thursday: 10:00 – 18:00; Friday – Saturday: 10:00 – 20:00
Closed on Monday – with the exception of 15 May
Admission: Entrance with La Biennale ticket
International & National Tour: November 2017 – ICA, Singapore; May 2018 – Project Arts Centre, Dublin
Artist: Jesse Jones
Commissioner & Curator: Tessa Giblin, Director of Talbot Rice Gallery, University of Edinburgh
Background
La Biennale dates to 1895, when the first International Art Exhibition was organized. It is one of the most important international biennials and cultural institutions in the world, introducing more than half a million visitors to exciting new art every two years. The 57th Biennale di Venezia will open to the public on Saturday, May 13th and extend until November 26th, 2017. The Press and Professional Previews will take place on May 10th, 11th and 12th. It is an unparalleled meeting point for art professionals from around the world, and provides an extraordinary potential for professional encounters.
The Pavilion of Ireland will be in le Artiglierie dell'Arsenale, in the heart of La Biennale di Venezia. The ancient warehouses of Venice's ammunitions holdings will be transformed, and benefit from the large footfall that characterises the main site of the Biennale.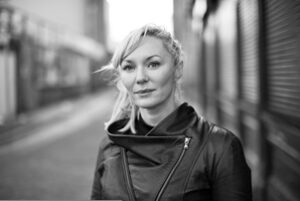 Jesse Jones. Photo: Peter Rowan
Jesse Jones is a Dublin-based artist and teaches in Fine Art programmes at CIT Crawford College of Art & Design in Cork. Her practice crosses the media of film, performance and installation. Often working through collaborative structures, she explores how historical instances of communal culture may hold resonance in our current social and political experiences.
Recent exhibitions and projects include the major new work In the Shadow of the State, commissioned by Artangel (UK) and Create with funding support from Ireland 2016, and made in collaboration with artist Sarah Browne. Selected solo exhibitions have included NO MORE FUN AND GAMES, Dublin City Gallery The Hugh Lane (2016); The Other North, Artsonje Centre, Seoul; CCA Londonderry (2013); Sleepwalkers, Hugh Lane Municipal Art Gallery, Dublin (2012); The Struggle against Ourselves, Spike Island, Bristol; REDCAT Los Angeles; The National Sculpture Factory, Cork (2011); The Spectre and the Sphere, Project Arts Centre, Dublin, Blackwood Gallery, University of Toronto; (2009). Recent group exhibitions include Radical Actions RMIT Gallery, Melbourne (2016); The Eclipse of an Innocent Eye, National Gallery, Prague (2015); Primal Architecture, IMMA, Dublin; Ghosts, Spies, and Grandmothers, Seoul Media City Biennial, Seoul Museum of Art; Invisible Violence, Museum of Contemporary Art, Belgrade and ARTIUM, Basque country; The Talking Cure, Oakville Galleries Toronto and IMA Brisbane Australia (2014); Salon der Angst, Kunsthalle Wien, Vienna; The Real DMZ Project, Artsonje Centre, Seoul, Korea; Labour and lockout, Limerick City Gallery, Ireland; Above the Rim of the Glass, Signal, Malmo (2013); The Selfish Act of Community, CINACT, Serpentine Cinema, London; Proposition/When Genealogy becomes critique: performance event, New Museum, New York; Stages in the Revolution, Whitstable Biennial (2012) as well as the 11th Istanbul Biennial curated by WHW (2009) where she showed Mahogany. Jesse Jones has also produced two major public art projects: The Prosperity Project (2013-14) and 12 Angry Films (2005). Jones has an MA in Visual Arts Practices from IADT, Dublin, and a BA Hons. Fine Art (Sculpture) from the National College of Art and Design, Dublin.