Latest News
Fringe Encounters: How to Keep an Alien
During a Rough Magic rehearsal week here in the Big Blue Building, David Mullane sat down with Sonya Kelly, Gina Moxley and Justin Murphy to find out how they make a show like How to Keep an Alien.
Sonya Kelly triumphantly returns to Dublin Fringe Festival next month following the success of her first show, The Wheelchair on My Face, which played the Fringe back in 2011 and carried on to win awards and critical acclaim left, right and centre, including a Scotsman Fringe First in Edinburgh and a New York Times Critics' Pick.
While swept up in this whirlwind tour, she was also contending with the powers that be in the Irish Immigration Service, trying to secure a visa for her Australian partner, the alien of the show's title. She's coming back to Fringe to tell this tale.
"Yeah, back to the Fringe; it felt like a very natural thing to do to return to the Fringe. I had such a great time the first time and I really wanted to come back and go 'Look, see, it wasn't a fluke!' I've been going to Fringe shows in Project Cube for years and there's such a great buzz about the shows here during the festival so that was a big box-ticker for me too."
Not only is Kelly returning to Fringe but she's working with Gina Moxley again, who directed her in Wheelchair.
"Gina directed Wheelchair by chance. We were in the back of a Seat Ibiza and I mentioned that I was doing a Show in a Bag and Gina went 'Oh, can I direct that?'"
Moxley interjects, "I did not say that. I asked 'Who's directing that?' and you didn't really know yet and I said 'I'd love to.'"
Differences aside, the pair make for a fine partnership, with a winning development formula.
"So we have the idea and I do a bit of a brain-spew then Gina and I get together and have very long conversations – or very short conversations. This show was a much bigger concept than my first show so we were kind of writing our way into it. I wrote about an hour's worth of material and did a reading of it in The Joinery with Justin reading the stage directions."
Justin Murphy is a stage and company manager with Rough Magic, usually never seen onstage but his involvement in the reading went down so well with the audience that Sonya decided to write him into the show, changing it from a one-woman show to a "one-woman-and-one-man show", according to Gina.
Justin describes his involvement as a caretaker role, "not in the sense of sweeping the floor but in the sense of guiding her a little bit, filling in some gaps and doing some funny voices here and there."
Putting Justin front and centre is also a way for Sonya to celebrate the work of stage managers.
"I think it's an opportunity to show audiences what stage managers really do because you don't normally see them. If audiences did see them, they'd want to know who they are because it's a great creative-enabler role."
Coincidentally, Justin has also experienced the frustrations of the Irish Immigration Service, which greatly informed Sonya's script and adds to their onstage rapport.
Sonya's love of radio documentary also shaped the script, helping her broaden its reach and appeal.
"It's an autobiographical narrative, very much influenced by listening to podcasts and radio documentaries. It's a story where the personal and political meet, whereby you're politicised by your immediate needs. The key that we learned with Wheelchair was that memoir and autobiographical narratives are as much about reminding the audience about their own feelings and experiences as it is about your own. There's a lot of analysis of love, family, growing into each other's family and all those sorts of journeys."
"I think I like to write shows that everybody can come and see. I'm not particularly interested in going 'I want people who read the Guardian to come and see this'. I believe in tangibility when it comes to your stories and inclusivity."
"She just wants to flog this around the country for another two years", Gina wickedly suggests.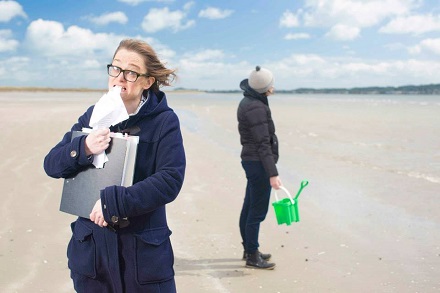 The company have had a busy summer. When not developing the script and rehearsing, Gina was in Edinburgh with the multi-award-winning Lippy, Justin was touring with Mark Cantan's Jezebel to Cork and London, and Sonya?
"Ms Kelly was chained to a radiator learning her lines", answers Gina.
The director certainly doesn't mess around and her survival plan for Fringe is just as hardheaded and pragmatic, "Cool head, dry pants and a plane ticket to Brisbane".
Two days after the show's run here in Project, the company are packing up and heading down under to the Brisbane Festival. While the Irish Immigration Service may be reluctant to welcome Sonya's Australian partner to our coutry, it seems the Australians are eager to have Sonya come to theirs.
How to Keep an Alien, as part of Tiger Dublin Fringe, runs in Project Arts Centre from September 04 – 13.
For more information and to book tickets, click here.
Follow David Mullane on Twitter: @ScobieMullane