Latest News
Forms of Imagining – Now Available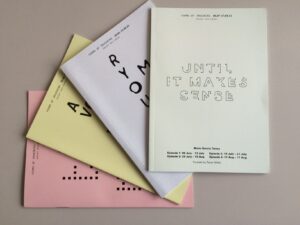 Project Press is delighted to announce that 15 new editions of Forms of Imagining are now available to read, free of charge, online.
Forms of Imagining is series of published exhibition histories based on Project Arts Centre's visual arts programme, featuring newly commissioned texts.
Printed copies of these new editions will be available to purchase from our Bookshop in January 2017, along with a free downloadable online version.
And without further ado here they are, happy reading….
Ryou-un Maru | Brian Duggan | Curated by Tessa Giblin | 10/06/16 – 13/08/16
A VOODOO FREE PHENOMENON | Garrett Phelan | Curated by Tessa Giblin | 30/01/15 – 09/04/15
Clerk of Mind | Chris Evans | Curated by Kate Strain | 05/11/14 – 17/01/15
The Queen still falls to you | Hadley+Maxwell | Curated by Tessa Giblin | 26/09/14 – 11/10/14
The Centre for Dying on Stage | Karl Burke, Dina Danish, Dan Graham, Krõõt Juurak, Christodoulos Panayiotou, Meggy Rustamova | Curated by Kate Strain | 18/07/14 – 13/09/14
The French Diplomat's Office | Barbara Bloom | Curated by Tessa Giblin | 09/05/14 – 28/06/2014
Wasteland | Eva Koťátková and Dominik Lang | Curated By Tessa Giblin | 17/02/14 – 14/04/14
Additionals | Céline Condorelli | Curated by Tessa Giblin | 07/11/13 – 25/01/14
Until it Makes Sense | Mario García Torres | Curated by Tessa Giblin | 05/07/13 – 17/08/13
Garden | Niamh O'Malley | Curated by Tessa Giblin | 26/04/13 – 22/06/13
Panto Collapsar | Mikala Dwyer | Curated by Tessa Giblin | 27/01/12 – 31/03/12
Things | Ceal Floyer | Curated by Tessa Giblin | 10/03/11 – 23/04/11
Exhibitions | Martin Beck, Nina Beier, Luca Frei, Sriwhana Spong and Pernille Kapper Williams | Curated by Tessa Giblin | 16/09/10 – 13/11/10
King Rat | David Bennewith & Joseph Churchward, Heman Chong, Matthias Bitzer, Isabel Nolan, David Noonan and Pae White | Curated by Tessa Giblin | 09/07/10 – 04/03/10
Cult of Engagement | Clodagh Emoe | Curated by Tessa Giblin | 18/12/09 – 30/01/10