Project Arts Centre presents the Whip It Up & Start Again! billboard commission
We're thrilled to present the second billboard of our Whip it Up & Start Again commission series! Through the open call, we invited artists to transform the Big Blue Building into a site of vital social, political, and artistic discourse, and to take over the Project billboard during two dedicated slots this year.
Artist Róisín Nolan presents Who is it for? – see it in billboard form outside Project and visit the original analog artwork in the lower foyer until 28 November.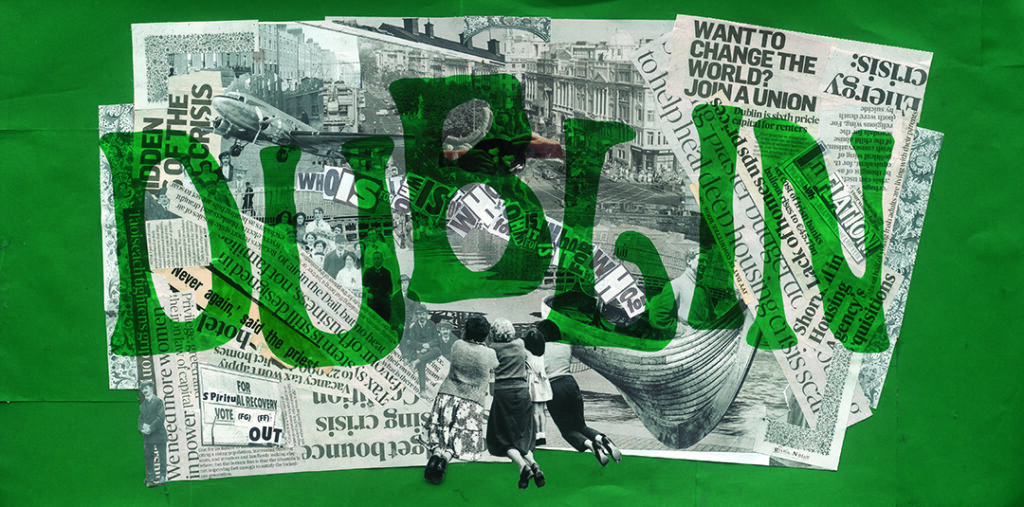 ABOUT THE WORK
"Who is it for? is an analog collage work, intended to function as a conversational device to spur discourse on who the city is for and how did we get to where we're at now, historically, socially, and economically.
I've employed sociological ways of thinking in a visual language that is congruent with the exported idea of 'Irishness' (nostalgic imagery) and how does the fantasy relate to the reality (the headlines).
By juxtaposing historical triumphs with current political failures, I want those who have historically held the most societal and political influence due to their gender, socioeconomic group, etc., but are generally the most reluctant to actively engage with difficult conversations about accountability and privilege to think about the impact of the State in the public global, local and personal sphere.
For example, the factors that have resulted in unaccommodating living conditions have happened over time. Why is the city so expensive and unliveable? Who gets to thrive? Who is pushed to leave (and what effect does that have on the landscape)? What political motivations created these current conditions? Who is Dublin for?" – Róisin Nolan
Róisín Nolan is an Irish analog collagist, working with physical imagery to visually narrate stories through an intersectional feminist lens. Capitalism demands immediacy over consideration. At what cost? Róisín rejects the culture and applied patience is integral to her craft, creating fastidious results that communicate a range of experiences, ideas, and commentary on the world around her.
Undulating throughout her work are themes that explore inequality, wealth disparity, intersectional representation, and the influence of Colonialism, Catholicism, and capitalism on modern Ireland.
As an early-career artist, Nolan spends her time refining her practice in her Dublin-based workspace.