Rough Magic as part of Dublin Theatre Festival presents
Preview:
6 October 7.30pm
Dates:
7 – 17 October 7.30pm
Matinees:
10 October 2.30pm
11 October 1.30pm
15 October 3.00pm
17 October 2.30pm
EXTRA DATES ADDED: The Train is running on!

Even more dates added! Thursday 15 October 3.00pm
Ireland, 1971: the church and the state are in glorious – and very close – harmony. They are also deaf to the voices of women, who are routinely paid less than men, in jobs they must often give up once they marry, at which time they become, by law, their husbands' property…
And they have another cause for concern.
While contraceptives are available in Northern Ireland, they are illegal in the Republic. Determined to challenge the unbending laws of Ireland, a troublesome group of women decide to take a train to Belfast and return to Dublin with this forbidden fruit.
The Train is a new musical from Rough Magic Theatre Company, making its world premiere as part of the festival, featuring music by Bill Whelan (Riverdance) and lyrics by Arthur Riordan (Improbable Frequency).
It tells the story of the infamous contraceptive train, of a nation's obsession with sex, and of a small group of courageous women whose short journey marked the beginning of a modern odyssey.
---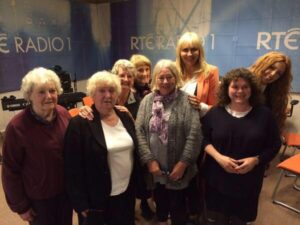 Listen here to Miriam O'Callaghan interviewing some of the women who boarded the train on RTÉ Radio 1.
Miriam was also joined by Rough Magic director Lynne Parker and Lisa Lambe, who sang some of the songs from the new musical.
---

"Immensely impressive and, more importantly, enormously entertaining."
The Irish Times on Improbable Frequency
---

Running time: 125 min plus 15 min interval
Contains sexual references
---

Post-Show Discussion:  Thursday 8 October
with Bill Whelan, Arthur Riordan and Lynne Parker
---

Director: Lynne Parker
Cast: Clare Barrett, Kate Gilmore, Darragh Kelly, Emmet Kirwan, Lisa Lambe, Karen McCartney, Danielle O'Brien, Sophie Jo Wasson
Music: Bill Whelan
Book and Lyrics: Arthur Riordan
Set and Lighting Design: Ciaran Bagnall
Costume Design: Joan O'Clery
Music Director: Cathal Synnott
---

Dublin Theatre Festival 2015 at Project Arts Centre:
I'm Your Man
Wallflower
Luck Just Kissed You Hello
Corps Diplomatique
The Game
The Train