ACTIVISM @ AMNESTY INTERNATIONAL IRELAND presents
The Salt March in India in 1930 against British colonial rule; the Arab Spring uprisings, the anti-apartheid protests in South Africa: Moments of change driven by people who refused to give up, who spoke truth to power – people who protested. But this precious right is under attack. Governments around the world are restricting people's right to protest.
PROJECT PROTECT PROTEST is a weeklong act-in for future protest at Project Arts Centre.
It's a temporary home for activists where we can meet again face to face, regroup, make new connections, critique, and refresh – to start 2023 united and ready for action for human rights change.
We'll have public meetings, spontaneous actions, gigs and a pop up nail salon. There's space to write letters, make new friends, figure stuff out, disagree, challenge, relate and laugh. It's about looking to the future, interrogating our actions, registering our protest and making some New Year's Activism Resolutions. It's a place to cool the burn out, to pass on your wisdom, to learn from your elders and meet your tribe.
Look, it's a room with some tables and chairs, some papers and pens, wifi and power. It will be what we make of it. Join us.
↓ PROGRAMME ↓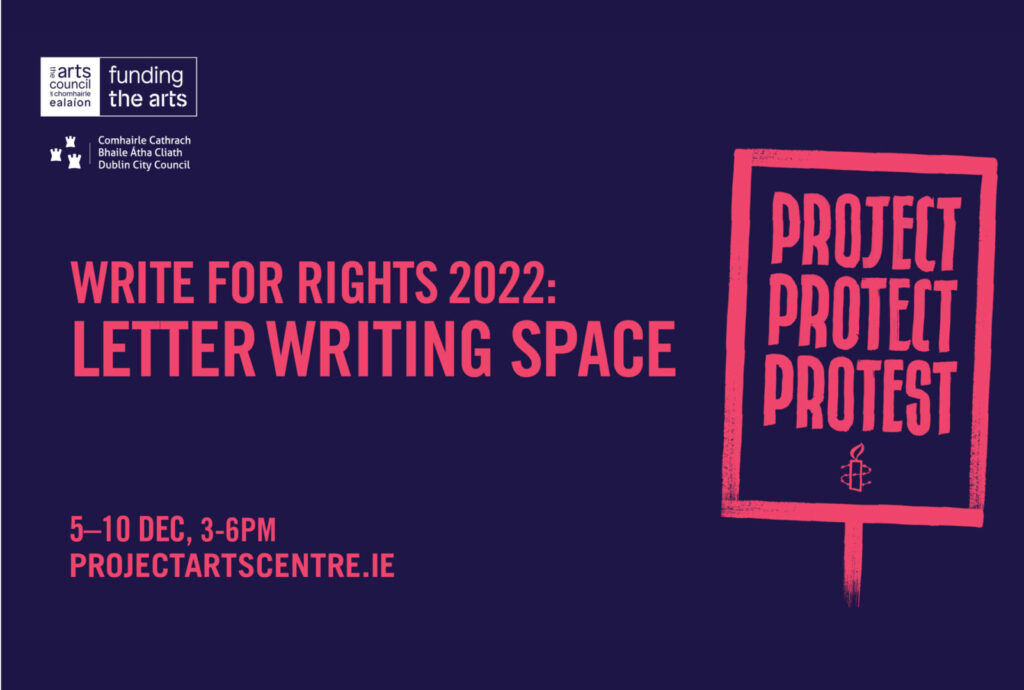 Write for Rights 2022 – Letter writing space
5 -10 December | 3-6pm | FREE
Every year, victims of injustice around the world are liberated because people like you add your voice to a multitude and create effective protest. Come and learn about people around the world who are in prison right now, just for peacefully protesting. Write a letter – to change their lives.
The installation is open between 3pm and 6pm. Drop in and join in!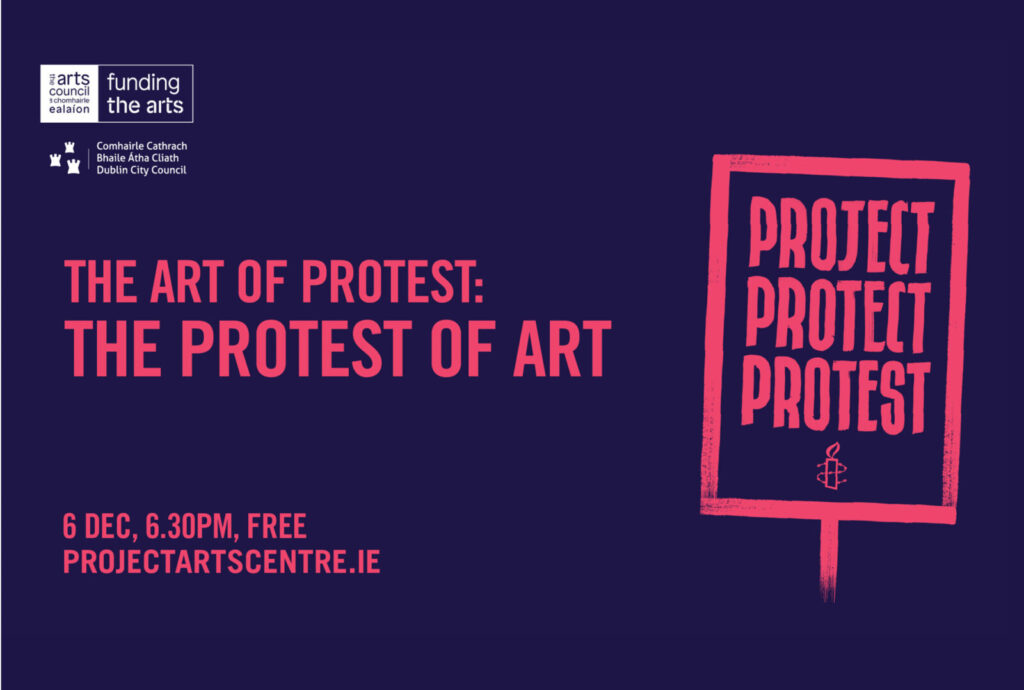 The Art of Protest, The Protest of Art
6 December | 6:30-8:30PM | FREE, ticketed
Art is an essential part of activism; from the minute a marker hits a placard to the second a chant is sung into a megaphone. But real collaboration with Artists adds a deeper more meaningful layer. How do we connect with artists? How can we put collaboration with artists at the centre of our activism? Where do art and activism meet and where do they clash?
PUBLIC MEETING: The Right To Housing
7 December | 6:30-8:30pm | FREE, Ticketed
Housing is a human right.
Tireless valiant activism is happening on the right to housing all around the country. We're having this public meeting to explore how we can all come together to fight for the right to adequate housing to be included in the constitution.

A diverse group of speakers address an urgent Public Meeting on Ireland's housing crisis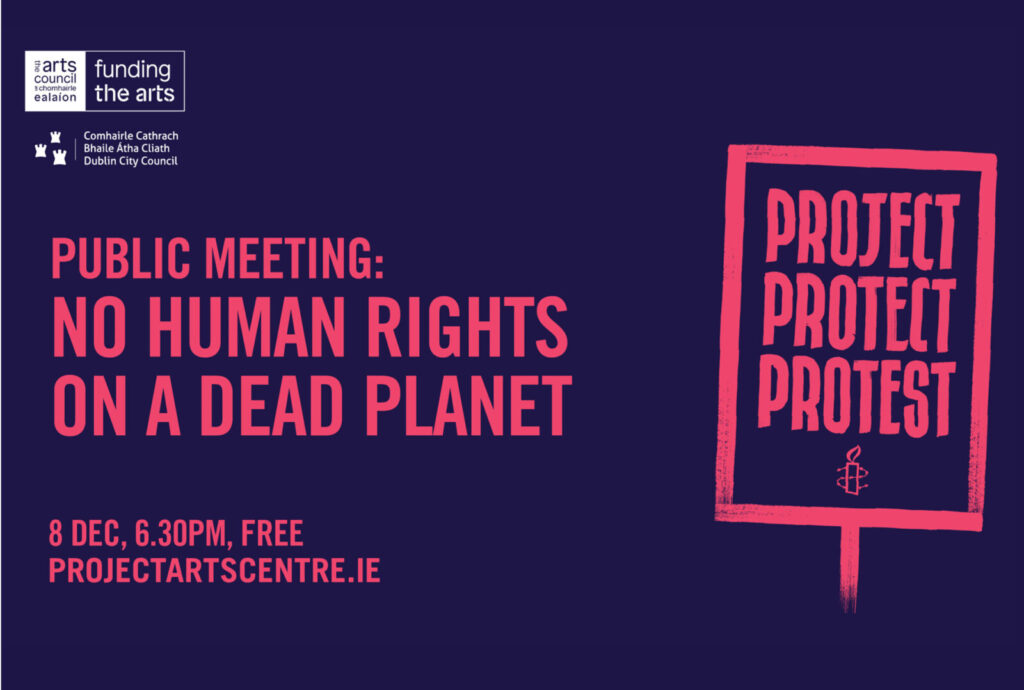 PUBLIC MEETING: No Human Rights on A Dead Planet
8 December | 6:30-8:30PM | Free, Ticketed
There will be no human rights on a dead planet, meaning climate change is perhaps our most important human rights battle. How do we get involved in taking action?
Speakers will share their experience of organising around climate change. . Together we will discuss how we can force climate action in ways that leave no-one behind. Join us
WRITE FOR RIGHTS EVENT PANEL DISCUSSION: Protest: the site of resistance and human rights change!
9 December | 6:30-8:30pm | Free
In Iran, women, men and children are resisting day and night but are met with fierce violence as they demand, 'Women, life, freedom'. The Iranian authorities have killed over 200 people, including 30 children, since protests began on 16 September.
But protest has long been quashed in Iran and many peaceful protesters are imprisoned.
Nassim Papayianni, Amnesty International Iran campaigner will tell the audience how we can help the movement and express global solidarity with Vahid Afkari and the courageous protesters in Iran.
Songs Against Apartheid
10 December | 8-10pm | €20
Hosted by Senator Frances Black, Songs Against Apartheid is a gig to platform several artists to stand for human rights and to call for the end of Israel's apartheid system against the people of Palestine. The gig is an evening of music, singing, spoken words and rap where artists will talk about their experience visiting Palestine or growing up as Palestinians under apartheid.
The gig includes SÍomha, Saied Silbak, Talha and more. Come along and show your support for Palestine! End Israeli Apartheid Now!
Accessibility
Please do not hesitate to contact us at access@projectartscentre.ie or call 01 8819 613. You can find the latest information about Project's accessibility
Disclaimer
The content describes injustice faced by peaceful protestors around the world, some cases include violence and sexual violence and may not be suitable for young people. even though violence and sexual violence are mentioned, the details or any imagery around these incidents are not. There will be volunteers present who can support you to guide you to the most appropriate material.