Live Collision International Festival presents
YAYAYA AYAYAY
Ultimate Dancer aka Louise Ahl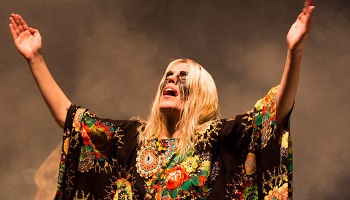 The new solo performance YAYAYA AYAYAY is a choreographic and multi-sensory journey into the complex nature of both emotional and physical darkness.
In 2015, Louise went into a darkness retreat for five days – a purpose-built room isolated from all light and sound. Ceremonial darkness as a shamanic tool is a classical method for accessing vibrant unconscious and super-conscious states. The experience was deeply transformative; at times hallucinogenic, emotionally moving, physically painful and has thoroughly inspired the creation of YAYAYA AYAYAY.
Choreography is generally understood to rely on the rules of time and space. YAYAYA AYAYAY will challenge and exhibit how our perceptions of time, space and choreography shift when in contact with sensory overload and deprivation.
For Live Collision, Ultimate Dancer is presenting an active experiment with a local sound artist of this piece in development.
Click here for more info on Ultimate Dancer.

---
Live Concept Album (Recovery)

Written by Zoe Ni Riordain in collaboration with Maud Ni Riordain


Live Concept Album (Recovery) is a show about family and letting go told through song.
Using the frame of an album to tell a story, the performers are attempting to connect with you.
From the banal to the poetic, the audience are invited into the world of this family, who are dealing with the past in the present tense.
The album will not be recorded. You have to be here.
Stop cooking that will you?
It's going to burn.
You're going to burn it
Jesus.
"Insane, electrifying, intense"
Pure Mzine
★★★★
"a painstaking work given startling execution"
The Irish Times on The Well Rested Terrorist
Recovery was previously presented at Project Arts Centre in April 2016 and as a work-in-progress in January 2015.


---

Live Collision Double Bill Bundle Deal
Book 2 Double Bills for only €26/23
Call Box Office on 01 8819613 to book
Running time: 25 min (YAYAYA AYAYAY); 15 min interval; 60 min (Live Concept Album (Recovery))
Suitable for ages 16+
Join the conversation
#Project50
#LiveCollision
Live Collision International Festival 2016 is presented as part of Project 50, a season of work celebrating 50 years of Project Arts Centre