Project Arts Centre presents in partnership with RTÉ Culture
Project Arts Centre has invited a number of artists, curators and social activists, with a lived experience of intersectional discrimination to discuss their practice and share ambitious and provocative new work, encouraging crucial dialogue around the impact of social and economic inequality. In our first instalment of 2023, Head of Project Potential, Cathy Coughlan, talks to artist Áine O'Hara, about their upcoming work Nap Club.
Nap Club is part of the public engagement programme for Project Arts Centre's current exhibition Being Horizontal / Sínte, by guest curator Nora Heidorn. The group exhibition includes the work of artists Nora Heidorn & Lynne Kouassi, Ketty La Rocca, David McGovern, Julie Morrissy and Harold Offeh.
Being Horizontal / Sínte pays caring attention to reclined bodies and to bodies inclined towards each other. It favours a model of the human as interdependent and reliant, in contrast to the standard enlightenment representation of the human body as a singular, upright, able-bodied man, gazing forward. We encounter reclined bodies in different situations in our lives, in images, and stories: persons sleeping or resting, having sex, the unwell, injured or deceased. Common tropes include the reclined nude, the fallen soldier, the psychoanalysis patient, and the birthing woman. Being horizontal, and especially being looked at and imaged in positions of recline, is often associated with feminised and racialised powerlessness. Deliberately assuming a horizontal position in front of others can also challenge, subvert, and politicise dynamics of vulnerability and power.
This exhibition explores what moving out of the vertical plane and into varying degrees of inclination might indicate about being in relation, about interdependency and care. For example, how might the simple but charged acts of lounging, reclining, or leaning be reimagined as critiques of the neoliberal drives for efficiency, productivity, speed, and independence?
The exhibition runs until 18 March from 11am – 5pm, closed Sundays
Socially Distanced Opening Hours | Wednesday, Thursday, Friday | 10am – 11am | More info
---

Áine O'Hara is an award-winning visual artist and facilitator focused on creating exciting and vulnerable work for and about people who are often left out of traditional art and performance spaces.
Áine identifies as queer, disabled and working class and believes strongly in situating life experiences within artworks. Áine wants to create work which uplifts and supports disabled and chronically ill artists and audiences.
Áine's work has toured nationally and internationally and they have shown work across the U.K and Europe. In 2020 they were the recipient of A4 Sounds 'We Only Want the Earth Project' award which culminated in a solo show 'The Patient will see you now' at the gallery in December 2020. Áine won the Next Generation Award from the Arts Council in 2022 and recently received the Radical Spirit Fringe Festival Award for "The Rest Rooms" a programme and space that celebrated disabled joy and rest as resistance.
---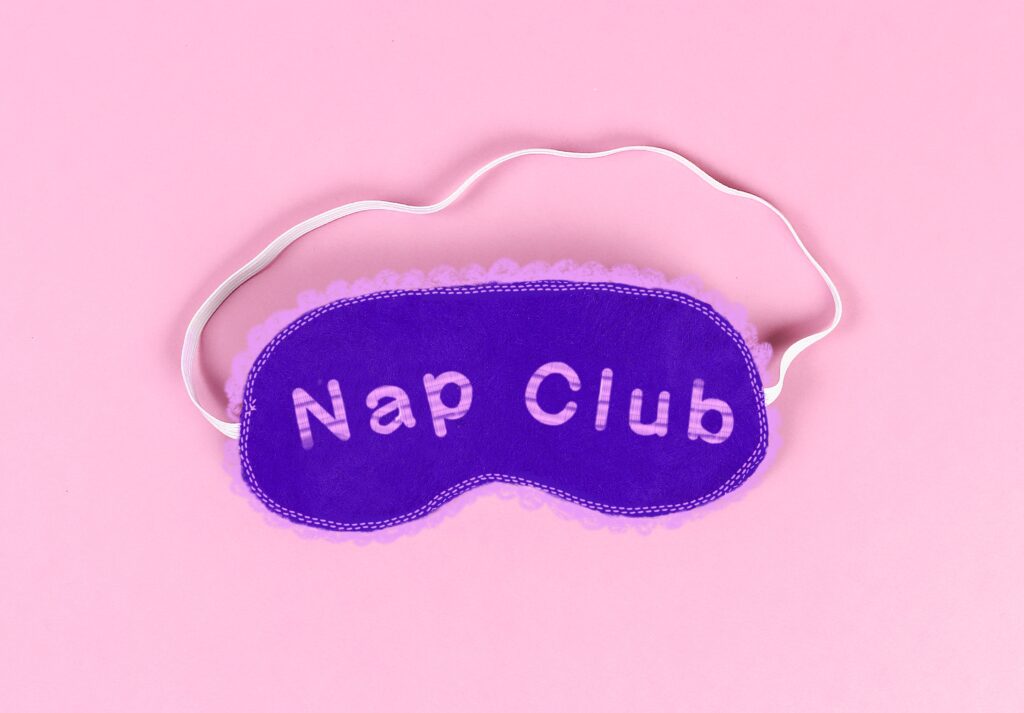 CC: Hi Áine, thanks so much for being here today. Can I just start by asking you to explain what the event is? What is Nap Club?
AOH: Yeah. So I'm describing Nap Club as a kind of radical sleepover. I'm inviting six people with disabilities and chronic illness to Project Arts Centre's gallery space, to rest. There are three elements to the event: The first part will be about getting to know each other, talking about the ways that we rest and the ways that we like to be cared for or looked after. Then we're going to have some food together in the courtyard at Project. Sharing food is a classic sleepover activity but it's also an offering from me to the participants, as we continue our conversations. And then we're going to go back into the gallery where we'll take a nap for the rest of the event. Participants are invited to either bring their own materials to sleep on or we can provide bedding for them. We'll also cater for participants' access requirements in a really individualised way. I won't be napping. I'll be watching over people and giving them space to rest and relax.
CC: Can you talk a bit about the context of this event and how it sits into the overall exhibition, and why you took this kind of approach to public engagement?
AOH: There is a lot of work in the gallery right now that is based on the act of lounging and what that means for different bodies. One of my favourite things to do in a gallery space, whether it's socially appropriate or not, is to lie down. Standing or sitting in certain positions is so painful for me, and I'm not able to immerse myself in the work, the way other people can, so it's empowering to make the decision to be comfortable. To have comfortable materials to lounge on means that I can access the work. It's very straightforward.
In the last few years I've been seeking different ways to build community and give, especially chronically ill and disabled people, spaces to experience joy and spaces to be cared for and looked after. I think there's been a real lack of support for us, especially in the last year or so, because the broader community has moved on from COVID but there's so many people whose lives are even more difficult than they were, say, at the beginning of the pandemic.
During the height of lockdowns and restrictions there was a broad awareness of disability politics and talk about care, and how to make things accessible. Recently that has kind of dropped off and we're back to being left by ourselves as everyone else moves on. For many of us, it's just not possible to move on. We're grieving all the time as we continue to fight for access, for the right to public space, the right to private space, space with friends, space with family, and for that space to be safe. Everything has become less and less possible.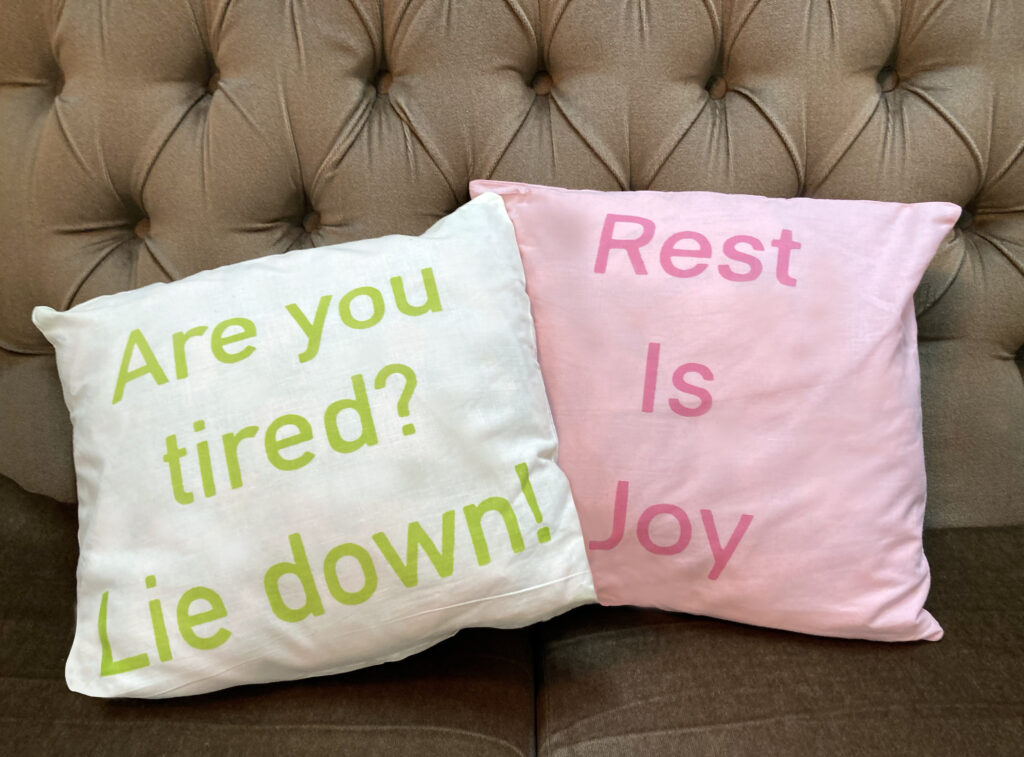 CC: I totally understand what you're saying about this bounce back to the way things were before the pandemic. I do think that everyone is feeling this pressure.
AOH: I really hope that they recognise that and I think we are all feeling it but there is definitely a difference between what we as disabled and high-risk people are feeling, which is a grief from being excluded from society and what, say, the broader public are feeling which seems to me more like a clearer realisation of the pressures of capitalism and being forced to return to a 'normal' level of productivity.
CC: I think there is a sense of fatigue out there. And people are only feeling it now. It's what you said before about grief and that delayed reaction to grief. And the way it sort of sits in the body until you have space to feel it. You can just see it in people.
AOH: Yes, and rest is a form of resistance. I think that it's really important and exciting for these participants to be able to experience the work in this way. It's almost like we're sharing a secret that not many gallery visitors will experience or have access to. Lying down and sleeping beside this work will give it a really interesting perspective. I just want it to be something that takes a bit of the pain or fatigue away from people.
CC: This will be the second piece of work that you've done with Project recently, but they're obviously pretty connected. Could tell us a little bit about your Whip it Up billboard commission and how it has led to this point?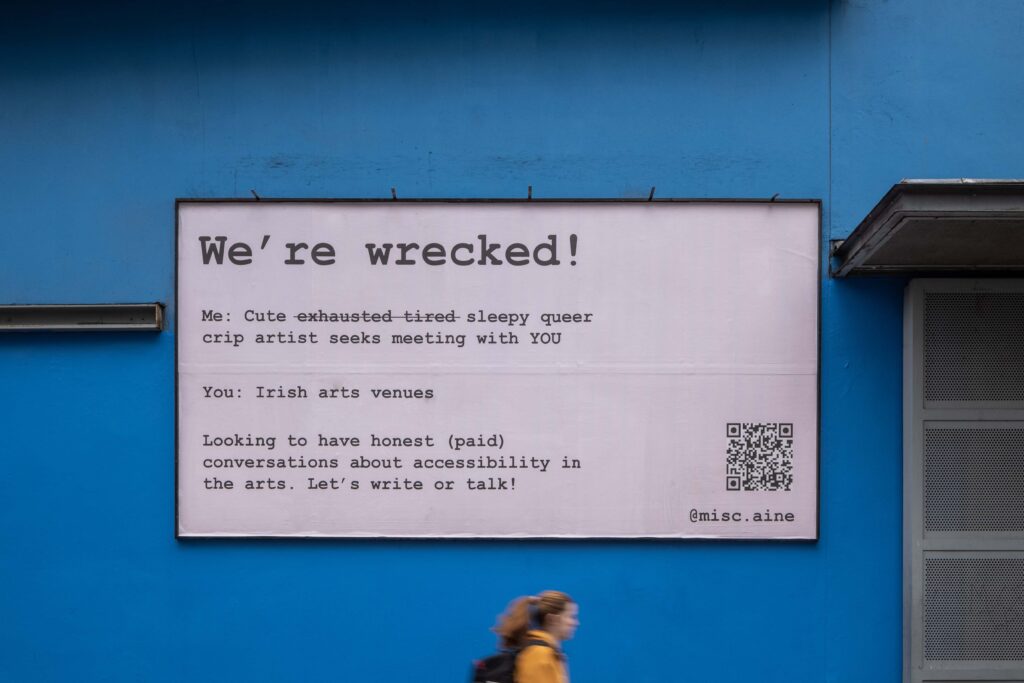 AOH: The billboard commission was designed as a personal ad, inviting arts organisations to go on a date with me to discuss access. The title was We're All Wrecked. A consistent feature of all my work is how tired I am and how tired we all are. I was really excited by the opportunity because of the amount of traffic it would get in Temple Bar and because I knew that so many arts organisations are based in the area and would see it as they walked by. And I suppose that led to lots of really great conversations and lots of positive responses, which then eventually led to myself and my artistic partner, Tara Carroll, holding a whole series of events last summer to talk about access in the arts and ways for us to learn from each other and make changes.
CC: Have you found that those conversations last summer have led to change, or is it more that you feel you're able to approach those organisations and say, look, this is what we need for this event?
AOH: I think that they really have led to changes. It's been slow, and obviously not every single arts venue has been like, yeah, let's do it, let's go! But a lot of people have been in touch with us and have spoken to us about how they didn't even think of certain things as access. When I speak about autism and neurodiversity in terms of access requirements, people are often surprised. It's shown me that there is quite a limited view of what access means in Ireland but I do think that is changing. I have seen more relaxed performances happening. I've seen more captioned events. There's definitely been spaces that have continued to provide masks or ventilation systems. I was able to attend an art talk at Project last week because it was masked and I was so excited. And I've seen lots of other places doing the same. So yeah, I think that things have started to change slowly and people's perception of what access is has started to change, which is a really big goal of mine.
It's really messy. If you want to do access right, it's just really messy. You know, there might be five different people that have a set of five different requirements that might all conflict. And it's about working out ways to do the best you can, with the budget that you have. I think for so long we've had all these, sort of, social rules about how you should behave in a space. You can't make noise and you can't look at your phone and all that kind of thing. And people maybe didn't realise that that is access as well. I might be looking at my phone for ten different reasons. I might have to check my blood sugar on my phone. I suppose it's just about remembering that whatever they're doing is probably necessary. They're probably not trying to ruin your art or your show or anything. They're probably just doing what they have to do, to engage with the art. And I think that more and more people are realising that and learning that, and that's really positive!
Accessibility
If you have any questions or feedback about accessibility, please do not hesitate to contact us at access@projectartscentre.ie or call 01 8819 613. You can find the latest information about Project's accessibility here.
Funding
These commissions have been produced in partnership with RTÉ Culture.
Project Arts Centre is proudly supported by The Arts Council and Dublin City Council.