Latest News
Christmas Shoe Box Appeal 2016
Following the success and generosity of our staff, friends and patrons last year, we will once again be taking part in a great charity appeal organised by Inner City Helping Homeless to help Dublin's homeless community: the Dublin FILLaTRAM Appeal.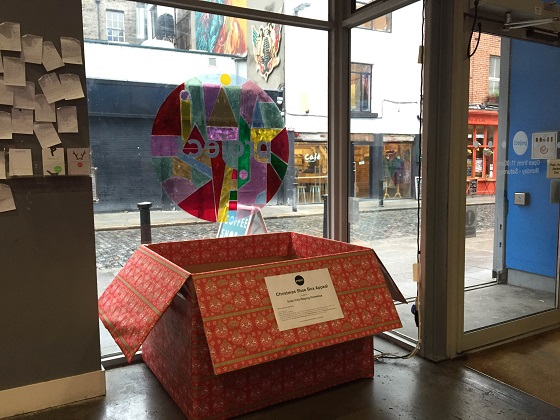 Christmas isn't everyone's favourite time of year and we are acutely aware of the hardship suffered by the people who sleep rough on our streets. Inner City Helping Homeless are inviting people to donate shoeboxes full of essential items and small gifts to Connolly Station on Thursday 8 December.
The team here at Project will be donating shoeboxes and travelling to Connolly on the day to donate them and we're encouraging you to do the same!
Here's how you can help
Get a shoebox and mark it 'male' or 'female'. If it's for a child please also mark it with an age.
Fill the shoebox with essentials such as hats, gloves, scarves, socks, underwear, cosmetics or treats like books and chocolate. (Please, no aerosols, hand sanitiser, mouth wash, razors, perfume or after-shave).
Deliver your shoebox to us here at Project Arts Centre from Monday 28 November until 12noon on Wednesday 7 December. 
If you have any questions, email us at box-office@pac.dev.perpetualdigital.ie or give us a call on 01 8819613.
You can find out more about the wonderful work of Inner City Helping Homeless and their Christmas Shoebox Appeal here.