Latest News
A Response to Brute Clues
A response to Brute Clues by Tom O'Brien, t o b Architect, an architectural practice based in Dublin, Ireland.
I wasn't sure I would enjoy this work prior to seeing it, I heard the guys were making a dam. I thought; 'why not a model railway or a bridge?'I'm glad I got over myself and went to see it in the flesh.
The title implies a bit of detective work is needed.
So we have concrete, are we hinting at Brutalism, the 1950's Architectural 'ism'?
There's a picture of a coyote in a desert floating around the internet in relation to the show. Is it the brute?
Arriving in the gallery, I confront it. If it had tyres I would have kicked them. Instead I take off my jacket, roll up my sleeves and approach the brute. The long bench slung across the space opposite the piece is a bit problematic as it encourages the subject to spectate; to judge this brute as an object. It's not what I'm after, but I put my coat there, and the nice intern/invigilator abides there.
It's a well-made thing, not overly well made, not fixated on craft, but just so. These guys are solid architects; the making of a space is prior to the embellishing of surfaces and details.
There's a trap door, another clue?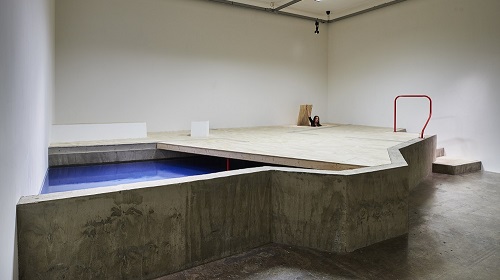 What space are they making?
The text on the Project Arts Centre website informs me that this is a sort of homage, a monument perhaps, to time spent travelling in the USA:
Their structure – which they describe as 'not a stage, not a dam, not a platform, and not an excavation' – can be walked on, rested on, climbed, or viewed from afar…
…Each with a distinct artistic practice, Tom Watt, Tanad Williams and Andreas Kindler von Knobloch researched sites throughout the American West Coast and Mojave Desert, including Joshua Tree National Park, Taliesin West, Arcosanti, the Hoover Dam and the Utah Salt Flats.
I see scale, big things made small and small things made big. Things so big as to be unrepresentable. We brain-shrink to make things manageable, workable. Big isn't just landscape big, big is memory, time, the relationships between objects, and ability of people to communicate across these spaces.
The nature of the thing, low, languid, vastly panoramic and horizontal, brings my eye low to the plywood floor. I'm in a vast yellow desert, concrete highways running to distant mountains on a pan flat horizon. More significantly, I'm there with the guys. We are sharing an experience across a temporal gap. It's also a Spaghetti Western space, a Sergio Leone vista particular to the USA of movies and fantasy. It's a beautiful thing to reposition the subject in that way, to share.
There is a trap door in the floor of the desert.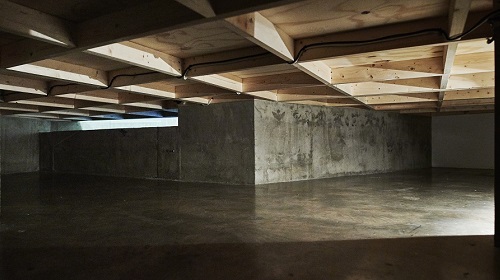 I lift it and drop down below. The scale changes, I'm big now, mooching about on all fours, compressed into this tight crawl space. My gaze is directed by dimly cast light on roughly cast concrete. I'm pressed against the not unattractive materiality of the thing.
I pretend/imagine/play with the scale.
It is labyrinthine. Vast halls open up, of sheer concrete walls and coffered ceilings. The trap door I entered through is an oculus.
I seem to be at the centre of a strange and vast piece of infrastructure. The only other opening is a long panoramic slot overlooking a placid blue lake. Here I stand on top of a huge dam, the sheer cliffs of this flooded valley are reflected on the almost still water.
It would be out of date to talk of the sublime no?
That antique, Irish invented sublime where one is suddenly, utterly and terrifically confronted with the vastness of everything, with the horizontality of infinity and death.
I'm not saying I fell over backwards, but I think I was brought closer to something these guys experienced on their travels. Maybe this piece is just the best holiday snap ever?
Nope.
These artists make better architecture than many architects. They get it. The legibility of the spaces formed is not as a procession of images, but as a cosmic star map of experiential connections. The form of the thing is only a container, let's say an actor.
Last clue.
'Brutalist Architecture' is a sort of a taxonomic bucket. The Architecture Critic, Reynar Banham's Essay of 1955 The New Brutalism, tries to put a ring around it in relation to the work of the Smithsons and other architects/artists of post war Britain. He described it as a type of bloody minded, truthful Architecture; constant in its lack of eloquence.
It encompasses a robust materiality, a robust legibility and almost always concrete, cast without preciousness or pretence.
A nice line from that essay to take here might be:
"…. what moves a new brutalist is the thing itself, in its totality, and with all its overtones of human association."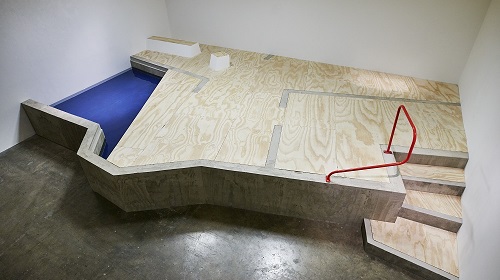 Brute Clues runs until the 29 October.