Una McKevitt
Una McKevitt is a writer and director of original work for theatre. Previous work includes Victor & Gord, 565+, Singlehood and Alien Documentary which was the 2016 recipient of The Stewart Parker New Writing Award. With PJ Gallagher she co-wrote Madhouse which premiered at Dublin Fringe Festival 2018 and completed a sell out 13 venue national tour in 2019.  Una has worked as a director with renowned European theatre makers Rimini Protokoll as well as with comedians Maeve Higgins (Moving City 2013) and Joanne McNally (Bite Me 2016).
---
PRODUCTIONS
Madhouse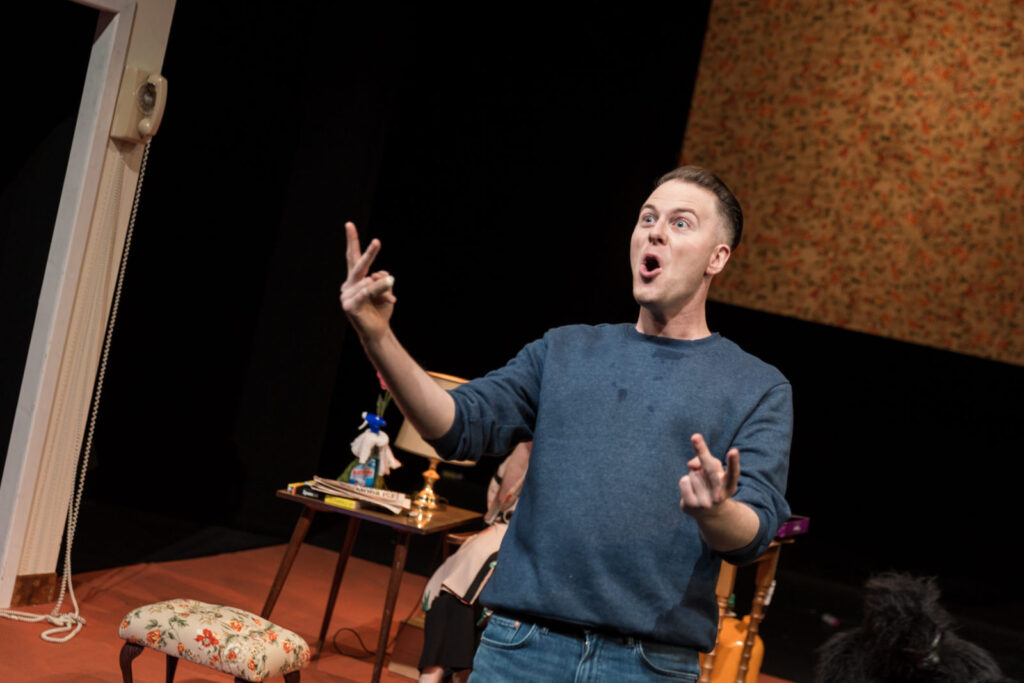 Madhouse is based on the unbelievable true life story of comedian PJ Gallagher. When PJ was ten, his Ma, a nurse, moved six men with schizophrenia into the family home to care for them full time. Many psychiatric institutions were closing down and there were few places for long term residents to go. She did everything for them from administering their medication to cutting their hair.
"It was like this. When you went through our front door and turned right, you were in mad land, where the mad lads lived. And when you turned left – me, Ma, Da and the dog. And me like a little waiter running down with their pills and dinner, a plate in each hand. It was madness. Absolute madness
Image Credits: Ste Murray
---
Alien Documentary

They discovered 4 billion planets last year. It's mathematically next to impossible that we are alone. And they know we're here…
3 men are talking. Same as every other day. Cycle lanes, convicted footballers, virtual horses, Dylan Thomas, alien invasions, the price of mackerel…
See when we set off nuclear bombs a light went up and they were like,'Oh, Jesus, who's that down there in that little blue planet down there? Ah look. It's those savages at it again.'
Alien Documentary blends fiction and reality to consider the possibilities of a new world, where there is nothing left to hide.
Image Credits: Ste Murray
---
Singlehood 
Singlehood is a hilarious and uplifting comedy exploring the art of being single. With an ensemble of seven performers and based on real life experiences Singlehood is an exclusive look at the personal triumphs and losses we all experience but seldom articulate, framed by original songs from Aidan Comerford.
Image Credits: Fiona Morgan
Production Listing
Madhouse
13 Venue National Tour 2019
Premiered Dublin Fringe Festival 2019
Alien Documentary
2016, Project Arts Centre
Singlehood
2013 Vicar Street
Awards
Alien Documentary
2016 Stewart Parker New Writing Award
Press Quotes
Singlehood
"Singlehood really shines in its sheer honesty…ridiculous, heartbreaking, hilarious."
Irish Times
"Singlehood is a seriously funny, incredibly engaging and a delightfully entertaining must see…" Irish Examiner
"Honest, funny and at times a little sad, Singlehood will be enjoyed by singletons and smug marrieds alike." Metro Herald
Alien Documentary
"Alien Documentary has a mind bending otherworldly feel to it placing the audience provocatively as accidental voyeurs…cleverly resonates." Sunday Times
"McKevitt's play (ALIEN DOCUMENTARY) shows that to ignore masculinity is to miss the point of toppling the patriarchy; the need to free both sexes."  Exeunt Magazine
"Alien Documentary is an enjoyable meditation on masculinity, anchored by three extremely likeable performances; the aliens are the men before us, revealing the hidden truths of their species." Irish Times
Madhouse
"Most eccentricities become invisible to us, the play (Madhouse) suggests with stealth and affection, so who are we to stigmatise mental disorder? With compassion and good humour, you may be able to live with it." Irish Times
"The story is a fusion of penetrating insights of behaviour patterns and standup – the spirited yet loving mother, son portrayal works exceptionally well…." Sunday Times
"Madhouse is a joyously kind, touching piece and very funny." Sunday Independent