ARTIST BIOGRAPHY
Founded in 2008, multi-award-winning Dublin-based theatre company The Company is run by Jose Miguel Jimenez and Nyree Yergainharsian.
Working regularly with associate artists Brian Bennett, Rob McDermott and Stephen Dodd, The Company has brought their work to many international festivals around the world, including RADAR L.A. (United States), FNT Festival (Romania) and The Full Irish Festival (Berlin, Germany), to name a few.
Not conforming to any traditional model of making work for the theatre space, The Company works primarily by transforming bigger philosophical issues and current political and social trends into accessible and engaging devised performances.
Always entertaining and surprising, The Company is interested in pushing the boundaries of how we look at and see the everyday, shifting audiences perspectives to a new point of view.
Visit The Company website @ www.thecompanyireland.com
---
NEWS
The Company recently screened their short film Under the Selfsame Moon at the Lighthouse cinema as part of the Lighthouse Shorts programme, and are planning  sending it on a festival tour going forward.
---
PRODUCTIONS
The Rest is Action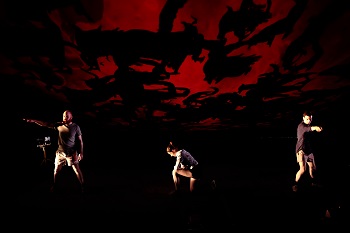 Tiger Dublin Fringe at Project Arts Centre, September 2014
What was empty is what now makes it all work. Empty gestures become action. 2,500 years ago we invented a fiction called tragedy. We believed in it so much it became real. We live it now. Why can't we get out of it? Why do we still need a fiction to live in? This is not the story of a tragic hero, it is yours.
★★★★
"conceptually ambitious … artful and self-aware … heroic enough"
The Irish Times
The Rest is Action is available for touring.
---
Politik
Forward Festival in Brauncshweig, Germany, 2013
Dublin Theatre Festival at Samuel Beckett Theatre, 2012
Trying to find new ideals within a social and economic whirlwind, The Company have set themselves a challenge: to make a show not about the world we live in, but the one we could create. Come, get entangled and find out which part you play.
"The performers are bright, generous, witty, decisive and confident"
Irish Independent
"Politik certainly succeeds in empowering the audience; we discuss, we suggest and we make decisions. This is a system in which we make changes and we see them play out."
Irish Theatre Magazine
Politik is available for touring.
---
As you now are so once were we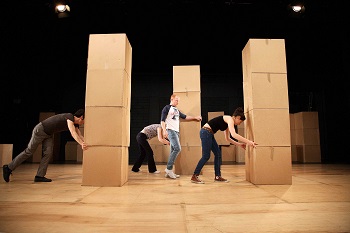 The Full Irish Festival, Berlin, Germany, 2013
Invisible Cities Festival, Portimão, Portugal, 2011
RADAR L.A., California, 2011
The Abbey Theatre, 2011
Dublin Fringe Festival, 2010
Why haven't you read Ulysses? Ulysses is Dublin. You live in Dublin. So do we. Four actors in a city we don't really know pick up the most important and unread book in Irish history and follow James Joyce as he invents a whole city and its people.
James Joyce wrote Ulysses 100 years ago making Dublin an iconoclastic city forever associated with language and identity. Retracing the steps of Joyce, The Company investigates what it means to live in Dublin today.
"An inventive and inspirational theatre piece for theatre professionals with enough wit and charm to appeal to any punter off the street"
The Irish Times
"A refreshingly bold idea from a promising, energetic company"
Sunday Business Post
"Engaging, thought-provoking and surreal"
Sunday Independent
As you now are so once were we is available for touring.
---
Who is Fergus Kilpatrick?
Romanian National Festival, Bucharest, 2010
Project Arts Centre, 2010
Project Arts Centre, 2009
Dublin Fringe Festival, 2009
An unknown name has been found in the records of our history. Why haven't you been told about him? Why was he kept a secret? And who is Fergus Kilpatrick?
A re-imagining of Irish history. Theatre, video and stories filled with white lies and conspiracies clash with old footage, old documents, old heroes to uncover new answers, a new company and a new truth …– or do they?
"Technically adept, conceptually robust, and performatively muscular"
Irish Theatre Magazine
"Skillful, hilarious and hugely enjoyable"
The Irish Times
---