Philip Connaughton
Philip is a choreographer/performer from Dublin. He began training locally and then went on to study at the Rambert School of Ballet and Contemporary Dance in London. As a choreographer, his first solo, Embody, was created during a residency at Movement Research (NYC), and since then he has been performing his work both at home and abroad. He was artist in residence at axis:Ballymun [2012] where he created Mortuus Est Philippus for Dublin Dance Festival and then again for Festival Instance Chalon-sur-Saone. He then became an associate artist of Dance Ireland [2013/14] and in 2014, he formed Company Philip Connaughton and made a large-scale ensemble piece Tardigrade that won best design at the Tiger Dublin Fringe Awards. His lecture-performance Dance Uncovered (sensational) was featured in DDF 2015. He then created Whack!! in collaboration with Ashley Chen of Compagnie Kashyl, Paris and following that, made Extraterrestrial Events which previewed at studio le Regard du Cygne in Paris and then premiered at DDF 2017. The Company's most recent work ASSISTED SOLO , was part of Dublin Fringe Festival's 2018 programme. It was nominated for Best Production, Best Design, and Best Performer.
Also working in theatre and opera, Philip's credits include Evening Train and Der Vampyr (Cork Midsummer Festival), The Threepenny Opera, The Vortex (The Gate Theatre), Faust, The Nightingale and the Rose (The Everyman Theatre), The Bloody Irish (PBS TV, America), I'm Your Man, RIOT, Elevator, Not a Funny Word (THISISPOPBABY ). Annie, The Wizard of Oz (Cork Opera House).
"My aim is to make work that is both challenging and accessible. It's a platform for me to understand and connect to the world around me. I use the work that I make with company Philip Connaughton as a means to understanding the world around me. With each creation I aim to understand the world a little more and understand how to express myself with in it."
Philip is a resident artist of Project Arts Centre, Dublin.
---
PRODUCTIONS
Mamafesta Memorialising

A beautiful, sparkling, laugh-out-loud meditation on the fear of forgetting and of being forgotten. Mamafesta Memorialising, which enjoyed it successful international premiere in France last year, is woven from inspirations including musical theatre, Bruce Forsythe's Generation Game and most importantly, Philip's mum Madeleine, who has senile dementia.
---
Assisted Solo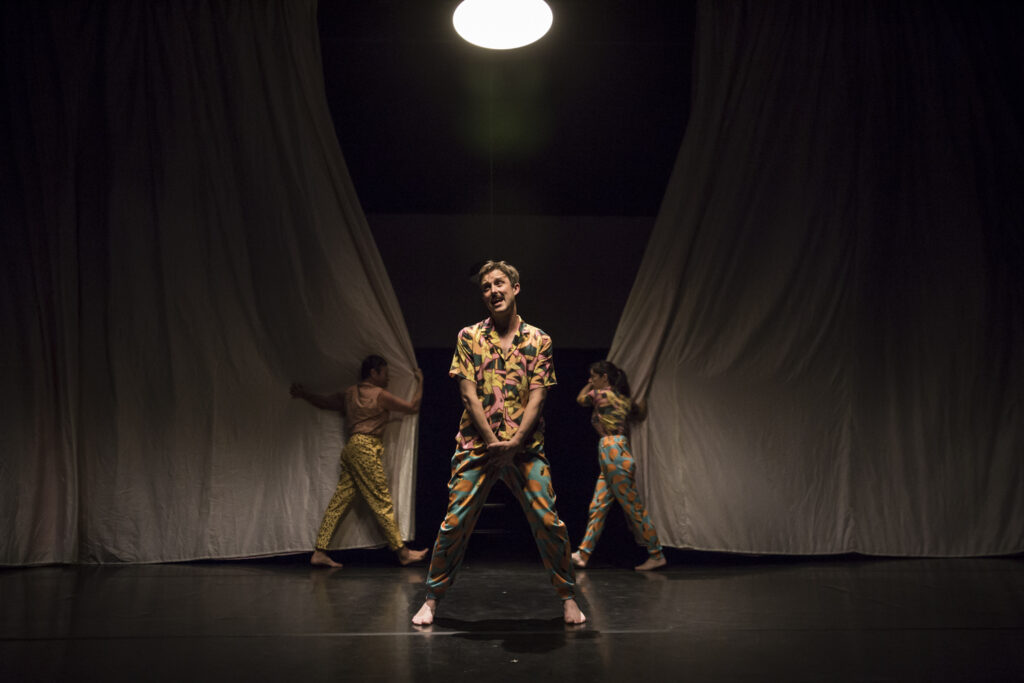 In Assisted Solo, Philip Connaughton, Lucia Kickham and Magali Caillet are accompanied by video footage of Madeleine, Philip's mother, who suffers from advanced dementia. In this humorous yet strikingly poignant piece of dance theatre we examine how we, as society, deal with the ageing body whilst also celebrating the roles we play in 'assisting' each other through life.
---
 Extraterrestial Events
The truth is out there… or is it? In a spectacular new dance piece, that's also an opera, Philip Connaughton sets out to uncover.
Extraterrestrial Events. From the team behind the award-winning Tardigrade, Philip is joined by four incredible dancers, composer Michael Gallen and world-renowned soprano Kim Sheehan.
---
Dance Uncovered (sensational)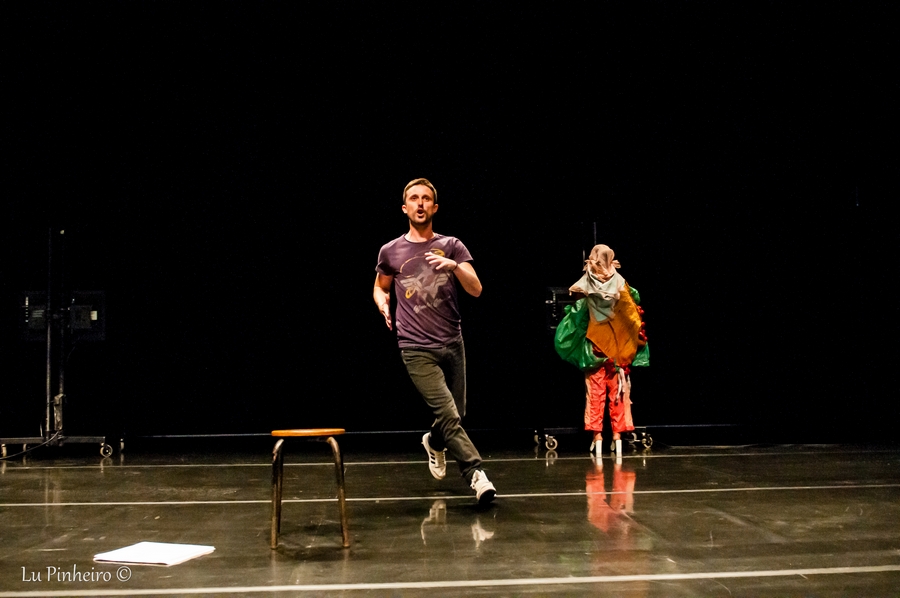 Philip Connaughton leads a roller coaster discussion about pretty much everything you ever wanted to know about contemporary dance as an art form and how to go about understanding what you're seeing. Delving into his own career as an example, he will bare his soul with anecdotes, movement and humour to explain his own shift from figurative to abstract dance – and why it's not so weird. Informative and entertaining in equal measure!
---
WHACK!!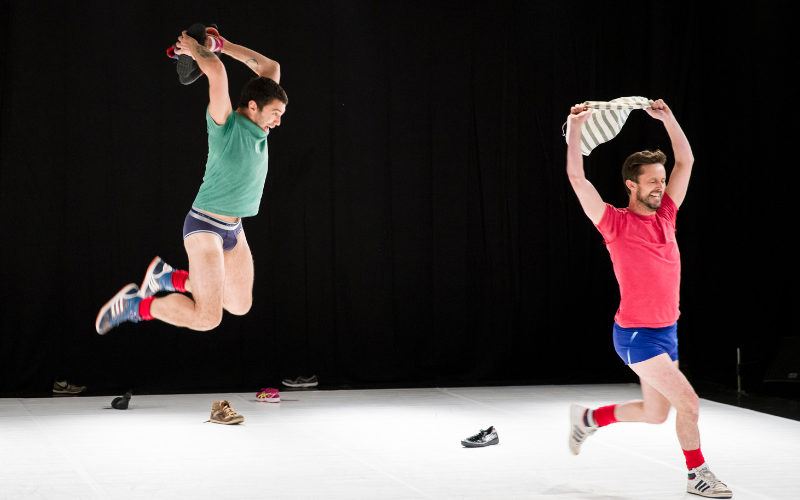 In a bright white space, two men in suits collide.
Whack!! is a tour de force. Violent yet tender. It shifts and blurs the lines between comedy and tragedy. It invites you in with humour and grips you with demanding, exhausting feats of dance. Are they fighting? Is there a winner?
Adults and children alike are enthralled by this quirky, dysfunctional relationship.
---
Tardigrade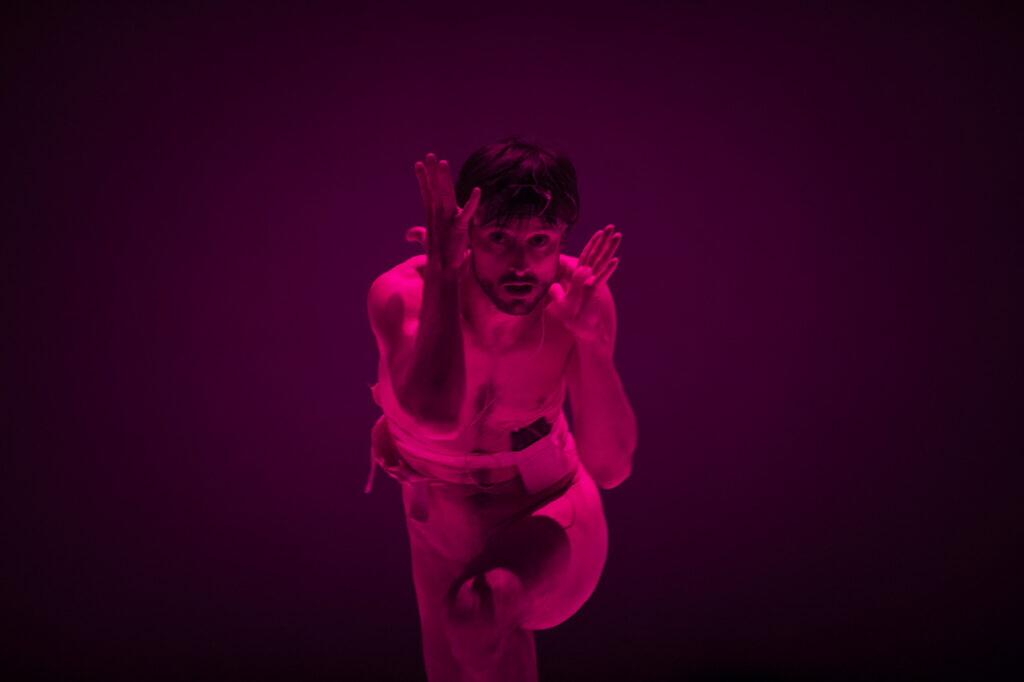 TARDIGRADE plays with sensory overload
Multiple realities unfurl on stage, layered over each other until all you can do is let wildness wash over you.
Inspired by Bosch's Garden of Earthly Delights, the show brings together an incredibly talented collaborative team under the direction of Philip Connaughton. Relationships and interactions are, like the Tardigrade, put under a microscope, and normality and moral structure are put into question.
---
Mortuus Est Philippus
Mortuus Est Philippus is a piece about life. Using movement structure as a way to remember a vast list of every possible way of dying, Connaughton challenges both himself and the audience's fear of mortality. It's oddly liberating and humorous. Mocking at our fears of the unmentionable. It laughs in the face of death. Initially created for Dublin Dance Festival in 2013 and then reworked for Festival Instances, Chalon-sur-Saône (2015).
Production Listing
Mamafesta Memorialising (2019)
Premiered at KLAP Maison pour la Danse, Marseille and at the Cork Opera House (2020). Performed at Project Arts Centre (2020)
Assisted Solo (2018)
Performed at Project Arts Centre as part of Dublin Fringe Festival and the Everyman, Cork.
Extraterrestial Events (2017)
Premiered at studio Le Regard du Cygne, Paris and The Samuel Beckett theatre as part of Dublin Dance Festival.
Dance Uncovered (sensational) (2015)
Premiered at Dublin Dance Festival at The Cube, Project Arts Centre.
WHACK!! (2015)
Premiered at studio Le Regard du Cygne, Paris followed by an extensive French and Irish tour culminating recently at the 20th Biennale of the Briqueterie du Val du Marne (2019).
TARDIGRADE (2014)
Premiered at Dublin Fringe Festival at The Samuel Beckett Theatre.
Mortuus Est Phillipus (2013)
Premiered at axis:Ballymun as part of Dublin Dance Festival 2013 and at Festival Instances 2016, Chalon-sur-Saône
Press Quotes
Mamafesta Memorialising 
★★★★
""Lovingly rendered, "Mamafesta Memorialising" delivers a performance you're not going to forget"  The Arts Review

★★★★
"A superb dance against dementia both sad and uplifting."
Musings in Intermissions
Assisted Solo 
★★★★★
"One of the most moving and unforgettable experiences of the year" The Arts Review
★★★★
"Assisted Solo is humorous and clever dance theatre that goes beyond the personal to pose bigger questions for our hearts and brains" The Irish Times
Extraterrestial Events 
★★★★ – The Irish Times
"…Kim Sheehan, chanteuse à la voix céleste'…et…'une composition musicale lumineuse de Michael Gallen" – Mouvement.net
"Compelling production" – Exuent Magazine
"…a fantastic world, immersive, consistent and authentic…" – DRAFF Magazine
WHACK!! 
★★★★
" Like a surreal, contemporary version of The Red Shoes, Whack!! bursts onto the stage and pushes the audience and performers to their limits… A real treat to see, Whack!! is a piece that sometimes shocks, regularly baffles and constantly engages and entertains." – The Reviews Hub
"Connaughton [is] quickly becoming the Enfant Terrible of the Irish contemporary dance world" – Exeunt Magazine
"'Whack!!' is charming and incredibly funny, and in Connaughton and Chen, features two memorable characters with amazing chemistry at the heart of its performance." – examiner.com
"If you are willing to take a risk, it is certainly something unique with a variety of images and movements that are rarely seen. Let the battle commence!" –nomoreworkhorse.com
Tardigrade
★★★★★
"an explosion of colour … riotous… and then they begin to sing…. oh my goodness!" "incredibly sensual and so beautiful…it's bewitching" Sophie Gorman, RTE Arena 
★★★★
"…overall effect is radiant, engaging and often funny… [Tardigrade is] much more than the sum of it parts" – Michael Seaver, The Irish Times
"…Connaughton's piece is an exceptional creation, and more than the sum of its weird parts." – John McKeown
"…a satisfying purity and an elegance to the movement that also allows for idiosyncrasy, and reveals Connaughton's sensitivity as a maker." – Totally Dublin
Mortuus Est Philippus
"He perfectly embodied the tensions between his inner and outer self, and found universality within the personal." – The Irish Times
"Philip Connaughton, danseur exceptionnel, rompu à toutes sortes de techniques, passant de la danse contemporaine aux claquettes irlandaises avec un naturel ahurissant."  – Agnes Yzrine, Dancer Canal Historique