Junk Ensemble
ARTIST BIOGRAPHY
Junk Ensemble is an award-winning Dublin-based dance company founded in 2004 by joint Artistic Directors and identical twin sisters Megan Kennedy and Jessica Kennedy to create works of brave and imaginative dance theatre. Previous Artists in Residence at Tate Britain and current Cork Dance Artists in Residence at Firkin Crane, the company have won Best Production Award, Best Design, Best Lighting Design, Best Performer, Culture Ireland Touring Award, Excellence and Innovation Award and are listed a Sunday Times Highlight. Their productions are often created in collaboration with artists from other disciplines to produce a rich mix of visual and performance styles that seeks to challenge the traditional audience performer relationship. This approach has led to productions being created in non-traditional or found spaces as well as more conventional theatre spaces. Junk Ensemble's work continues to tour nationally and internationally.
Company members
Co-Artistic Directors: Jessica Kennedy and Megan Kennedy
Producer: Gwen Van Spijk
Visit Junk Ensemble website @ www.junkensemble.com
---
PRODUCTIONS
A Different Wolf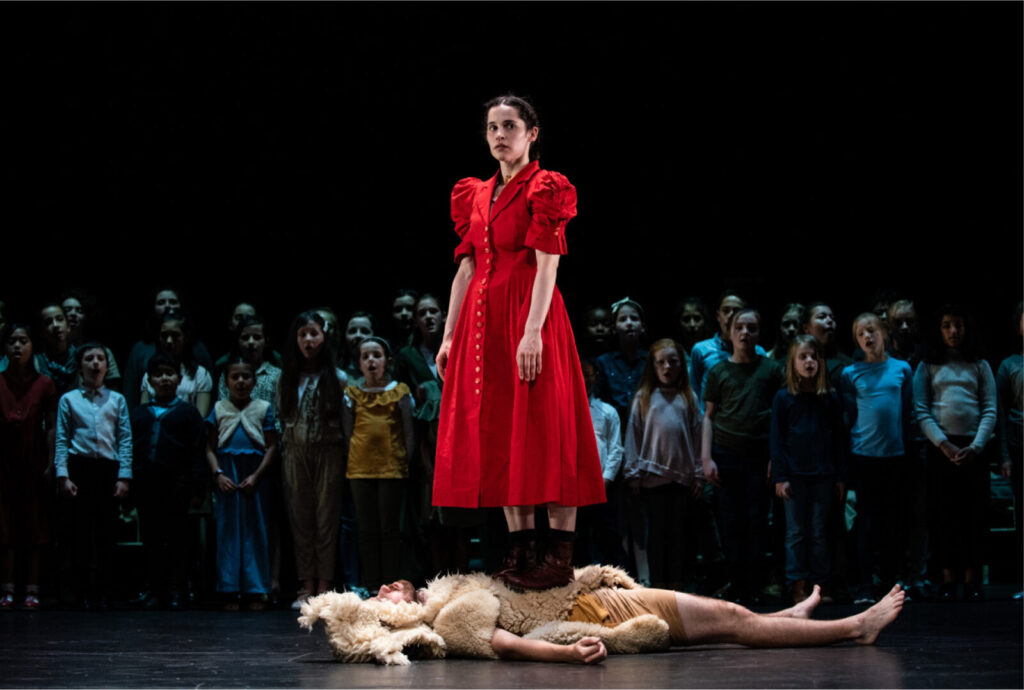 What is the wolf at your door?
'Fear isn't so difficult to understand. Nothing has changed since Little Red Riding Hood faced the big bad wolf. It's just a different wolf.' Alfred Hitchcoc
A Different Wolf is a new dance opera created by multi-award winning Junk Ensemble and innovative music-theatre company Dumbworld (Belfast). The production is a poignant exploration of fear, where in a complex and uneasy world we all live with our own form of wolf. A Different Wolf blends visceral movement, text and exquisite song to create a powerful visual & sonic experience for the audience.
Personal testimonies from different communities in Cork give voice to contemporary representations of the wolf as varied as the bank man, loneliness, the world ending and a car not starting. An exceptional cast of four dancers, three singers, six musicians and a 100-strong choir perform in the production.
Supported by Arts Council of Ireland Arts Grant Fund. Presented in partnership with Cork Opera House and Cork Midsummer Festival and supported by Cork City Dance Artists-in-Residence Scheme at Firkin Crane, Dance Ireland, Arts Council of Northern Ireland, Project Arts Centre, Cork City Arts.
---

THE MISUNDERSTANDING OF MYRRHA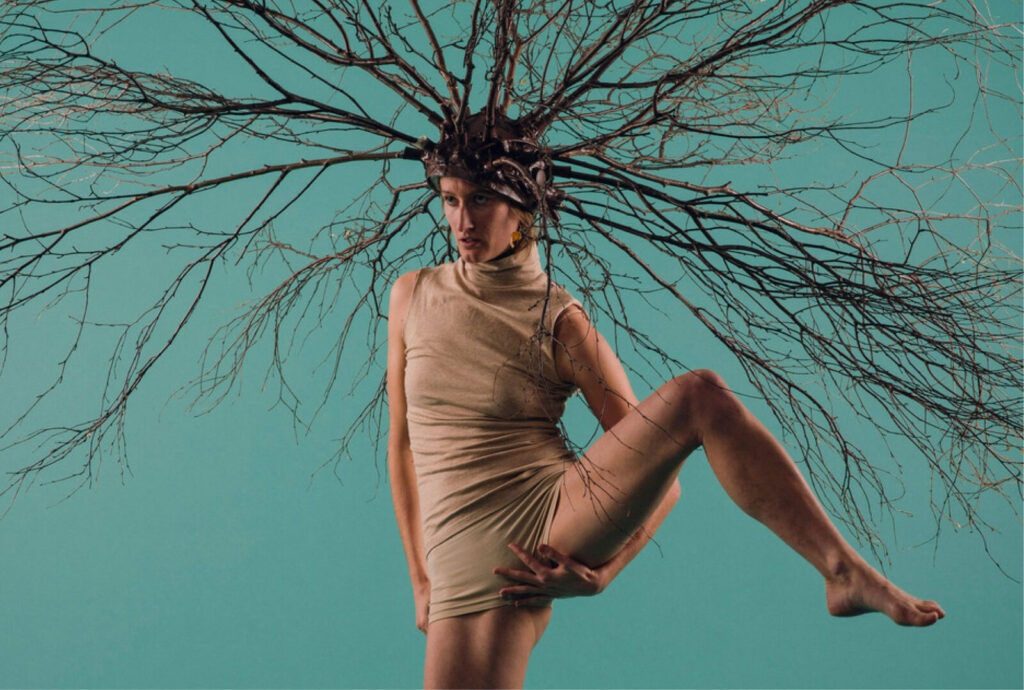 Junk Ensemble collaborate with acclaimed visual artist Alice Maher for their new work The Misunderstanding of Myrrha, which reawakens the tale of Myrrha from ancient Greek mythology and Ovid.
From Aphrodite's curse, Myrrha fell in love with her father and became pregnant with his child. Fleeing Arabia, Myrrha begged the gods to take pity on her and she was transformed from her human form into a myrrh tree. The sap that falls from the tree are Myrrha's tears of shame and sadness.
This tale of transformation from female into hybrid form will be re-imagined so that Myrrha's story is finally told by a woman – we hear it through Myrrha's once muted voice. Presented through intricate choreography, text, music and a stunning visual design by Alice Maher, the solo dance work cycles through the tragedy of Myrrha's curse, the acceptance of her fate, and the hope that is unearthed from the trauma. Myrrha's existence becomes a thing of beauty as she spits out her fate and declares herself a new being: beyond woman, man or tree.
Funded by The Arts Council of Ireland | An Chomhairle Ealaion Arts Grant Fund and Dublin City Council. Commissioned by Dublin Dance Festival and supported by Mermaid Arts Centre, Dance Ireland, Project Arts Centre and Shawbrook Dance.
---
The Bystander
What makes us help someone and what makes us simply stand by?
'I didn't want to get involved' Anonymous Neighbour, 1964
An intriguing and adventurous production by multi-award winning dance theatre innovators, Junk Ensemble. Inspired by the 'bystander effect' phenomenon of the murder of Kitty Genovese. Murdered outside her apartment in Queens, New York, thirty-eight witnesses saw or heard the attack, yet no-one called for help.
Performed by internationally acclaimed performers and drawing on the expertise of a sociologist, The Bystander gets under the skin of how we behave, bringing to the surface some of the murkier and complex behaviours of contemporary society.
---
Man at the Door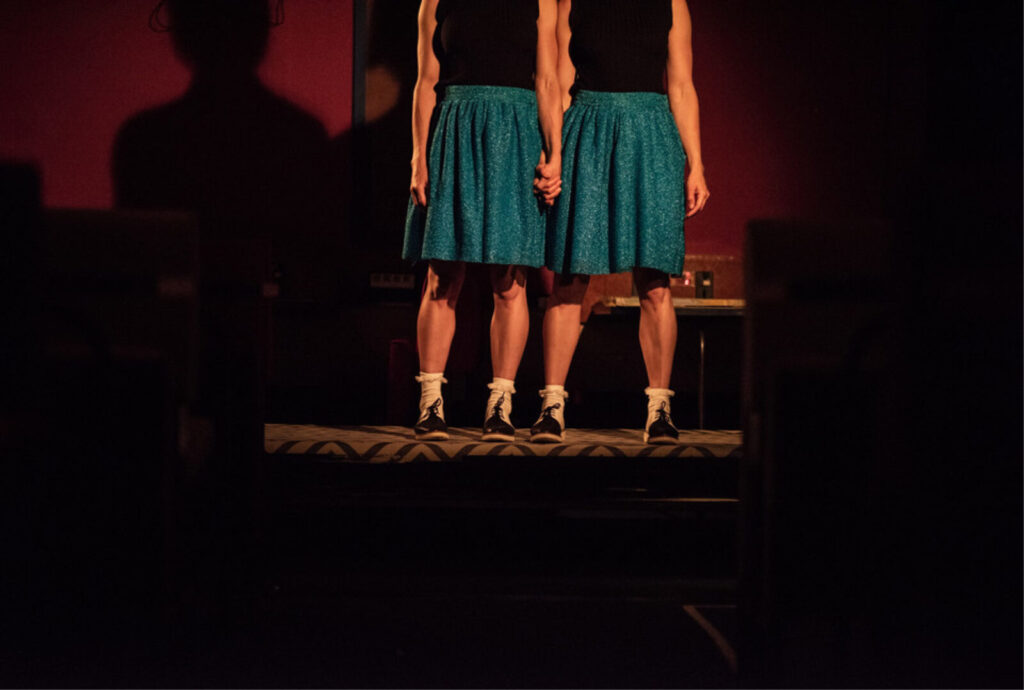 Performed in the atmospheric Sunbeam Bingo Hall in Blackpool Cork, the idea of the doppelgänger is played out, exploring themes of care and the beautiful banality of life. What happens when your double knocks on the door? How does the story of your life play out through a bingo game
Created by an accomplished design team and internationally acclaimed and multi-award winning dance innovators Junk Ensemble who are Cork City Dance Artists-in-Residence at Firkin Crane and Project Artists at Project Arts Centre.
Funded by The Arts Council's Cork City Dance-Artists-in-Residence Scheme at Firkin Crane. Supported by Cork City Council, Firkin Crane and Sunbeam Bingo Hall.
---
The Book and the Body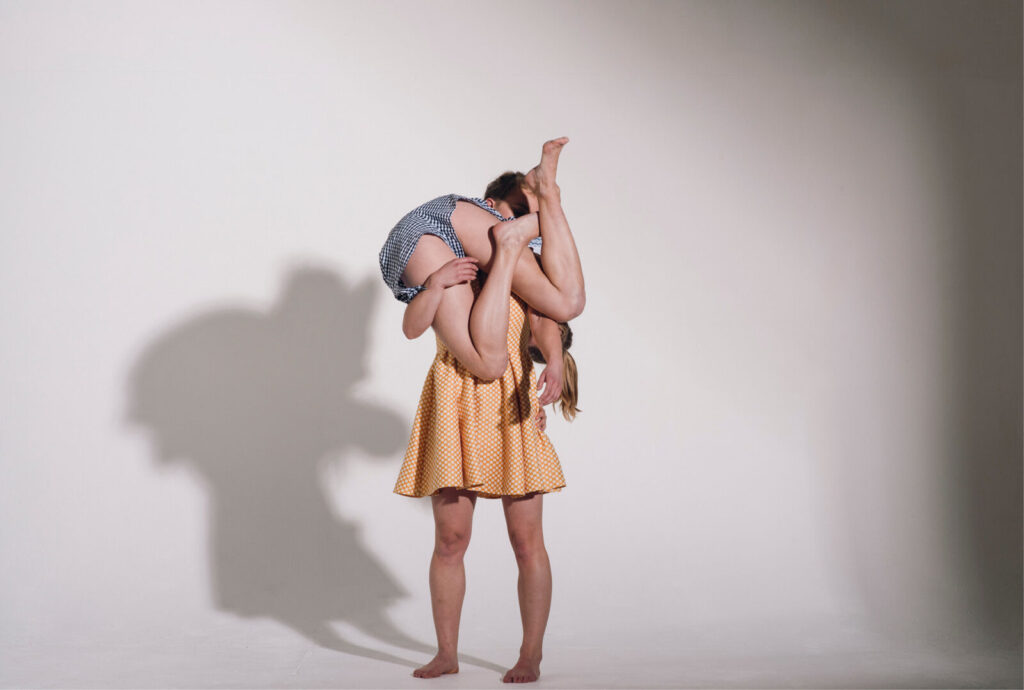 Jessica Kennedy and Megan Kennedy of Junk Ensemble  curated a two-strand symposia entitled 'The Book and The Body' in National University of Ireland, Galway and University College Dublin in April 2018, as part of Dublin Dance Festival partnering with Dance Ireland and Live Collision Festival. The symposia surrounded a new Junk Ensemble dance-theatre production, an off-site work titled Dolores, which is inspired by Vladimir Nabokov's visual and disturbing novel 'Lolita', and premiered in May 2018.
'The Book and The Body' Symposia was comprised of panel discussions, masterclasses, a viewing of an open rehearsal, roundtable discussions and international keynote speakers, and took place at the National University of Ireland Galway: 13-14 April and University College Dublin: 20-21 April, covering themes which include: body & literature, gender & performance, sexuality and abuse, trauma & memory, how the body is represented in literature through the male perspective, and Vladimir Nabokov's novel 'Lolita'.
---
Dolores
Inspired by Vladimir Nabokov's visual and disturbing novel 'Lolita', Dolores is a powerful and uncompromising work finally told by a silenced girl. Dolores gives a voice to the neglected and traumatised child, the candy girl full of hope and the enraged woman full of fire and revenge. Performed by the acclaimed Mikel Murfi and Amanda Coogan, Irish & international dancers and musicians and exquisitely designed as an off-site piece, Dolores digs into the poetry of the novel and exposes the unsettling abuse and tragedy of a young girl through imagery, song, dance and text.
Direction and Choreography: Jessica Kennedy, Megan Kennedy created in collaboration with the cast.
Dolores is funded by The Arts Council / An Chomhairle Ealaíon and commissioned by Dublin Dance Festival. Supported by Dublin City Council, Project Arts Centre, Dance Ireland, Dance City Newcastle.
---
Soldier Still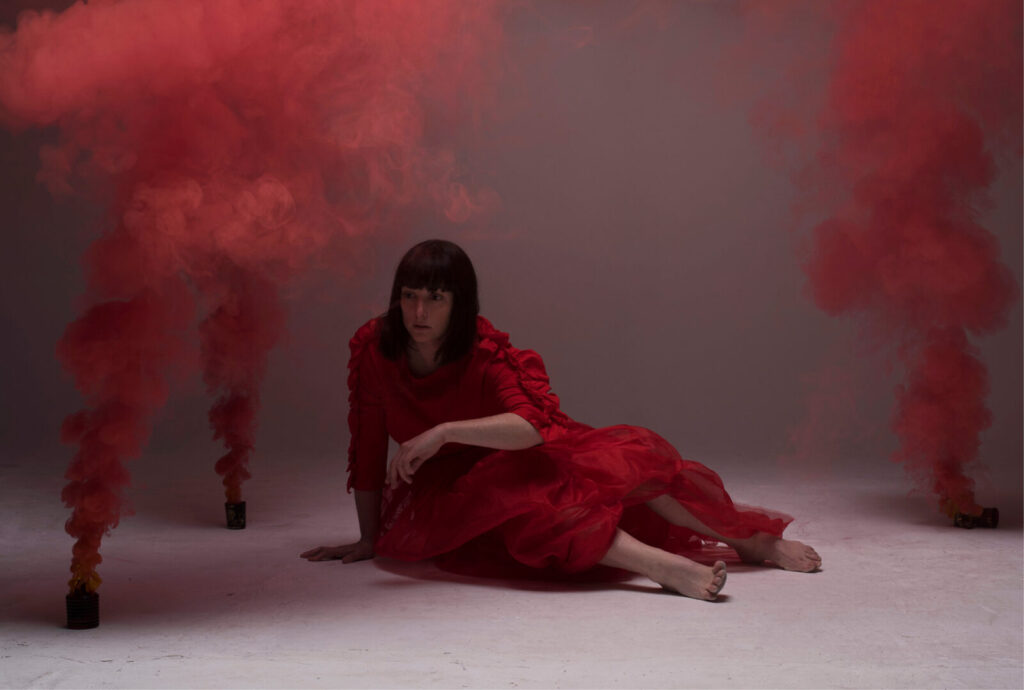 Soldier Still is about violence. A new dance theatre work that blends movement, text, music, real stories and real people, creating a harrowing tale of beauty and brutality.
A cast of Irish and international dancers and former soldiers collaborate with an exceptional creative team to explore the viciousness, the vulnerability and the trauma of violence.
It Folds
In collaboration with Brokentalkers, It Folds is a reverie. A dream-like story of death, grief, beauty and humanity. It's a poignant and humorous portrait of the tragicomic events that shape our everyday lives.
Fusing the distinctive choreography of Junk Ensemble with the innovative theatricality of Brokentalkers, It Folds features a large cast of Irish and local Bristol performers brought together to present an assortment of characters who attempt to find connection through their shared humanity.
Winner of the Best Performer at Tiger Dublin Fringe Festival 2015
---
Exploring blindness and invisibility, Dusk Ahead shows the murky fading light of dusk when it is difficult to discern what is real and what is imagined. Dusk is the hour between dog and wolf, between domestic and wild.
The talented cast of international and Irish performers also act as the band, playing live music throughout the piece. The visual design incorporates hundreds of golden threads stretched across the stage, which are dimly and beautifully lit through carefully constructed lighting.
Dusk Ahead was presented at Dublin Theatre Festival and Kilkenny Arts Festival in 2013 to wide critical acclaim. It is touring to New York and venues throughout Ireland and Northern Ireland in 2015.
---
The Falling Song
Witty dance theatre meets mythical chamber opera in The Falling Song. Male physicality is pushed to the extremities to explore self-destruction, invincibility and failure in this compelling production. Performed by an international all-male cast and a live children's choir, The Falling Song looks at the nature of flying and falling and the dangerous relationship between the two.
The strength of this piece lies in the Kennedys' considerable skill in allowing images, sounds and movement to sit side-by-side in their production without one element undermining or overwhelming the others.
Featuring an ambitious stage set, with towering ladders, stacked mattresses, mounds of apples and a local children's choir, the performance investigates the simple metaphor of falling; falling in and out of love and falling from grace.
The sub-plot is male identity, explored by the excellent cast of male dancers (Jesse Kovarsky, Omar Gordon, Eddie Kay and Carl Harrison).
---
Sometimes We Break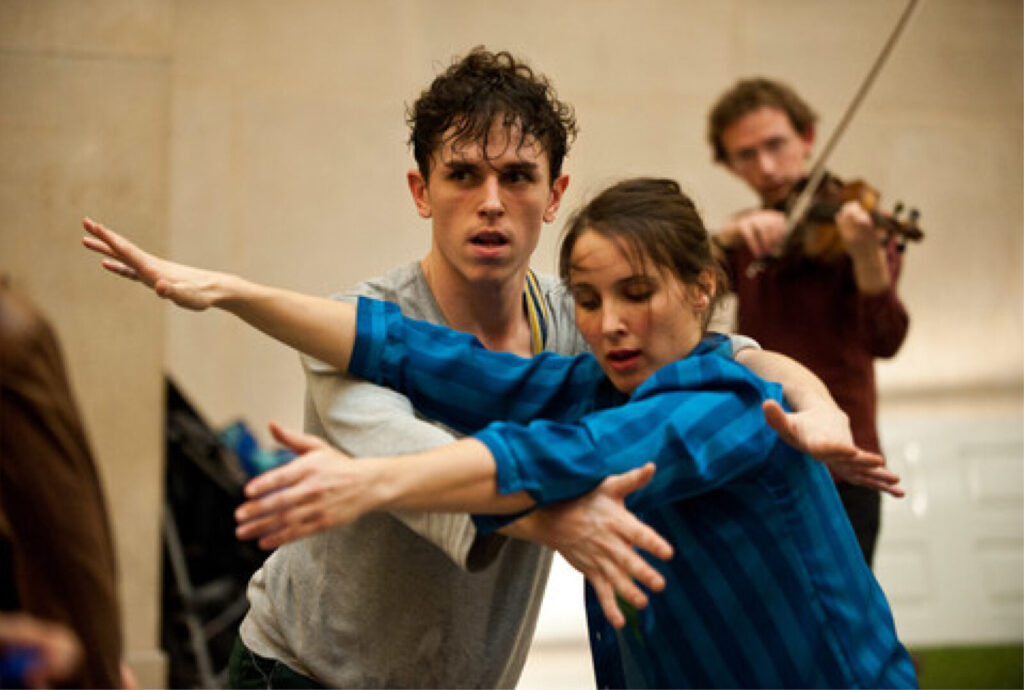 Sometimes We Break is a dance and sound promenade piece that explores incompleteness and 'parts to a whole'. Leading the audience on a designed journey of movement and sound, the piece focuses on things that stop working, things that are interrupted and missing parts.
Originally commissioned and performed in Tate Britain, Sometimes We Break is a collaboration between choreographers Jessica Kennedy and Megan Kennedy, composer and sound designer Tom Lane, visual designer Liam Bell and dance artists Justine Cooper, Carl Harrison and Jessica Kennedy.
The piece creates different physical, visual and musical environments throughout the promenade performance. The company was interested in re-inventing the piece into a new space to highlight the shifting sense of belonging and the idea of 'home'. The movement derives from the theme of being interrupted and the question of where the body is taken when it is between two places.
This sense of incompleteness is demonstrated in a section whereby the performers cut off certain movement before it can finish. In another section, toy soldiers demarcate the performers' path forcing them to continually shift their physical sense of belonging. The space begins to exist fully when the performers inhabit it. By occupying the space, we make it our home.
---

Bird with boy is a beautiful and fragile promenade piece by Junk Ensemble with Jo Timmins. Unravelling with fractured stories and littered with moving images and live music, this immersive dance installation concerns itself with things that end before they should.
The audience is lead from room to room, saturated with moving images and live music; fractured stories unravel and a quiet tension builds.
Bird with boy is performed by a cast of eleven; with two musicians, three dancers and six boys from Company B, Ireland's only contemporary dance group for younger boys.
---
Five Ways to Drown

The living room is strewn on the front garden for all to see.
Five Ways to Drown looks into the interior of peoples' lives and exposes the sadness, the absurdity and the banality through vignettes of dance and installation.
In this public display of the private, the choreography of everyday life becomes extraordinary. Continuing Junk Ensemble's explorations of how spaces can be reinvented, the piece creates a different perspective on live performance.
Performed by three dancers, a young boy and an older woman, Five Ways to Drown shows us a picture of a family with the light going out: a little boy in a bath, a man wallpapering on a trampoline, a woman attached to an IV drip.
The movement is both violent and expressive with the dancers supporting each other in a climbing section; throwing a boy repeatedly into the grass; silently arguing on a sofa; spitting water and then dancing on a wet wooden floor.
---
Drinking Dust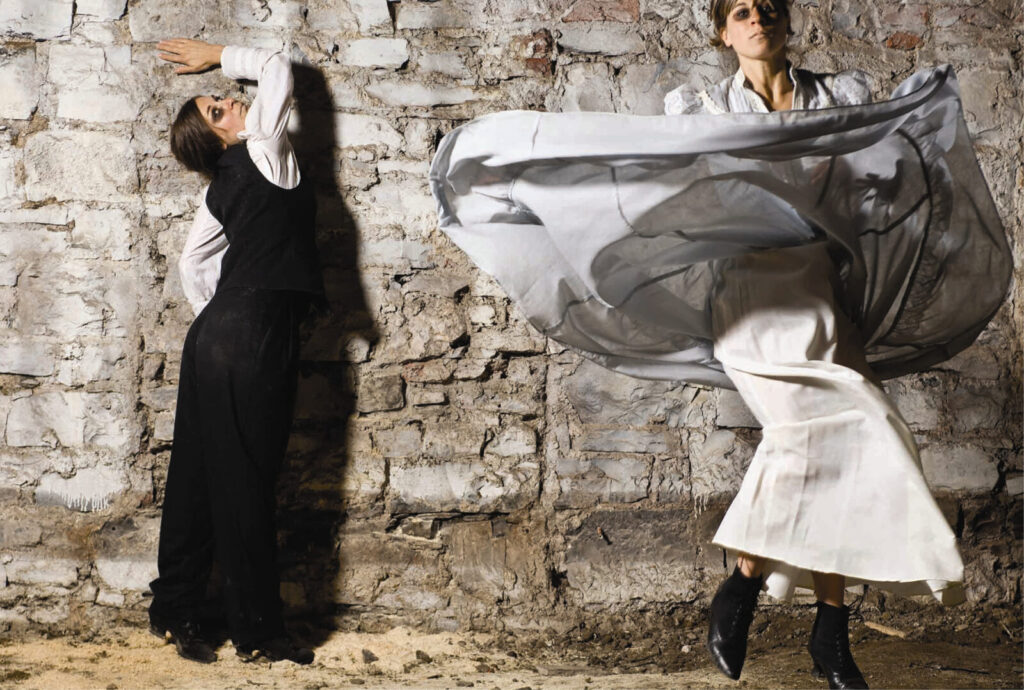 Drinking Dust is a haunting dance theatre piece that pulls together fragmented stories, lost people and forgotten memories.
The piece is a collaboration between two highly acclaimed Dublin-based companies, Junk Ensemble and Brokentalkers, and is performed by two dancers, a small girl and an older man.
There are stories of a little girl on a tricycle, an older man with a birthday cake, secrets told through megaphones, separated audiences and compelling choreography.
---
The Rain Party
A party in the rain. Watch identical twins dance in puddles and goldfish swim in bowls while you wear our wellies. Remembering a drowning and a forgotten dance, The Rain Party explores goldfish memory and memory disorders.
Created by: Jessica Kenedy, Megan Kennedy, Jo Timmins.
Sound Composition: Matt Elliott
Performers: Jessica Kennedy, Megan Kennedy
---
Pygmalion Re-Visited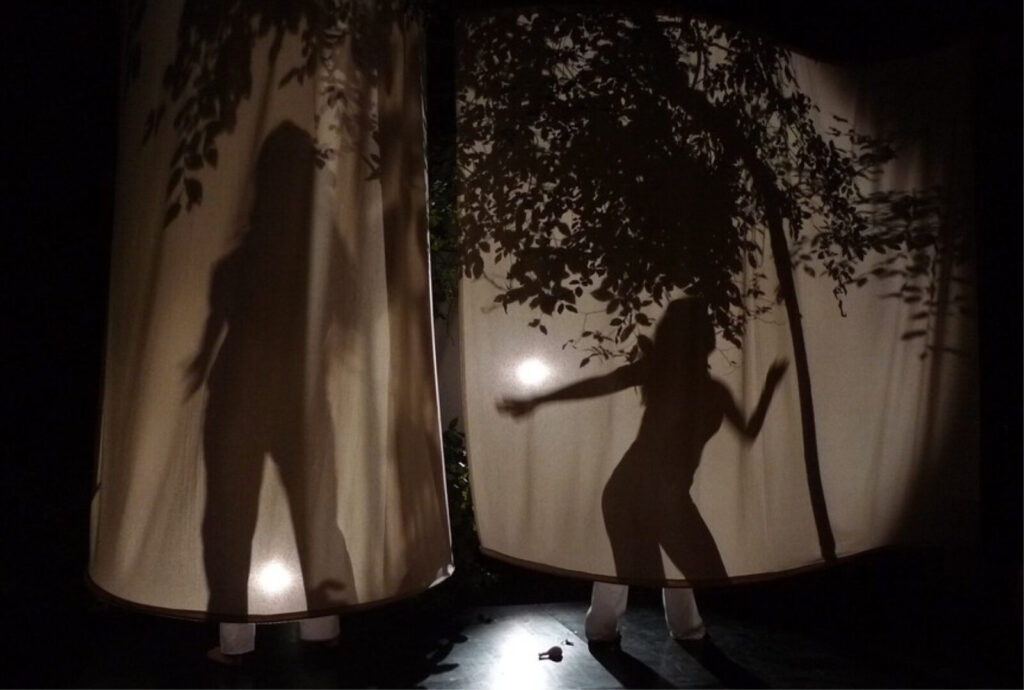 Working closely with two architects, Megan and Jessica Kennedy created 'Pygmalian Re-Visited' in one week. The new dance work was based on the story of Pygmalian. The outdoor space was designed specifically by the architects for the piece, using shadows and mirroring to reflect the essence of the story.
Created and performed by: Jessica Kennedy and Megan Kennedy
Commissioned by Une Nuit Sans Opera Festival, Aix en Provence
---
Junk Ensemble completed the short film Blind Runner in 2013, commissioned by Dance Ireland
Production Listing
THE MISSUNDERSTANDING OF MYRRHA
Dublin Dance Festival 2020
Mermaid Arts Centre 2020
Cork Opera House, Cork Midsummer Festival 2019
The Bystander 
Dublin Theatre Festival 2018
Man At The Door
Cork Midsummer Festival 2018
Dolores 
Dublin Dance Festival 2018
Soldier Still 
Belfast Festival
Dublin Fringe 2017
Walking Pale It Folds
GPO Witness History Commission
Dublin Dance Festival 2016
It Folds (A joint production with Brokentalkers)
Edinburgh Festival 2016
Mayfest Bristol 2016
Dublin Fringe, Abbey Theatre 2015
Dusk Ahead 
NYC La MaMa Moves Festival 2015
National Tour 2015
Dublin Theatre Festival 2013
Kilkenny Arts Festival 2013
The Falling Song 
8-venue UK & National Tour 2014
Belfast Festival 2012
Dublin Dance Festival 2012
Bird with Boy 
UK Tour 2016
Dublin Theatre Festival at 12 Henrietta Street, October 2012
Dublin Fringe Festival at Kilmainham Gaol, September 2011
Sometimes We Break 
Mind Your Step Festival at The Factory basement, Dublin, March 2015
Tate Commission 2012
Tate Britain, North Duveens Gallery, London, February 2012
Five Ways to Drown 
5-venue national Tour 2012
Dublin Dance Festiva at Project Arts Centre 2010
Pygmalion Revisited 
Áix-en-Provence Festival Commission 2010
Drinking Dust
Centre Culturel Irlandais, Paris, October 2009
Behaviour Festival at The Arches, Glasgow, April 2009
Re-Presenting Ireland showcase at Dublin Dance Festival, May 2009
Teotramania Festival, Bytom, Poland, May 2009
Dublin Fringe Festival at Smock Alley Theatre, September 200
The Rain Party 
ARENA Festival, Erlangen, Germany, June 2008
Sonraigh Festival, Wexford, October 2007
Droichead Childrens Festival, October 2007
Dowsa Dance Festival, Sligo, October 2007
Kinsale Arts Festival, Cork, October 2007
Dublin Fringe Festival, September 2007
Cultivate Centre Dublin commissioned by Project Arts Centre, February 2007
Blind Runner
Junk Ensemble completed the short film Blind Runner, 2013
commissioned by Dance Ireland.
Awards
Soldier Still
Best Design Award for Soldier Still, Dublin Fringe 2017
It Folds 
Best Lighting Design for It Folds, Irish Times Theatre Awards 2015
Best Performer for It Folds, Dublin Fringe 2015
Bird with Boy
Best Production Award for Bird with Boy, Dublin Fringe 2011
Nominated for both Best Design and Best Female Performer at Dublin Fringe Festival 2011
Drinking Dust 
Culture Ireland Touring Award for Drinking Dust, Dublin Fringe 2008
Nominated for an Audience Award at Dublin Fringe Festival 2008
Listed as an Irish Times Highlight of 2008.
The Rain Party
Excellence and Innovation Award for The Rain Party, Dublin Fringe 2007
Press Quotes
'The Kennedy twins have been crafting works of oblique and beautiful weirdness for many years now, and their company Junk Ensemble, is the nearest we have to a genuinely original contemporary Irish dance corps.' The Irish Times
'Junk Ensemble has created some of the most impressive contemporary dance in Ireland… Enthralling and exact' The Sunday Times ★★★★
'Junk Ensemble's creativity continues to impress' The Stage
The Bystander 
"Darkly insistent performances" The Irish Times ★★★★
"Mesmerising and engaging" Reviews Hub ★★★★
"Exquisite and unforgettable" The Arts Review ★★★★
Dolores 
"Dolores combines visual eloquence with the gut-punch of a victim impact statement" The Irish Times ★★★★
"There is simply no resisting "Dolores'" power. Provocative and unapologetically brilliant, "Dolores" offers a uniquely thrilling experience…" The Arts Review ★★★★
Man at the Door (Number 54)
"Intriguing . . . A totally immersive experience" The Irish Times ★★★★
Soldier Still
'Raw power and palpable elegance … Stirring, poignant … Not to be missed …' The Arts Review ★★★★★
'Junk Ensemble's most visually focused work to date.' The Irish Times ★★★★
'Dynamic and rich contemporary contemplation of the trauma of militant violence.' The Reviews Hub ★★★★
'Uncompromising and indelible work … dazzling in its terrible beauty.' The Big List (Northern Ireland).
It Folds
'David Lynch would be proud … macabre beauty … shot through with haunting music' The Times ★★★★
'Harrowing and elegiac … haunting and beguiling … It Folds builds and passes like the shadow of some terrible, beautiful dream' The Stage ★★★★
'Rich theatrical pickings' The Irish Times ★★★★
'Perturbingly powerful, this beguiling production is stirringly beautiful' Broadway World ★★★★
Latest News
Balloons are strewn across an abandoned car park. A pile of soil lies on a dining table. Identical twins dress for a funeral party. 
Fallow Table is a short dance film exploring the idea of burying oneself during a fallow period. The family portrait of two struggle between duality and freedom, phasing through a preparation for mourning, a funeral feast in a laneway and a living room party. The sisters leap down steep steps in perfect unison, bury the dead at a dining room table and dance at a party in a car park. There is a surreal yet playful feeling within the story. Shoes are tied in synchronicity, a picture frame is carried, party streamers blow in the wind.
The film is created by an award winning duo between Junk Ensemble and filmmaker Luca Truffarelli and is commissioned by Project Arts Centre's Future Forecast series.