Emmet Kirwan's five-star spoken word odyssey about brothers, Dublin and dance music
Join Jason, a wannabe DJ on a chemically enhanced trip through the streets of Dublin as he stumbles from one misguided misadventure to another. Somewhere between the DJs, decks, drug busts and hilltop raves, he stumbles across a familiar face from the past, his brother Daniel.
Daniel is an educated, homeless addict, living on the streets of Dublin. The brothers haven't seen or spoken to each other in three years but over a lost weekend they reconnect and reminisce over tunes, trips, their history and their city.
Two brothers living on the edge, perhaps they have more in common than they think, but how long can this buzz last?
Dark comedy, family drama and spoken word odyssey, Dublin Oldschool snaps, crackles, raps and rhymes, with high octane performances by Emmet Kirwan (Sarah & Steve) and Ian Lloyd Anderson (LOVE/HATE), directed by Phillip McMahon.
Join the conversation:
#DublinOldschool
Dublin Oldschool on Facebook
@EmmetKirwan
Emmet Kirwan on Facebook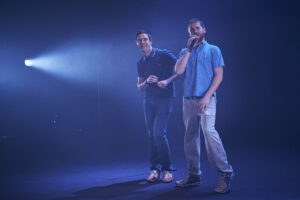 PREVIOUS TOUR DATES
Mermaid Arts Centre, Bray, Jan 2017
National Theatre, London, Jan 2017
Project Arts Centre, Feb 2017
Civic Theatre, Tallaght, Feb 2017
The MAC, Belfast, Feb 2017
Edinburgh Fringe, Aug 2016
Body & Soul Festival, Jun 2016
Project Arts Centre, Jan 2016
Electric Picnic, Sep 2015
Cork Midsummer Festival, Jun 2015
Project Arts Centre, Dec 2014
Tiger Dublin Fringe, Sep 2014
REVIEWS AND ACCOLADES
★★★★★
"Exceptional acting squared with exceptional writing […] unmissable"
SUNDAY TIMES
★★★★★
"Volcanic vortex of verbal dexterity"
EDINBURGH REPORTER
★★★★★
"Kirwan's late night trip through the city makes for incredible theatre"
EVENING HERALD
★★★★★
"the makings of a modern classic – never to be missed"
THE ARTS REVIEW
★★★★
"It's as a great onrush of sometimes laugh-out-loud verbal virtuosity that Emmet Kirwan's very talented two-hander bowls you over"
THE INDEPENDENT
★★★★
"tour de force"
THE STAGE
★★★★
"a kind of drug-ravaged Ulysses or an Irish Trainspotting"
WHAT'S ON STAGE
★★★★
"Part urban portrait, part family snapshot and part gratuitous headrush, it's […] exhilarating"
THE IRISH TIMES
★★★★
"This Irish import is one of the slickest plays on the Fringe"
BRITISH THEATRE GUIDE
WINNER: Writer Emmet Kirwan – Stewart Parker Trust New Playwright Bursary 2014
WINNERS: Performers Emmet Kirwan and Ian Lloyd Anderson – Best Performer Award, Tiger Dublin Fringe 2014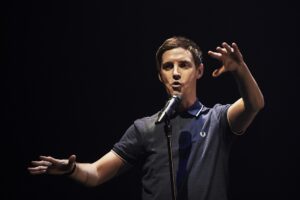 PRODUCTION DETAILS
Writer: Emmet Kirwan
Director: Phillip McMahon
Cast: Emmet Kirwan and Ian Lloyd Anderson
Lighting Designer: Sarah Jane Shiels
Sound Designer: Ivan Birthistle
Running time: 65 min
Suitable for ages 14+
Please note that this production contains strobe lighting, strong language and adult content
BOOKING INFO FOR PRESENTERS
If you would like to book Dublin Oldschool for your venue or festival, please contact:
Cian O'Brien (Executive Producer, Dublin Oldschool and Artistic Director, Project Arts Centre)
The Edinburgh Fringe 2016 tour and the 2017 run at the National Theatre London were co-presented by Soho Theatre and supported by Culture Ireland.
This work was developed as part of Show in a Bag (2014), an artist development initiative of Dublin Fringe Festival, Fishamble: The New Play Company and Irish Theatre Institute.