Latest News
6 Things We Learned From Riddle of the Burial Grounds
Here are some fun facts you'll learn when you visit our summer exhibition Riddle of the Burial Grounds:
1. Most of the mineral deposits underneath our feet, homes and work places are not owned by us or the state but by private organisations (a Swedish organisation owns the largest mine in Ireland). This concept is explored in the work of artist Lara Almarcegui, on display in the Cube.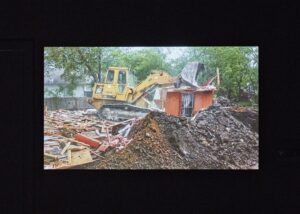 ---
2.Thomas Midgley, represented in our exhibition in bust form (which has since dissolved, by design) by Stéphane Béna Hanly, has been described as having had "more impact on the atmosphere than any other single organism in Earth's history" (Midgley invented CFCs which have destroyed the ozone layer).
---
3. Rossella Biscotti's sixteen slabs of lead, which can be seen in our Gallery, were taken from a decommissioned nuclear power plant in Lithuania. The plant was decommissioned as it had a similar design to the plant in Chernobyl.
---
4. The large hand-painted curtain on display in our Space Upstairs is 22 metres long and over 5 metres tall, and is a direct replica of the façade of a Jordanian palace, dating from 744AD.
---
5. Irish artist Dorothy Cross' video piece Stalactite was shot in a cave in Doolin, Co. Clare and features one of the world's largest stalactites (they're the ones that hang down!). The stalactite has been estimated at over 500,000 years old while the cave in which it hangs is said to be over 2,000,000 years old.
---
6. One of the other video projections in our Space Upstairs, Nicholas Mangan's A World Undone, features the mineral Zircon, found in Western Australia and dated at over 4.4 billion years old. It arrived on our planet during an intense meteorite shower. For this film, the artist exploded a sample of the mineral into tiny particles and filmed them falling through the air at a rate of 2,500 film frames per second.
---
This summer, visual art has taken over Project Arts Centre with one of our most ambitious exhibitions to date. Riddle of the Burial Grounds puzzles over signs, forms and communication, motivated by one of the major problems facing our planet – the markings and warnings around nuclear burial sites.
Admission to exhibitions at Project Arts Centre is ALWAYS FREE.